Ulta Beauty Is Struggling With In-Store Foot Traffic Compared To This Time Last Year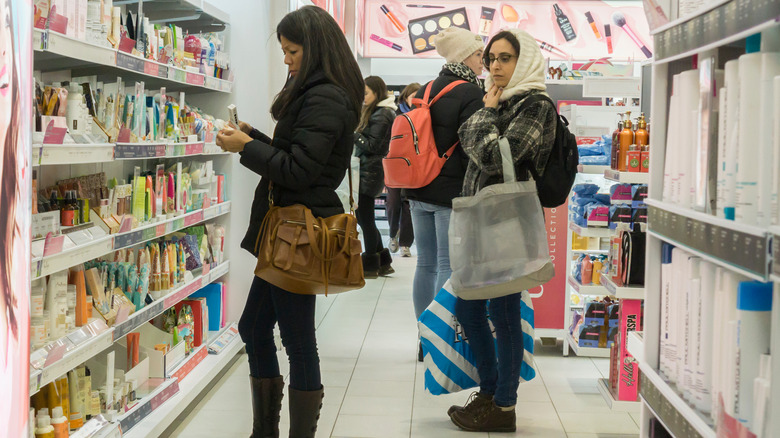 rblfmr/Shutterstock
We may receive a commission on purchases made from links.
If we're being honest with ourselves, we're always looking for excuses to shop at Ulta Beauty. Between its wide variety of beauty products, affordable prices, and easy-to-navigate website, it's no surprise that the retailer continues to pull us into its stores and virtual spaces. And at this time last year, it seemed like most people felt the same way, as the retailer had impressive foot traffic scores. For instance, one day in early October 2021, Ulta pulled in 41,158 shoppers and had a similarly high foot traffic score of 41,914 in the U.S. on a single day at the end of October 2021, per data collected by SafeGraph. Of course, we could imagine many beauty enthusiasts rushing to Ulta to purchase new makeup in time for Halloween.
Advertisement
Then, Ulta pulled in even more in-store shoppers as the weather got chillier, with 76,791 customers one day in mid-December 2021, likely due to the holiday season. However, the beauty retailer's foot traffic, unfortunately, isn't doing as well now as it was this time last year.
The excitement of post-vaccine life is wearing off
As seen in data collected by SafeGraph, Ulta Beauty hasn't been getting as many in-store visits during the summer and fall of 2022 as the retailer did at this time in 2021. For instance, Ulta pulled in 34,144 in-store shoppers during a single day in September 2022 — almost 10,000 fewer customers than the company received in October 2021. Believe it or not, Ulta isn't the only well-known makeup and skincare-focused retailer having this problem. Sephora's in-store foot traffic dropped to half that of this time last year. What's more, Sally Beauty Supply is struggling to reach last year's foot traffic levels, so this lack of foot traffic is an industry-wide issue.
Advertisement
The lack of people showing up to Ulta and other cosmetic retailers isn't as random as you might think. Do you remember the late spring and early summer of 2021 when COVID-19 vaccines became available to the public, meaning that life began to feel normal? As a result of fewer mask requirements and more nightlife venues and restaurants re-opening with pre-pandemic hours, there was an intense sense of urgency to get dressed up, buy and wear new makeup, and go out. However, many people have been vaccinated for a while now and have been living their lives again for quite some time, so that sense of urgency to go out and do makeup isn't as prominent as it was a year ago. Plus, inflation has been hitting every sector of the U.S., meaning consumers have less money to spend on makeup because more of their dollars are going toward food, bills, and gas, the latter of which has also seen higher prices.
Advertisement