The Trendy Jacket Look You'll Want To Copy This Fall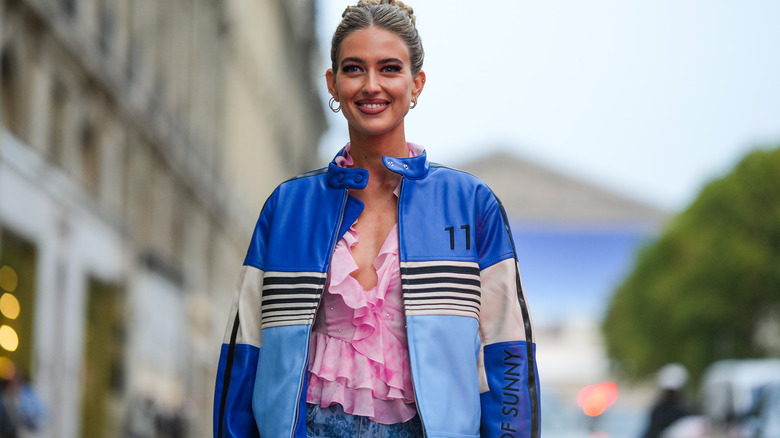 Edward Berthelot/Getty Images
We may receive a commission on purchases made from links.
This fall, the edgier your look, the better. Trends from ballerina sleaze to the dark academia aesthetic are hitting our Instagram feeds as we look for ways to give our fall outfits an edgy twist. While the spring and summer months were centered around TikTok aesthetics such as balletcore and cottagecore, fall brings out everyone's darker side. We have seen plenty of celebrities already embrace the switch to edgy styles, such as Kim Kardashian in her recent Balenciaga era (via Instagram).
Advertisement
Perhaps one of fall's trendiest aesthetics has this edge built in. Bikercore is one of the latest aesthetics to hit social media. The aesthetic focuses on red, black, metals, denim, and, of course, lots of leather. Diesel is one of the primary brands that is currently hitting the nail on the head with the bikercore trend, showcasing full looks inspired by Y2K biker grunge (via YouTube). It seems that outfit add-ons are key to the trend, with one particular accessory being top-tier. This accessory has evolved from just being protection for motorcyclists to being a full-out fashion statement for even those who have never stepped foot near a bike.
How to style biker jackets
Biker jackets are the trendiest clothing item for this fall. It-girls and celebrities have been seen flocking to the streets in the edgy piece. If you are looking for how to style the cool-girl jacket without looking like you are actually going off to the races, you aren't alone! Luckily, there are chic ways to style biker jackets without overdoing them.
Advertisement
Perhaps the most popular way to style a biker jacket is with a pair of classic blue jeans. Elsa Hosk is just one celeb that adores the jacket-with-jeans look, choosing a baggy pair of jeans and sneakers to pair with her favorite biker jacket (via Instagram). If looking for the perfect top to go under your jacket, go with Elsa's choice — a tight-fitted cropped t-shirt. This basic will leave plenty of room for your jacket to be the statement, even when it isn't zipped.
Singer Rosalía is arguably the biggest fan of the biker jacket trend, as she has been spotted out and about in the look more than once. Truly though, this trend was made for her, as she even has an album titled "Motomami," where she is pictured on the cover fully nude with only a motorcycle helmet on. In addition, she has shown us that another fun way to style biker jackets is as a set (via Instagram). The singer paired her edgy biker jacket with a matching skirt for a look like no other.
Advertisement
Obviously, there are hundreds of combinations to try out the biker jacket look with. We recommend wearing your biker jacket with other edgy pieces you may have in your wardrobe, as this is often the simplest way to pull off the look. These pieces are commonly ripped jeans, leather pants, studded belts, combat boots, and crop tops.
Other ways to achieve the bikercore aesthetic
If you are looking to achieve the cool bikercore aesthetic every day, we hear you! Biker jackets are great for chilly days outside, but it's unrealistic for them to be the only bikercore piece in your wardrobe. Luckily, there are other ways to get the look. Edgy and popular brands from the early 2000s, such as Ed Hardy, Diesel, Von Dutch, and Harley Davidson, all have pieces that are great for buying statement bikercore pieces.
Advertisement
The easiest way to get the look is to accessorize the grungey basics you already own. Turn to strappy, metallic, or studded pieces. In terms of bags, the Balenciaga Le Cagole bag is a great high-end designer bag to achieve the look. If you are looking for something more affordable, Diesel's Shoulder Bag comes in a variety of metallics for a fraction of the cost and still pulls off the same look. You can never go wrong with a studded belt or belts with large buckles either. Finish the accessory category with alien-style sunnies and leather thigh highs like Rosalía (via Instagram).
Finally, you can achieve an everyday bikercore look by changing up your glam routine. Try getting edgier with the eyeshadow and eyeliner, never forgetting the smokey eye. Dark lips are also another must. For your hair, slicked-back hairstyles and braids are the way to go for a perfect biker chic look.
Advertisement
The trendy biker jacket is just the icing on the cake to the edgiest trend of fall 2022.