How Do Bond Repair Hair Products Really Work?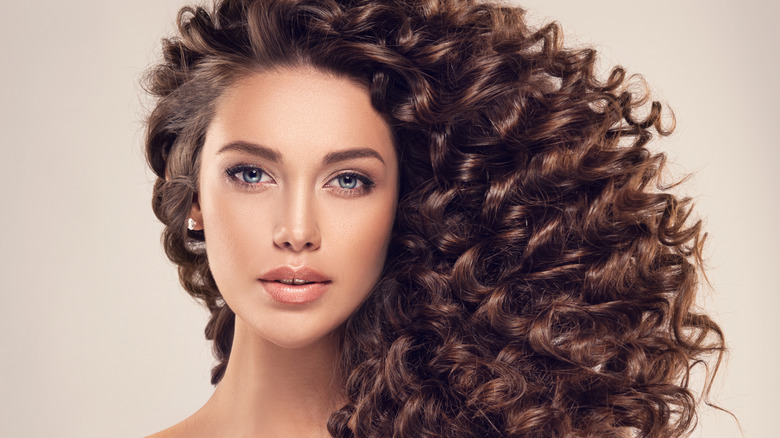 Sofia Zhuravetc/Shutterstock
We may receive a commission on purchases made from links.
Wouldn't it be great to have a good hair day every day? Whether your hair is fine or thick, straight or curly, the market is filled with products to give you the hair of your dreams. Looking for a little extra shine and body? There are shine-boosting and volume-enhancing shampoos and hair serums. Trying to tame the frizz after washing your hair? A good blowout with a hairdryer with finishing touches from a flat iron does the job perfectly. Bored with your hair color? An all-over dye job or highlights can uplift your whole mood.
However, there's a downside to some of these tricks. Treating hair with chemicals and using hot tools can result in dry, brittle hair with extra split ends prone to more breakage. Why does that happen?
Well, your hair is made of a kind of protein called keratin. According to Philip Kingsley, each of your hair shafts is held together by chemical bonds that support its protein structures. These are called disulfide and hydrogen bonds. But chemically treating your hair can change the structure of the disulfide bonds, which are responsible for elasticity and holding your hair's natural shape. And mere exposure to water can mess up the hydrogen bonds.
Even if you treat your hair super gently, sometimes the bonds just break with time. "As hair grows further from the scalp, it suffers accumulating lifestyle damage, and the internal structure breaks down," London-based hairstylist Michael Van Clarke tells The Zoe Report. The breakdown of those structures or bonds results in dry, dull, and brittle hair. And that's where bond repair hair products come in.
Bond repair hair products help rebuild your tresses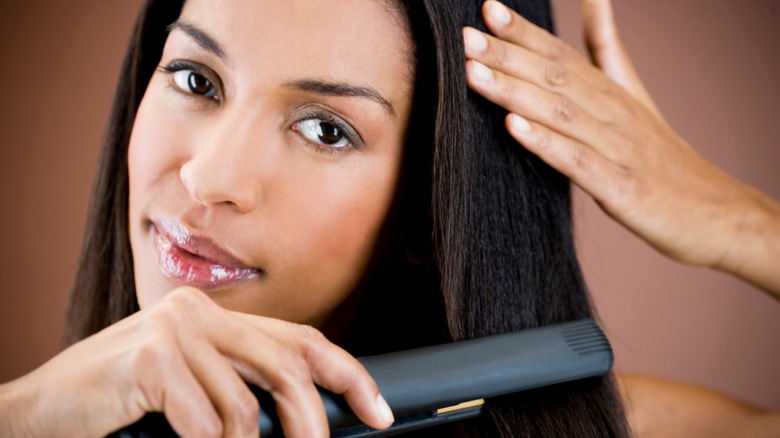 Juice Flair/Shutterstock
If only we could say our forever goodbyes to chemically treating and heat styling our hair to maintain healthier locks, but we aren't quite ready for that kind of breakup. That's where bond repair hair products do their magic. As celebrity colorist Bianca Hiller tells The Zoe Report, "When you bleach, brush roughly, thermal style, and so on, you're breaking apart these ladder steps. A bond builder will go to the inside of the hair and repair these ladder steps, create new ladder steps, and mend together old broken ladder steps." These products are the best go-to for fixing the destruction we have wreaked on our hair. Talk about damage control.
Bond repair products are like super-charged protein treatments that use ingredients like amino acids to help internally strengthen your hair and make it look pretty on the outside. Speaking about bond repair product Olaplex, BeautyStat founder Ron Robinson explains to Allure, "Some ingredients can work on [the] hair's surface, the cuticle, and other ingredients like the [amino acids] used in Olaplex may work deeper, in the cortex." You can get a bond repair treatment at the salon or try it at home with a hair mask or deep conditioner to bring your damaged tresses back to life.
Best bond repair hair products
Since our love for new hairstyles and colors could damage our hair, it's wise to have a bond repair hair product on hand. Hairstylist Christina Carlsson tells Byrdie, "Bond builders are products that contain bond repairing technology used to reinforce damaged cuticles and prevent future breakage." If a product can reverse the damage and strengthen hair, we're all for it. But which products are your best bet?
One can't mention bond-repairing hair products without talking about the Olaplex No.3 Hair Perfector. According to the brand, this cult-classic at-home weekly treatment can strengthen your hair, reduce breakage and make it look and feel better. It's infused with bis-aminopropyl diglycol dimaleate to repair damaged bonds. It also has over 89,000 reviews on Amazon, with reviewer Cate saying, "This stuff is an absolute game changer. I've been bleaching my hair for a year or two now and it has left damage. For the first time, this stuff seriously seemed to restore my hair almost back to its pre-bleaching days! It is soft, tame, and not nearly as frizzy."
If you prefer a bond repair product that needs no rinsing, try the K18 Biomimetic Hairscience Leave-In Molecular Repair Hair Mask, which claims to reverse damage in only four minutes. It's safe to use on bleached, colored, dry, and heat-damaged hair. It boasts almost 60,000 likes on Sephora, and reviewer CyAnna6008 even says, "This product is incredible! My new holy grail. My hair was previously healthy, but chemically treated often. ... It restored my hair to a level of health that is almost like my hair isn't colored at all. I am stunned!"