What's The Difference Between A Crystal Nail File And An Emery Board?
Stenko Vlad/Shutterstock
When figuring out what nail tools to use for your next mani and pedi, you have to traverse many options. For anyone who's looking at switching things up for better nail health or who just wants to get the lay of the land, crystal nail files might sound pretty intimidating at first. These fun tools have gotten more publicity thanks to social media, and while it might be easy to think that they're popular solely because of the rise in popularity of crystals for other purposes, it turns out that they're not just a pretty take on the classic emery board, as clarified by Marie Claire.
Curious to know more about how crystal nail files compare to one another and when it might be better to use one tool over the other to achieve the right look? There are plenty of perspectives online, and the terminology is the first place to start. A "glass nail file" and a "crystal nail file" are actually the same thing, as manicurist Julie Kandalec told Cosmopolitan. Now, let Glam break things down for you.
Crystal nail files have advantages over emery boards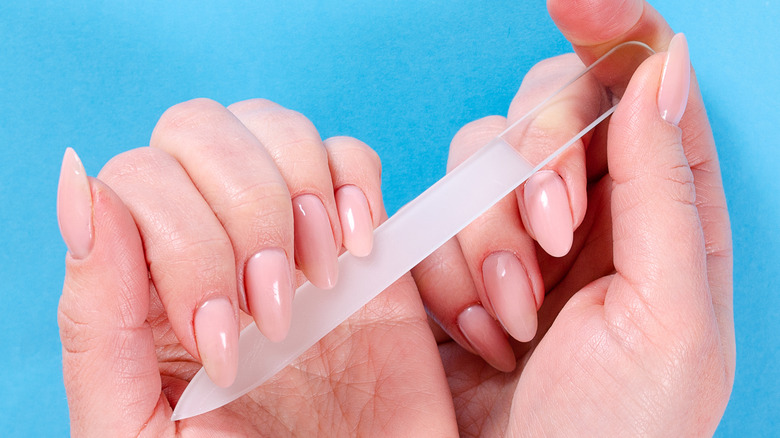 Dmitro Derevyanko/Shutterstock
The main difference between a crystal nail file and an emery board is in its composition, as noted by Paintbox's Evelyn Lim to MindBodyGreen, who explained that a nail file with more grit is actually smoother than one with less — and emery boards can vary widely. "Emery boards can shape nails faster, but because of its paper material, your nails can file down a lot without you noticing," Lim told the outlet.
According to manicurist Miss Pop's comments to Marie Claire, there is a hygienic advantage to crystal nail files too. As Miss Pop explained, "They're not like regular nail files, where the paper can peel up at the edges. Plus, they can be washed with soap and water between uses, which you can't really do with emery boards, so they're easy to sanitize." 
The debate between crystal nail files and tried-and-true emery boards seems like it's a clear win for the crystal files, but there is some additional information to keep in mind.
Stick with an emery board in some cases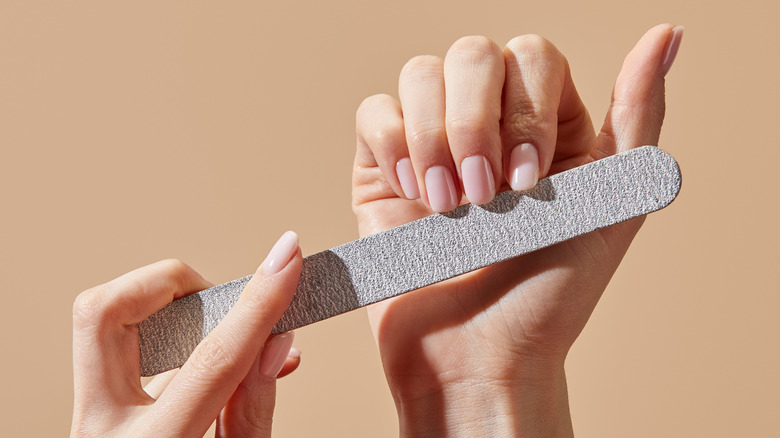 LightField Studios/Shutterstock
In some cases, it's better to stick with an emery board rather than a crystal nail file. As Evelyn Lim told MindBodyGreen, "If you are looking for a more professional nail-shaping makeover, I would suggest you go with paper (emery board)."
Per Olive & June founder Sarah Gibson Tuttle's comments to Byrdie, emery boards also seem to remain the go-to for salon professionals. "Crystal files can be a great option for anyone who needs a softer file, but they often wear out quickly and lack the type of grit most people generally need," Tuttle explained. "Our favorite file is a paper file (AKA emery board) with a thin layer of foam in between with two different [emery paper] grits: one for everyday mani use and one for pedis and/or breaking up the top layer of gel for removal."
Whether sticking with an emery board or trying out a crystal nail file, the most important attribute is that the tool in question works for the person using it, and with the guidelines mentioned above, it should be easier than ever to choose the right one for you. Now, your next mani and pedi can shine brighter than ever.