How 3D Nails Are Going To Influence Your Holiday Manis All Season Long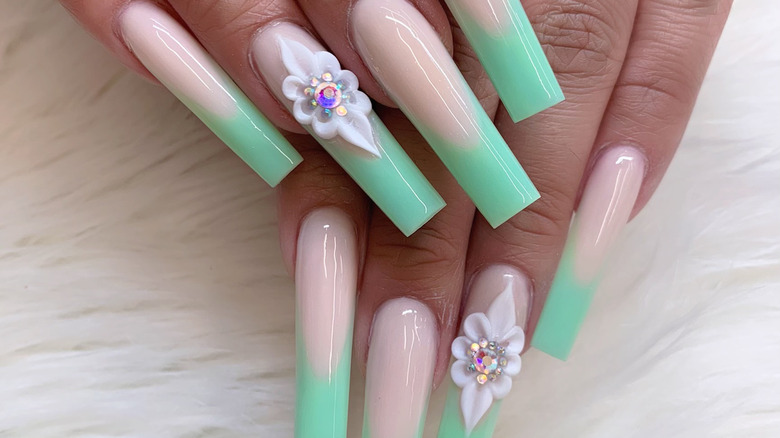 Huan N. Phan/Shutterstock
We may receive a commission on purchases made from links.
Nothing is more fun than experimenting with a nail trend or design for the first time. Not only is it exciting to see the results but elevating our nails is also a beautiful form of self-care, too. For example, it's impossible not to smile when working on a nail design inspired by the fruit art nail trend. Moreover, French manicures are back and never fail to make us feel super sophisticated and chic, while timeless black manicures are effortlessly sleek. And, of course, we can't forget about the dopamine nail trend, which is all about boosting your mood through bright colors.
We could spend all day talking about the various nail trends and styles that we enjoy, but it's time to focus on the best winter nail trends to try since the holidays always approach faster than we expect. Searching #holidaynails on Instagram is an excellent start, as you'll find over a million festive, wintery nail art examples. But if you want to take your nail designs to the next level, 3D nail art is the perfect way to elevate your nails.
3D nails are more creative than traditional nail designs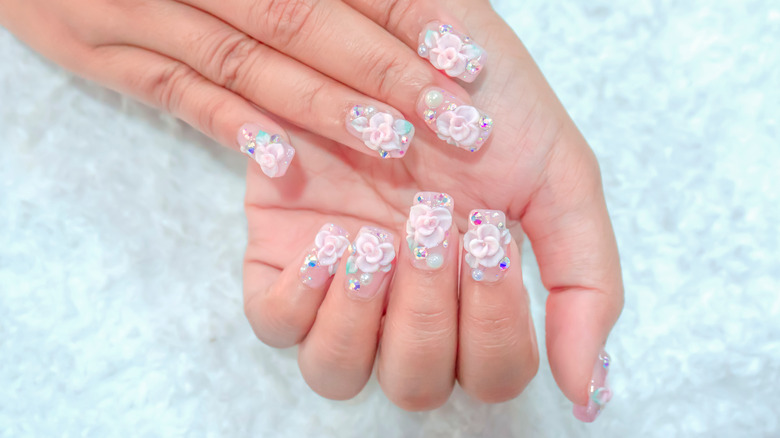 Nittaya Saternram/Shutterstock
Of course, there's a lot you can do with nail polish, so there's nothing wrong with conventional nail art. However, 3D nail designs provide an opportunity to get artistic and create ultra-unique nail art. "Ninety percent of my clients come to me to do 3D, I think people are starting to realize [3D art] is not as intimidating as it seems. [The art looks] more like little sculptures on your hands, rather than just polished nails," nail artist Sojin Oh tells Refinery29. So, while more conventional nail art can look like wearing mini-paintings on your nails, 3D nail art is more like rocking tiny sculptures on your fingernails, presenting a more artistic vibe.
An exciting detail about 3D nail art is that it can fit a variety of aesthetics and styles, whether you prefer goth nail art, ultra-glamorous looks, or elegant designs. The possibilities are endless, so it's fun to explore different options and see how they look. For instance, 3D paw print nail art is super playful and great for pet owners and animal lovers. Meanwhile, 3D emoji-inspired cake and smiley face details are adorable nails for your next birthday or even any day if you want to lean into the trendy Y2K aesthetic. It's all so cute!
The 3D nail effect is perfect for the winter season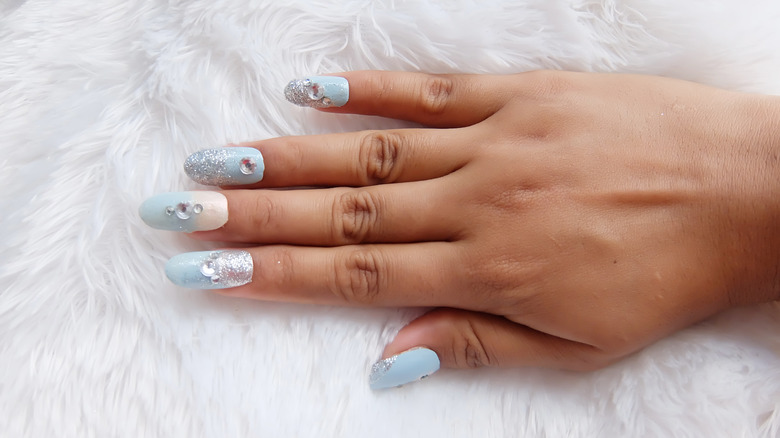 Hatri Bidik/Shutterstock
If you're interested in the 3D nail art trend, the winter season is the perfect time to start exploring. During this chilly time of year, you won't have to worry about your 3D nail details coming off in the pool or at the beach, and there are many wintery options. For example, it's always nice to flaunt nails with a snowflake design during the holiday season, but it's more fun to add some snowy 3D details to make the design stand out. Or, if you or your kids enjoy the hit Disney movie "Frozen," you'll love the Olaf-themed 3D nail design we found on TikTok. Furthermore, people who celebrate Christmas should check out the red 3D nails that feature Christmasy bows, sparkles, and poinsettias on TikTok.
One excellent way to dip your toe into 3D nail art is to buy sparkly nail gems. Adding these nail rhinestones to a snowy nail design will add more character and dimension to your wintery look without requiring you to do anything too advanced. The AARDWO 2568 Pcs Rhinestones Nail Gems are Amazon's Choice for nail gems and are available for about $8 on Amazon. With 4.6 out of five stars, this product is convenient for anyone ready to experiment with 3D nail art.