TikTok's Latest Blush Hack Makes Getting A Little Rouge Easier Than Ever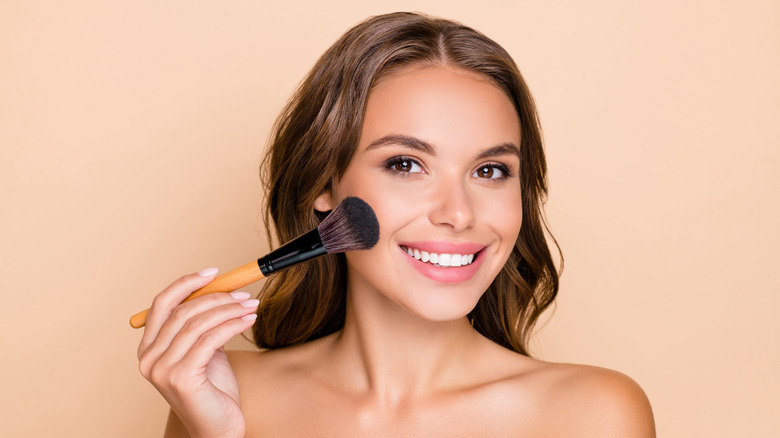 Roman Samborskyi/Shutterstock
If you love blush, you may not be giving yourself enough credit for also being a bit of a daredevil. Miss Malini cites seven blush mistakes many people make, starting with picking the wrong shade to work with in the first place. Meanwhile, Skincare enumerates 10 common mistakes, beginning with forgetting to set up blush to last by applying a base of primer ... No wonder it doesn't stay put all day, right?
Unsurprisingly, many of the same mistakes appear on these lists, such as improper placement, using the second-best formula, and overdoing the earnest "I swear I'm going for the natural glow look here." The repetition suggests that these missteps are more than commonplace; they're probably easy to remedy, too. Still, Good Housekeeping doesn't seem to be taking any chances. It offers 14 tips for "applying blush perfectly, every single time." If that's not a confidence builder for daredevils everywhere, you might wonder what is.
Follow the L to a T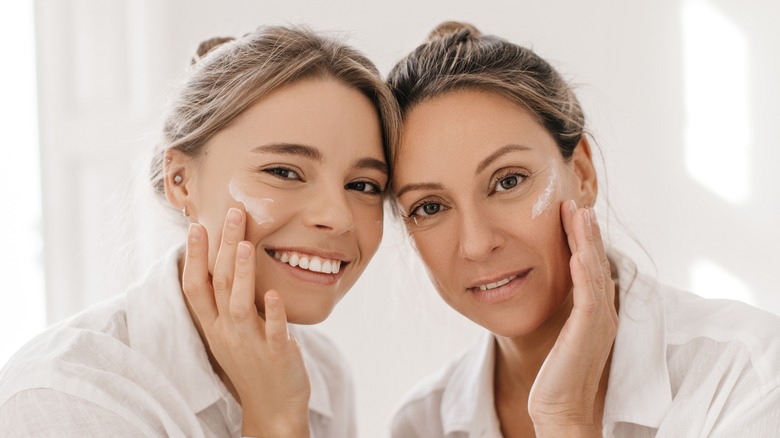 Look Studio/Shutterstock
If so, you need look no further than that current bastion of cultural self-expression — Tik Tok. A short video is understandably drawing attention for its ability to reduce the entire blush-application process to less than two minutes. Given how "mistake-prone" blush lovers tend to be, this obviously takes some doing. The prolific Sarah Wolak demonstrates what she calls the "L method," a technique that she says works quickly and "perfectly" for people with any face shape. Interestingly, this is exactly what elongates some of the "mistakes" included in many lists; they include tips for people with round, square, and narrow face shapes. Blush requires slightly different placement techniques for different face types.
Perhaps the timing is good, too, since cream blushes seem to be making something of a comeback. But there's no doubt that creamy blush goes on easier (if not glides on) and so suits this L to a T. Wolak begins the tutorial by forming the letter with her hand, putting her thumb at the base of her nose. With an L stretched across one side of your face, reach for the cream blush and dab a streak right where the long part of the L begins to extend upward. Don't worry if the placement looks a little high at this point. You're not done yet. Remove your hand and use a blush brush to blend and lightly spread the blush — to virtual perfection.
Nail your skin tone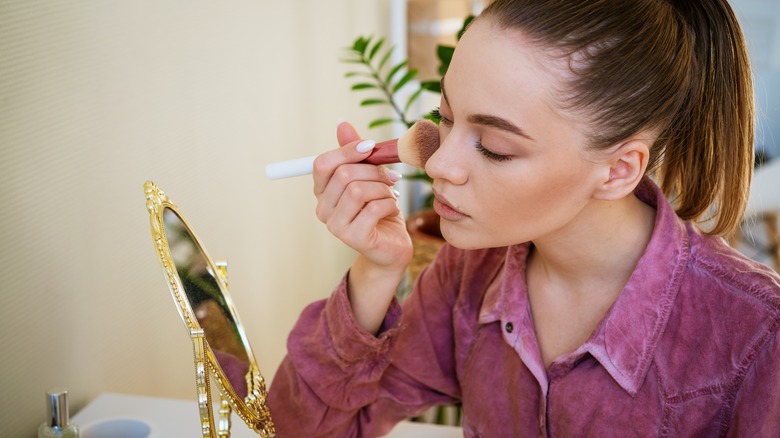 Pereslavtseva Katerina/Shutterstock
While Wolak doesn't actually invoke the word "perfection," she does note that you can feel confident looking in the mirror, knowing that this application technique "looks fabulous from the side and it looks flawless from the front." She makes a good point since making blush look balanced from all vantage points is one of the greatest challenges of applying blush well.
If you want to give the "L method" a whirl, but don't know where to begin, spend some time evaluating your skin tone and undertone, RMS Beauty suggests. If you can't go it alone, consult a beauty expert at a reputable store. That's why they're there: to help advise you. Plus, they can see things perhaps you're not seeing. If you don't already have a go-to blush shade, some very general advice may help. If your skin is light or fair, blush in pink and mauve tones may make your skin "pop" best. People with medium skin tones seem to have a knack for pulling off peach shades, while people with dark skin have a bit more latitude. They can use colors that range from plums and berries to terracotta. And that's quite a range.
Of course, as any beauty expert will tell you, "the rules" are meant to be broken; there is always something that may surprise you — just like the "L method" might.