What Is The Trending Gorpcore Style?
Fashionistas everywhere are always thinking creatively about how to make any piece, garment, or style work in a, well, fashionable way. They like to think outside the box for ways in which they can make any item work in a highly stylish manner. This isn't particularly new as you take a look at how many times items created with a function outside of fashion have made their way into becoming some of the top trending styles (via DSCENE). Take, for example, Crocs, which were once created for summer activities, as well as once deemed the ugly shoe, and are now popular in fashion. Rain boots began with a purpose to protect you from puddles and wet pavements, but some of the top designers are producing their own stylish versions. Puffer jackets are certainly another great example of this concept where function becomes fashion.
Gorpcore, as coined by The Cut, is one of the many aesthetics that combines what was once created for practicality with that of fashion. It combines a love of the outdoors and fashion in a unique way. It further pushes this idea that anything can be turned, in one way or another, into a fashion statement.
What is gorpcore?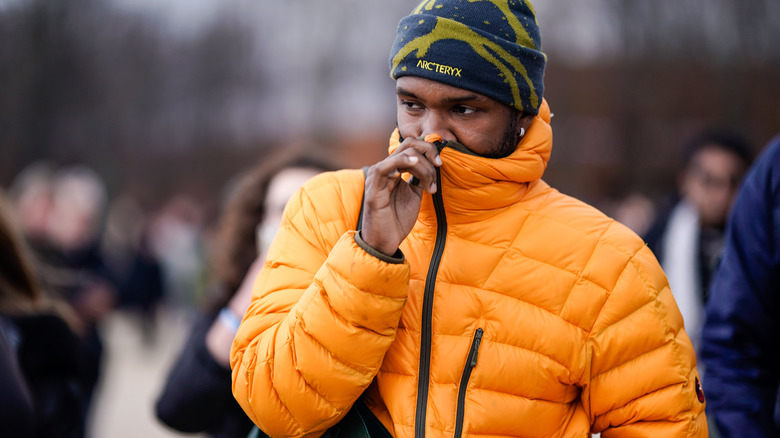 Edward Berthelot/Getty Images
Gorpcore comes from the term G.O.R.P which is a colloquial term used to generally describe trail mix as Good Ol' Raisins and Peanuts (via REI). This term is popular amongst hikers and outdoor lovers because it is considered a natural, high-protein healthy snack that is easy to take on the go. Ultimately, gorpcore fashion is inspired by hiking gear and clothing, bringing fashion and function together once again.
Outdoor activities such as hiking, mountain climbing, skiing, and running, amongst others, require special clothing to better handle the sport. According to Grailed, gorpcore combines outfits that are utilitarian, outdoors-inspired, and functional all in one. The clothing behind gorpcore usually comes from brands that you would only know about if you were in the outdoors scene, and it isn't exactly at the forefront of fashionable brands anyone would recognize. However, as gorpcore becomes more mainstream, brands like REI, Patagonia, and The North Face are making a name for themselves in front of more eyes.
"While gorpcore has been around for a few years now, its revival every fall/winter is no huge surprise because it absolutely oozes Gen-Z coolness," head stylist for SilkFred Megan Watkins tells woman & home. "This is largely thanks to high-profile celebs and influencers constantly posting in their oversized fleeces and gilets on Instagram. Also, the functionality and comfort of gorpcore pieces make them timeless in your wardrobe." Gorpcore uniquely turns practicality into style in a way that becomes a fashion statement.
What does gorpcore look like?
Gorpcore style utilizes gear and clothing that was specially designed for the outdoors. More often than not, these outerwear pieces come in bright colors such as orange, green, red, blue, or other bright hues. Usually, this is designed this way to create high visibility for safety reasons, per goEast. As it evolves to become a fashion statement, more companies are now implementing softer and more aesthetically pleasing earth tones to continue the natural feel while implementing style. Gorpcore clothing also tends to be bulky and boxy to be able to incorporate layering, another staple of both gorpcore and outdoor gear. Many times these pieces also offer some sort of cinching feature, as can be found in climbing gear, backpacks, or chin straps on a hat (via Grailed).
Gorpcore has undoubtedly impacted the high-end fashion scene, as seen through Gucci and The North Face's collaboration together. A variety of runway shows haven't missed their chance at creating gorpcore designs with puffer jackets and boots with a designer label on them either. To implement gorpcore into your look, you can start with the basics. Look for windbreakers, ripstop rain jackets, fleece mid-layers, wide-leg utilitarian pants, gilets, and puffer jackets. For shoes, opt for some hiking boots, boots with a similar lace-up feature, or sneakers. Wearing them in the bright colors that they come in can help encapsulate the overall gorpcore look (via Russh). The great thing about gorpcore is that it implements a variety of garments offering a versatility that allows you to customize a gorpcore look with your personal preferences.