How To Keep Your Red Hair Looking Fresh Between Colorings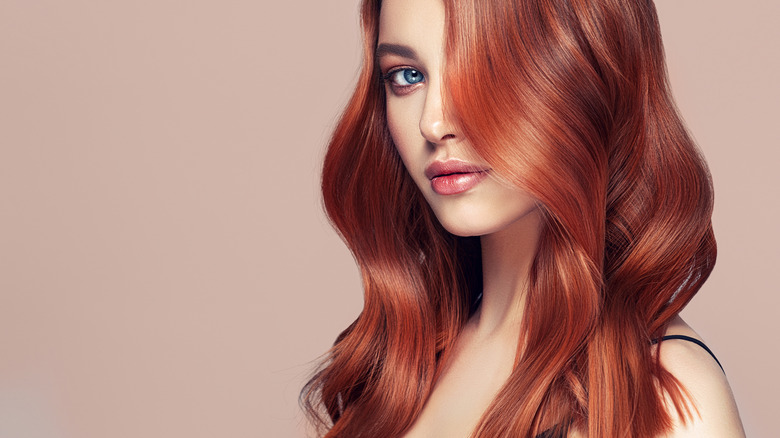 Sofia Zhuravetc/Shutterstock
Whether you've opted for black cherry, candy apple, ruby, sangria, or scarlet, your chosen shade of red hair will require a little extra TLC between color jobs to keep it looking fabulous.
Exposure to the sun and ultraviolet rays, styling with heat, hot showers and too many shampoos, products not designed for colored hair, and time can all take a toll on any hair color, according to Paul Mitchell The School. For redheads, the struggle goes even deeper — or shallower. Getting a little into the science of things, Garnier explains, "The red hair molecule is larger than other color molecules, so it doesn't penetrate the cortex of the hair as deeply as other color molecules. Therefore, since it isn't as deep, it can wash out easier."
Advertisement
Luckily, there are several steps you can take between salon appointments (or box-color appointments, if you prefer coloring your hair yourself) to keep your red a bit more on the vibrant side and a little less on the fading-fast trajectory.
Use the right products to keep your red fresh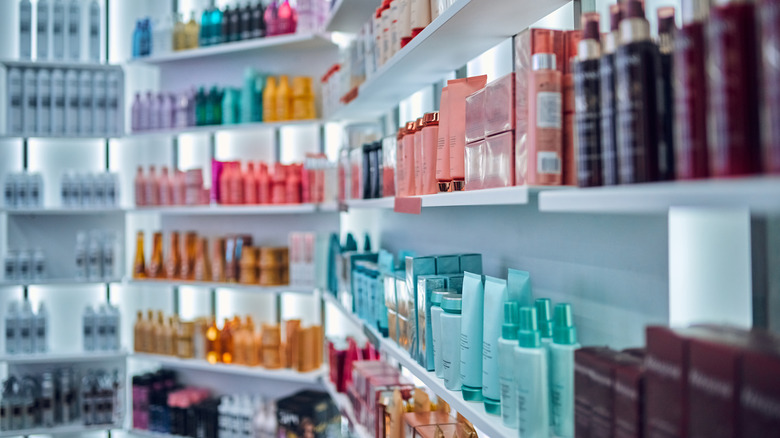 4 PM production/Shutterstock
The products you use on your hair can either help or hurt your red hair color. "To prevent fading, ensure you are using a color-safe shampoo and conditioner that is sulfate-free," advises color expert Stephanie Brown in Real Simple. "Sulfates contain sulfuric acid, which can penetrate the hair color and remove pigment." Look for products specifically formulated for color-treated hair, or say they are safe for colored tresses. In fact, any product you use, from mousse to hairspray, should be labelled as color safe.
Advertisement
You can also use a color-depositing shampoo, which is not only formulated to take care of shaded tresses, but also contains a bit extra. "A color-depositing shampoo is a mild hair cleanser that contains color pigments," explains colorist Jeremy Tardo via Cosmopolitan. "I suggest using it two to three times per week, but not every day," says celebrity hairstylist Ro Morgan in Cosmopolitan.
If you'll be spending any time at the beach or pool, spend a few dollars on a few items. To protect against the sun's UV rays, which contribute to color fading, "Invest in hair products with SPF or just spray a little bit of sunscreen on your hair," suggests colorist Pamella Gonzalez in New Beauty. If you'll be dipping into the water, make conditioner your pre-swimming ritual. After wetting your hair, work a bit of the product through your strands. "This will act as a barrier between your hair and the chlorine/salt," says star stylist Sarah Potempa in New Beauty.
Advertisement
Proper hair maintenance = more vibrant color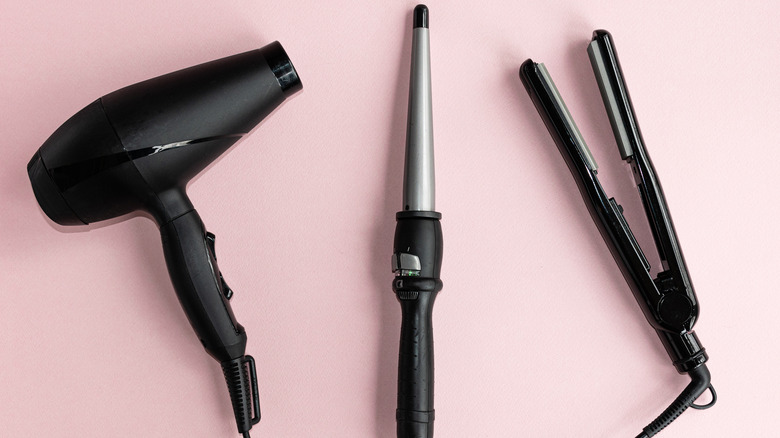 Andersen161/Shutterstock
Right after you color your hair, hold off on the (color-safe!) shampoo for at least a couple of days. "You need to allow the cuticle to close and stay closed," explains color pro Aura Friedman in Teen Vogue. "As soon as you shampoo, the warm water swells the cuticle, and shampoo plus scrubbing roughs it up, which makes you lose the red dye molecules." Once you do shampoo, "Cold water is key!" declares colorist Rachel Bodt via Teen Vogue. "When you use hot water, the color steams right out."
Advertisement
The shower isn't the only place you should watch the heat level — your styling tools are also armed with fading potential. "One of the best things you can do for your hair color is keep heat styling at a minimum," notes L'Oréal Paris. "Always remember to prime your strands with a heat protectant ... and use your hot tools on the lowest temperature setting ... only pass[ing] through each section of hair once if possible."
The best way to keep your red? Don't go too long between colorings. "If your hair is dyed red, you should be prepared to visit the salon every four weeks to maintain the vibrancy of the color," shares celebrity hairstyle stylist Arsen Gurgov via InStyle. "Most people mistakenly think they can wait longer."
Advertisement