How To Craft Your Perfect Wedding Band Stack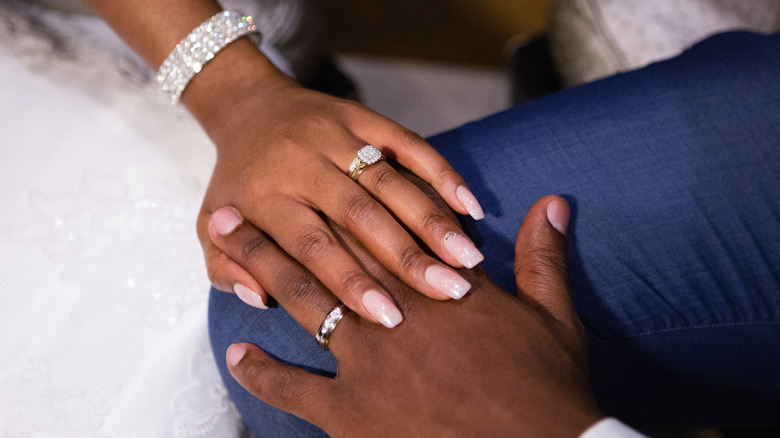 Julie Photo Art/Shutterstock
There are plenty of considerations when it comes to planning a wedding, but one of the most important decisions a couple is likely to make revolves around their wedding rings. Apart from debates about how to wear wedding rings, including on what hand they're supposed to go, there's also the question of what you want your engagement ring and wedding ring to look like together on your hand. Like an ear stack of multiple earrings, a wedding band stack can be simple or intricate, depending on the look the person wearing it prefers.
More and more commonly, engagement rings and wedding rings can come as a set already, rather than individual pieces that you fit together like a puzzle. This takes most of the guesswork out of the whole ring-stacking process, but it isn't the only option out there. Different people have different takes on the idea, too, with ring designer Susie Saltzman summing it up for PopSugar: "I love that everyone's stack tells their own story."
Focus on the shapes of the rings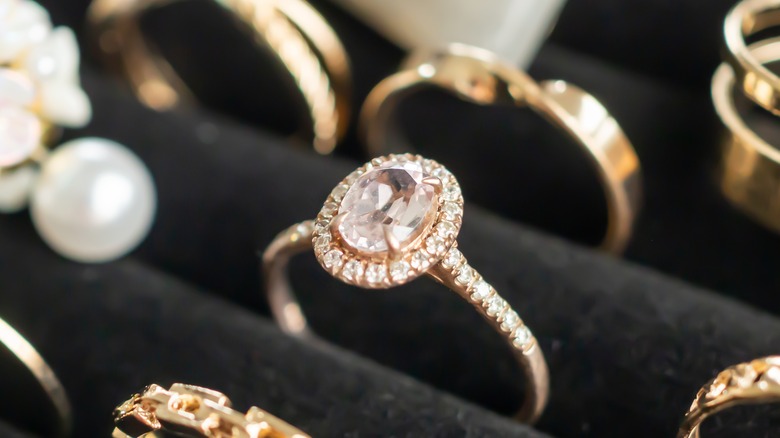 Kwangmoozaa/Shutterstock
One of the tips provided on Brides is to use shapes to your advantage in crafting a wedding stack. If you're stuck on what this might look like in practice, Wedding Wire has a gallery of some potential options based on the shape of the engagement ring in question and the cut of any gemstones featured on it. For instance, the website advises using a chevron wedding band with a marquise-cut engagement ring, where the gemstone in the engagement ring can fit inside the V-shaped part of the chevron ring as a stack. For a channel-set engagement ring, meanwhile, a channel-set wedding ring makes the perfect pairing.
Ring enhancers are another option noted by Wedding Wire. These are separate pieces of jewelry that fit around an existing engagement ring on both sides, providing a way for the engagement ring to stand out even after the wedding band has been added to the stack. Gage Diamonds has an additional guide on why or why not a ring enhancer might be the way to go, explaining that enhancers provide extra protection and add a new dimension to the look. On the downside, though, they can be expensive and difficult to resize. 
Be careful of gemstone colors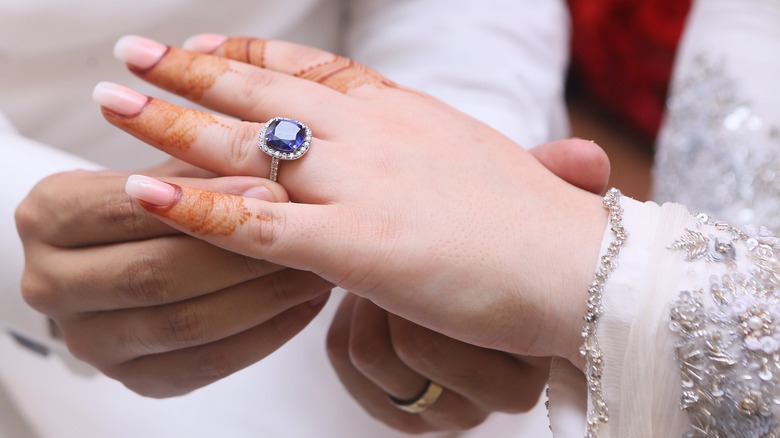 Itsladypirzada/Shutterstock
Who What Wear cautions that ring-buyers should be aware that certain colors of diamonds can clash with other pieces of jewelry, with jeweler Octavia Zamagias commenting to the outlet, "Diamonds that are K, L, and M tend to really show a yellow hint and not quite look like that bright, white diamond you've always thought of."
While the color differences may not be as extreme for other gems, this also extends beyond diamonds. On its blog, jewelry store Diamondère provides a guide on how to pair different gemstones by color and other attributes, explaining that white gems, such as white topaz, are the most versatile. This is helpful when putting together a wedding stack, particularly for those who might want a more colorful look or who are working to incorporate a specific gemstone into the mix. Similarly, The Knot has a guide on some of the most popular colored gemstones, noting that diamonds are the most expensive gemstones while also being among the most durable. Sapphire, which is typically royal blue, is another durable, high-quality option.