The Easy Manicure Hack That Will Get You Perfect Half Moons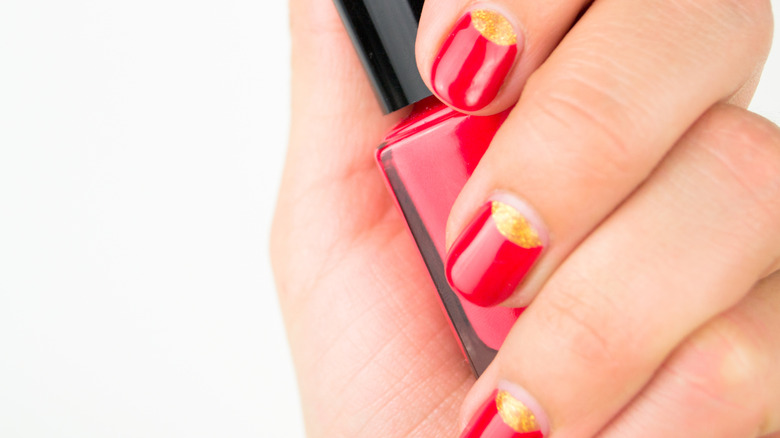 maramicado/Shutterstock
Finding a time-saving beauty hack is always a bonus, especially when it involves getting the perfect manicure. The half-moon manicure happens to be an on-trend look at the moment, and it's also one that has been around for a very long time. According to Beyond Polish, half-moon manicures have been around for decades, having originated at around the same time as commercial nail polish, and were trending throughout the 1930s. 
What's more, the half-moon manicure can take on various designs, making it ideal for those with a focus on keeping up with the latest trends. Celebrity manicurist Tammy Taylor revealed in an interview with InStyle, "The half-moon can be round, oval or chevron, small or medium, outlined or filled in."
There's no better time than the present to try this style of nail art, especially when TikTok users have realized that there's an inexpensive way to make the design come together in a snap.
Get a half-moon manicure quickly with an office product
Although it isn't clear who first discovered this hack, TikTok users have been buzzing about the ability to use one common office product as an aid in making half-moon shapes on nails. As shown in a TikTok video from user The Dapper Dahlia, reinforcement labels (the kind that are used to, well, reinforce hole-punched paper) can be used as nail stickers to guide nail polish application. The Dapper Dahlia is shown putting the whole circle of a reinforcement sticker toward the base of each of her fingernails, with about half of it touching the nail itself to create the half-moon shape. Then, she paints above each sticker with nail polish, leaving the bottom bare.
Another TikTok video from Lights Lacquer shares the same hack as the first of three half-moon manicure methods, again showing the placement of the reinforcement label to effortlessly create this look. The video shows that liquid latex or a detailing brush can also be used to pull off a half-moon style. 
Netizens have loved the hack for years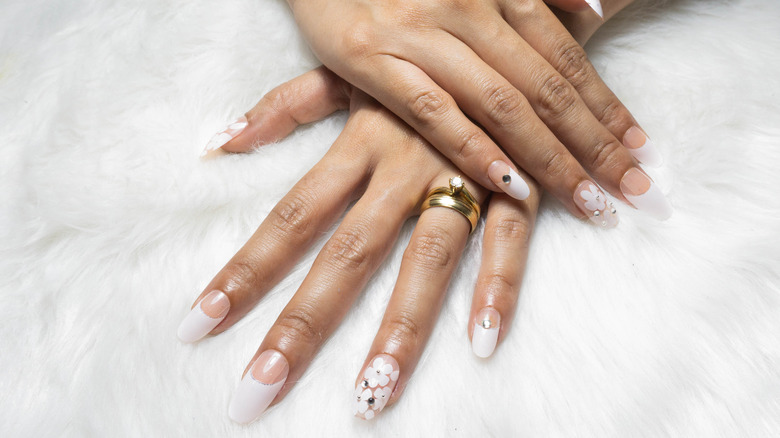 Condrad Bautista/Shutterstock
Internet users have been showing how appreciative they are of the helpful hack, with other users, such as TikTok user Annie Darling, testing it out using two different colors of nail polish, one lighter and one darker. The use of the reinforcement labels to create quick and easy half moons for manicures doesn't appear to be a new tip, however.
Older tutorials making use of the same half-moon method are available online from long before TikTok existed, with blog Nouveau Cheap first providing a guide on the reinforcement label trick back in 2010. 
No matter if it's the 20th century or the 21st, the 2010s or the 2020s, it's clear that a good half-moon manicure has remained a favorite among many and a definite beauty must. And this enduring look is made even easier with a reliable pack of reinforcement labels.