25% Of People Think This Is The Best Budget Nail Polish Brand - Glam Survey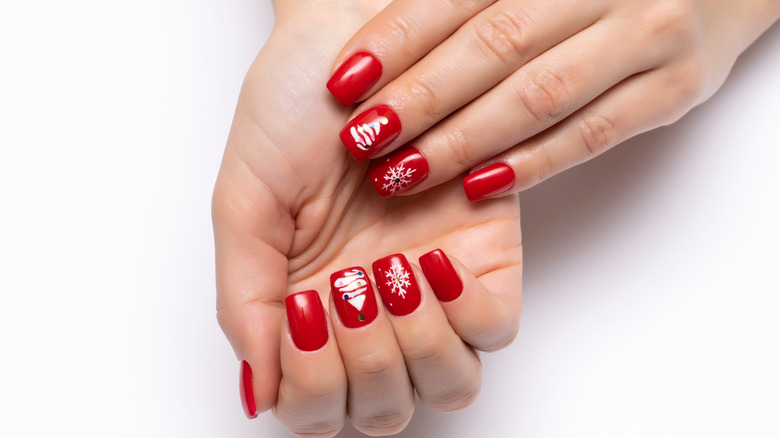 Dina Shuba/Shutterstock
We may receive a commission on purchases made from links.
With the 2022 holiday season in full swing, it's time to get those festive nail looks on display. As the risk of developing allergies to gel and acrylic products becomes more widely recognized, many people are making the choice to go back to using regular nail polish (via BBC). If you're one of them or just more of a DIY diva than a fan of the salon experience, you've probably wondered what the best bang for your buck is when it comes to budget nail polish brands.
You've probably been tempted by brands with a vast array of brightly colored polishes for under two dollars per bottle at the drugstore, but could they possibly be of decent quality? On the other hand, does paying $12 for a bottle of budget nail polish mean it won't chip the very next day after you paint your nails? Not necessarily, according to HuffPost. Glam asked 600 faithful readers what they consider to be the best budget nail polish on the market. Here's how they responded. 
OPI for the win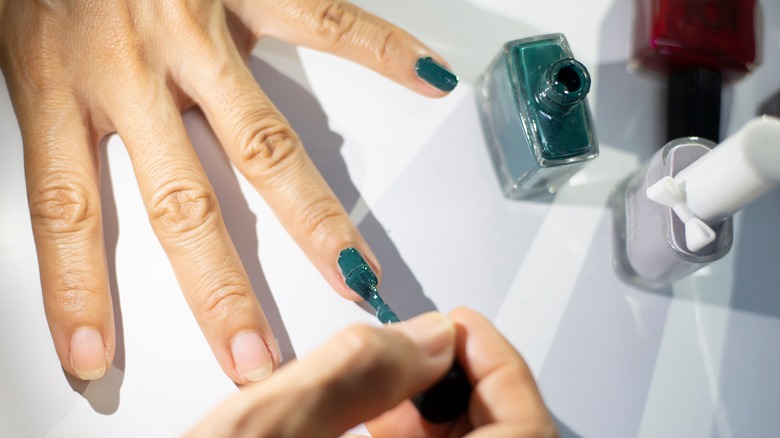 SERASOOT/Shutterstock
It probably isn't a huge surprise that most respondents chose OPI as the best budget nail polish brand. It received 150 (25%) of the 600 votes. OPI was founded in 1981 when a man named George Schaeffer purchased a dental company called Odontorium Products Inc (via People). He had noticed that local manicurists were buying dental porcelain from the company and was inspired to start selling nail products. In the decades since, OPI has become a giant in the industry and continues to be the go-to for many salons and home manicurists alike. Its original formula currently averages 4.5 stars on Amazon at a price of $11.49 per bottle.
What may come as a surprise is the fact that the race was quite close. Coming in a close second with 142 votes (23.67%) was the classic nail care brand Sally Hansen. This iconic company was founded by Sally herself in 1947, according to its official website. While newer brands like OPI have stolen the spotlight in recent years, it appears that this OG is still very well-loved. Its Hard as Nails line also boasts a 4.5 star average on Amazon but costs just $1.87 per bottle. 
Less popular polishes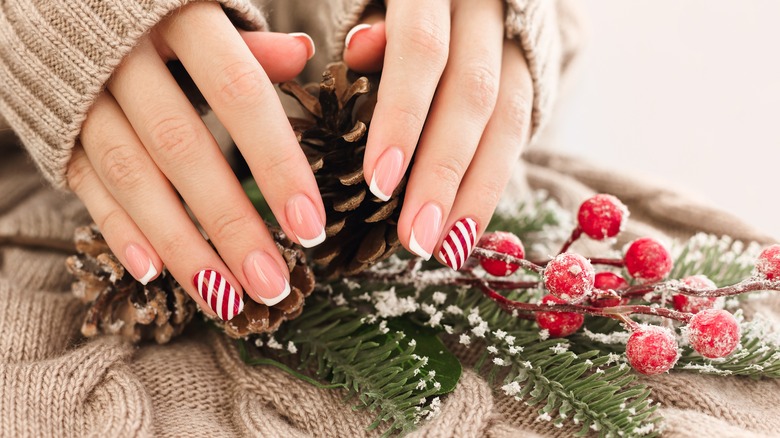 tinta/Shutterstock
Shockingly, Essie, considered second only to OPI by many nail polish enthusiasts, came in two spots below its contender with 78 votes (13%). Both Sally Hansen and Revlon separated the two giants, with Revlon scooping up an impressive 128 votes (21.33%). In last place was Olive & June with just 34 votes (5.67%), although this may be in part due to the fact that the brand is by far the youngest of the bunch. The company was founded in 2013, according to their website. Its polishes have actually earned an average of 4.5 stars on Target and sell for $8.99 per bottle.
Ranked second to last was dollar store staple L.A. Colors with 68 votes (11.33%). Unbelievably, the brand's Color Craze formula, priced at just $1.50 per bottle, is rated 4.5 stars on Amazon, just like frontrunners OPI and Sally Hansen. What does it all mean? Perhaps it just comes down to preference. If a particular brand's formula or brush works best for your nails, keep on keeping on. Now, get to work on those cute candy cane stripes.