TikTok's Movie Lips Are The Perfect Look For Winter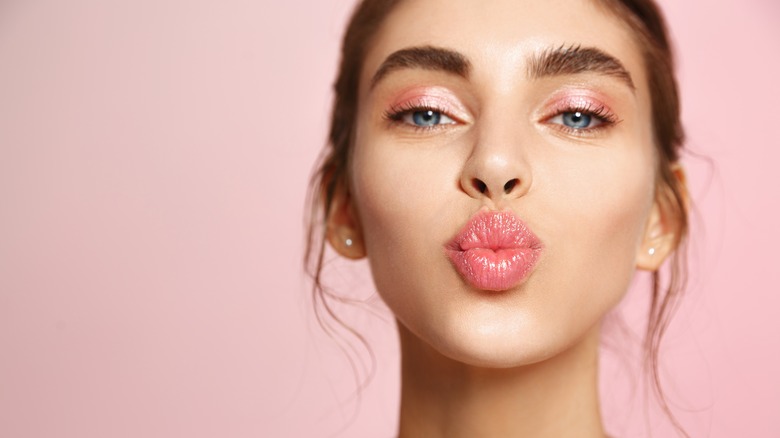 Lyubov Levitskaya/Shutterstock
We may receive a commission on purchases made from links.
Each year, around the holiday season, lipstick always seems to take center stage. Whether it's a wintery, vampy berry tone or a festive swipe of bright red, it's clear that the shimmery glosses of summer have been traded for something that packs a bit more punch. The only problem? Maintenance. Bold shades and clean lines are great for special occasions, but you may find yourself wishing for a more subtle wash of color during your everyday routine.
Advertisement
Tiktok has the answer. After a viral video posted by Kat James, hundreds of creators have flocked to recreate the look she dubbed "movie lips." It's a low-maintenance twist on traditional lipstick application that seeks to give you the look of a just-kissed movie star. Think Kiera Knightley in "Pride and Prejudice" — that effortless, no-makeup makeup that still leaves you looking and feeling your best. We can't all be award-winning actresses, but we can certainly take a page out of their makeup artist's books. Keep reading to learn how, and you'll be camera-ready in no time.
What are movie lips?
In her viral video, Kat James defines movie lips as "that effortless, just-kissed, perfect kind of look." It's a gentle wash of color that brings your lips back to life, perfect for the dehydrating winter weather rolling in throughout the next few months. Another popular creator, Bronte-Marie, posted her take on the look, citing popular movies and shows like "Game of Thrones," "Mamma Mia!," and "Atonement" as her inspiration in her own viral video.
Advertisement
The goal is something subtle — a diffused hint of color that doesn't dominate the face, just accentuates your natural features. Think how your lips look right after you use a lip scrub or plumper. That supple look with a slight hint of redness, but instead of just a few minutes, it lasts all day. No harsh lines, no selfie-camera reapplication, and no hazard when eating or drinking. Just a slight tint that leaves others wondering if you're wearing makeup or if you're just naturally blessed.
How to achieve the look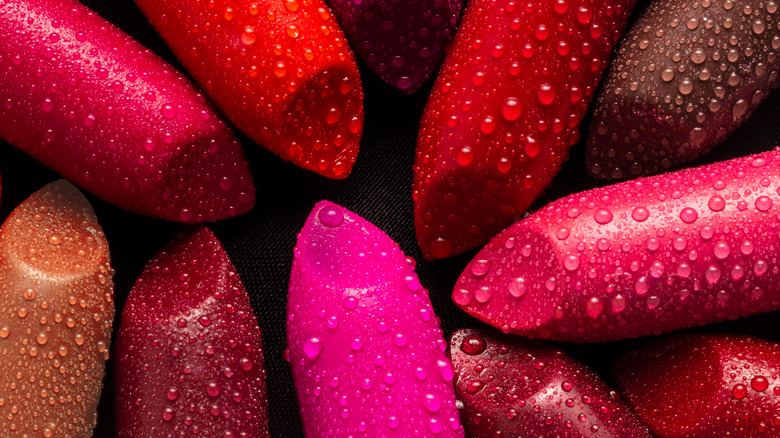 Nehha Deshmukh/Shutterstock
Kat James' original movie lips video has amassed over 2 million views since it was first posted back in August, and creators have caught on, recreating their own interpretations of the look with their favorite products. The best part about the so-called movie lip is that it all lies in the technique, so feel free to play around with different shades and formulas to build your perfect look.
Advertisement
In her video, James uses the Saie Beauty Lip Blur in the shade Classic, a deep blue-toned red. Instead of applying it like a regular lipstick, she gently dabs the color over her lips and diffuses the look with her finger. In just a few seconds, she's left with that blushy, my-lips-but-better look. The formula of the Saie Beauty Lip Blur makes this look a bit more natural — it's a soft matte, so there's no glitter or shimmer to compete with — but any classic stick formula or even a cream blush will do. Look for a shade that's darker than your natural lips, even veering vampy. After you diffuse the color, it won't be nearly as intimidating. And there you have it — the perfect everyday look to give yourself an added boost of natural glam.
Advertisement