How Should You Do Your Hair For A Black Tie Event?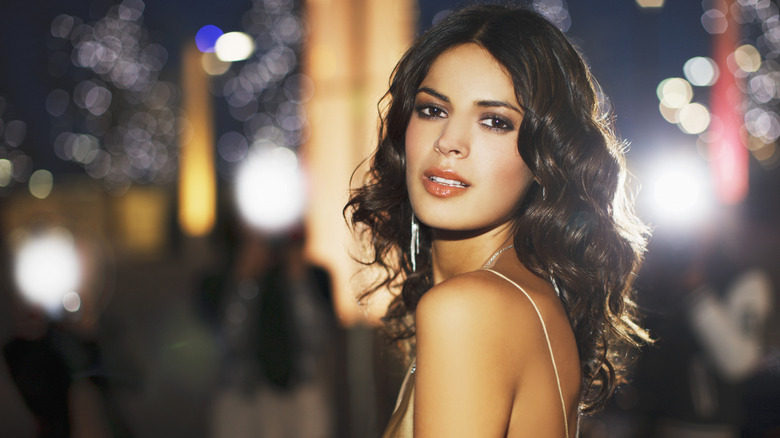 Tom Merton/Getty Images
Black tie events are fun, often once-in-a-season chances to dress up and go all out with your look, but it can get confusing when it comes down to the specifics of the dress code. According to The Knot, guests at a black tie event should wear a floor-length gown or a tuxedo, typically in a dark color, and keep touches like jewelry classy and elegant. When it comes down to hair and makeup, however, the rules are less strict.
Advertisement
This is where you have room to play around with your look, but it's still important to find the line between expressive and sloppy. Stay away from the messy bun, but you don't have to go for an extravagant updo, either. If you're having a hard time striking the balance, we're here to help. Keep reading for some of our top hairstyle options for black tie events that are the perfect mix of modern and formal.
Updos for black tie events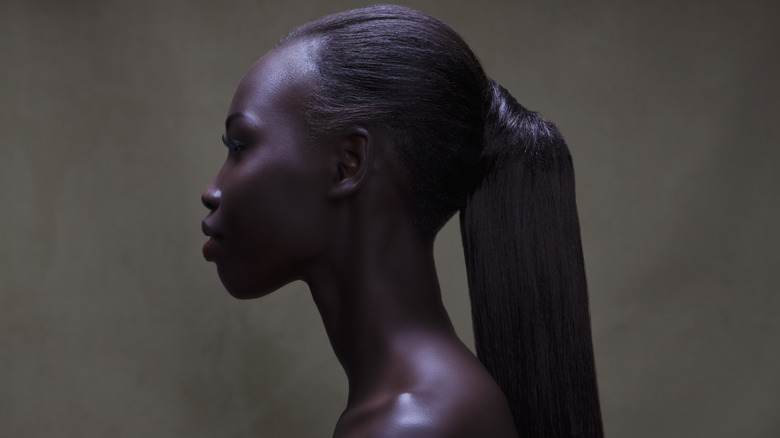 Ralf Nau/Getty Images
Updos have gotten a bit of a bad rap over the years, evoking images of intricately twisted wedding hair fixed with a near-industrial coat of hairspray. A look like that might feel like a bit too much effort, even for a black tie event. Luckily, though, there's a host of other updo options that won't leave you fishing for bobby pins at the end of the night.
Advertisement
Instead, keep it simple with a low twist or bun, then add some flair with a bow, clip, or French hair pin. This is a great opportunity to tie in colors of your jewelry or accents on your dress, and it instantly brings some more visual interest to a simple hairstyle.
If your dress does all the accessorizing for itself, however, consider a slicked back ponytail. To achieve this look and make sure everything stays sleek, ORS Hair Care recommends starting with clean hair, blowdrying and straightening it, then slicking everything back with a boar bristle brush and gel or pomade. From there, you can choose to wrap a strand of hair around your hair tie to conceal it for a more formal look.
Down hairstyles for black tie events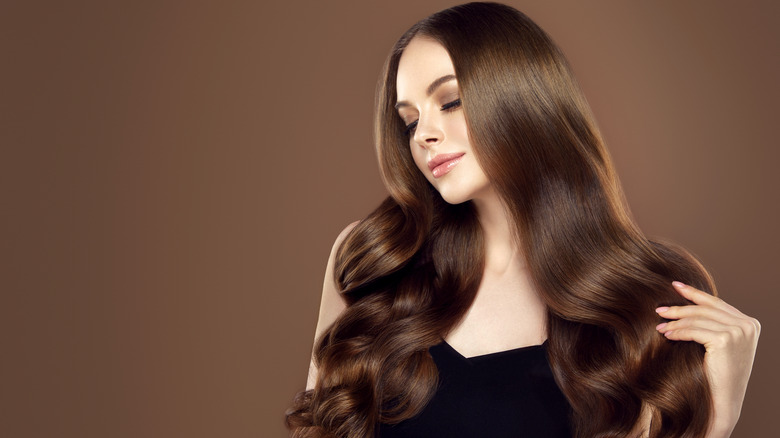 Sofia Zhuravets/Getty Images
If you'd rather keep your locks long and loose, there are still a few ways you can make the look a little more formal. A loose wave or a blowout is a classic choice, but if you're able, why not go and get it professionally styled? Black tie events are the perfect excuse to splurge a bit on your look, so a trip to the blowout bar might be just what you need to look and feel your best.
Advertisement
If you'd rather amp up your look at home, however, there are a few products you can use to take your look from everyday to black tie ready. Whether you're going simple and straight or luxuriously curly, consider adding some texturizing products to your roots and a clear gloss to seal the look, like this Drybar Liquid Glass Miracle Smoothing Sealant. Products like this help to add shine and reduce frizz, a major bonus if you plan to spend your night on the dance floor. If everything still feels a little lackluster, look into accessories to bring you the extra touch of glam you're looking for.