Shearling Leather Jackets Are The Trendy Coat You Don't Want To Ignore This Winter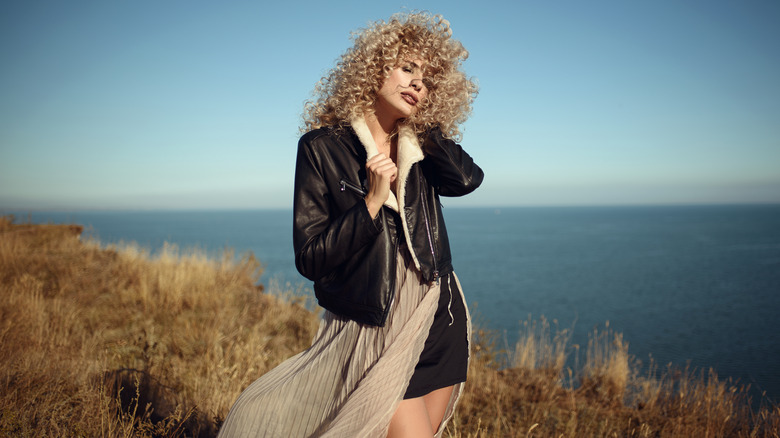 Olga Brik/Shutterstock
Cold weather can be one of the trickiest times to look stylish. A lot of times it feels like you have to choose between style and warmth. And who really wants to take the chance of freezing outside when going to a nice event or on a first date? You want to enjoy yourself in whatever you're doing, along with looking as good as you can. Not that puffer coats or long, warm jackets can't be stylish, but there's just something about really spicing up a look with something different. And the trend of shearling leather jackets might just be the saving grace you needed this winter.
Leather jackets and cold temperatures aren't really best friends. Unless someone's willing to tough it out, depending on how cold it is, leather jackets aren't known for their insulation or warmth. But jackets that add shearling to the interior give wearers an added layer of warmth, and the soft material also adds to the comfort of the outerwear. It's a trend that will add a staple piece to your closet, along with giving your more options to wear when the temperature drops.
Celebrities love the shearling leather jacket look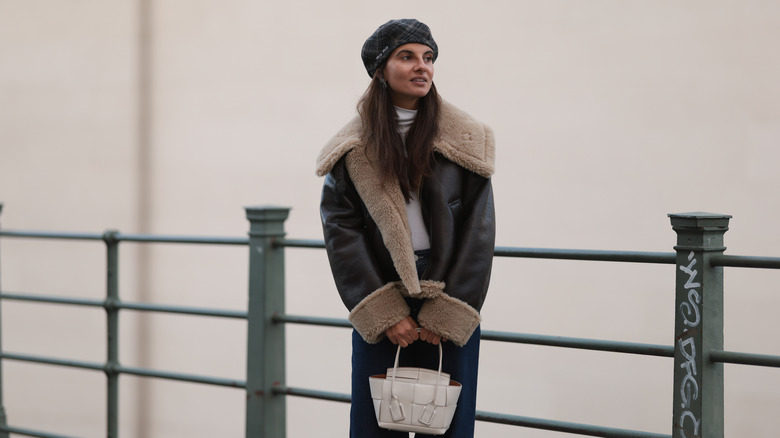 Jeremy Moeller/Getty Images
Celebrities don't always wear styles that are accessible or even worth the fuss to the masses. However, this shearling leather jacket trend is something that is not only a great way to dress up an outfit in a cozy way, but it also means you can take direct inspiration from your favorite celebs. For instance, as People reported, Florence Pugh, Kate Hudson, and Gabrielle Union all wore these jackets to various locales like the airport, out and about in London, or just running errands.
If you want to take the trend a step further, you can follow exact outfit details and stylings from the rich and famous. Pugh chose a long trench coat version of the shearling leather jacket, which went with her black midi dress, black platform boots, and gold accents. Not to mention the cool black shades to close out the almost gothic '70s vibe. Union and Hudson both wore more polished, dressy looks with heels and dresses. Even Kendall Jenner wore a variation of the shearling jacket in a tan, suede material on a casual walk, as Yahoo reported.
There are many ways to style shearling jackets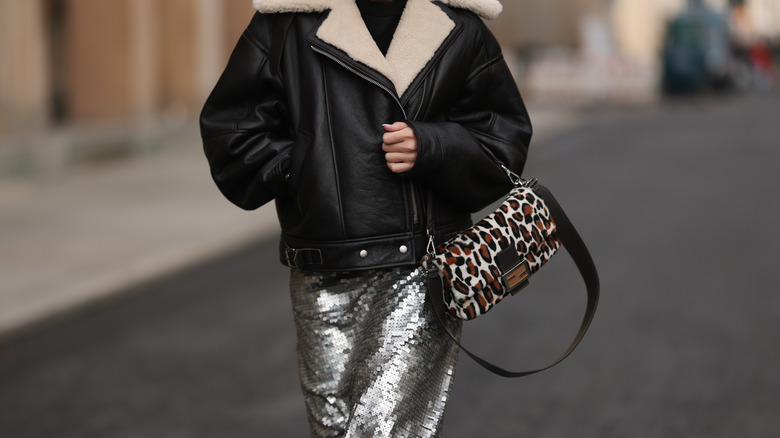 Jeremy Moeller/Getty Images
Again, just because a famous person is seen with something doesn't mean it's worthwhile. But shearling leather jackets have such versatility that they can make a jeans-and-tee outfit to go grocery shopping double as a getting-drinks-with-friends fit. There is also a timeless, retro vibe that comes with a shearling leather jacket that, even if it's a new one, can make a whole outfit look vintage on top of being cute. As Vogue reported, shearling jackets are "sturdy and durable" if you get them from a solid brand, so it's a good investment and can last you several winters in a row. They also wrote that you don't have to go for shearling to achieve this look; sherpa is a great dupe and just as comfy and stylish.
Because shearling leather jackets are so neutral, they won't look odd in a casual outfit, and they won't seem out of place in a dressed-up look. Vogue says they're perfect to go on top of an already layered look and go just fine with sneakers, chunky boots, loafers, or even heels. You can find one at any price point, too, thanks to their popularity. And the same things can be said about shearling-lined jackets of other kinds, too. In addition to leather, you can get shearling bombers, suede trenchcoats, aviator jackets, and more. There really isn't anything like a shearling/sherpa-lined leather jacket, though, which really adds an edge to any winter outfit.