What To Know About The Trendy New Bobcat Haircut
Move over, "wolf cut" — it's bobcat season. The sister to the "wolf cut" has been sweeping the nation with its choppy layers and messy fringe. The main difference between the two styles is, of course, the length. The "wolf cut" merges from the traditional long hairstyle, while the "bobcat" haircut stems from, well ... the bob. So, how do you know if the trendy new style is for you? According to Revlon Professional, the best way to determine if a hairstyle suits you is to look at your face shape, hair type, and hair texture.
Advertisement
This isn't to say certain face shapes can't rock a bobcat, but it does help to have an idea of how it will look before you take a seat in the salon chair. We can all agree there's nothing worse than a bad haircut, so to give you a better sense of what the "bobcat" haircut is all about, here's everything you need to know.
It's customizable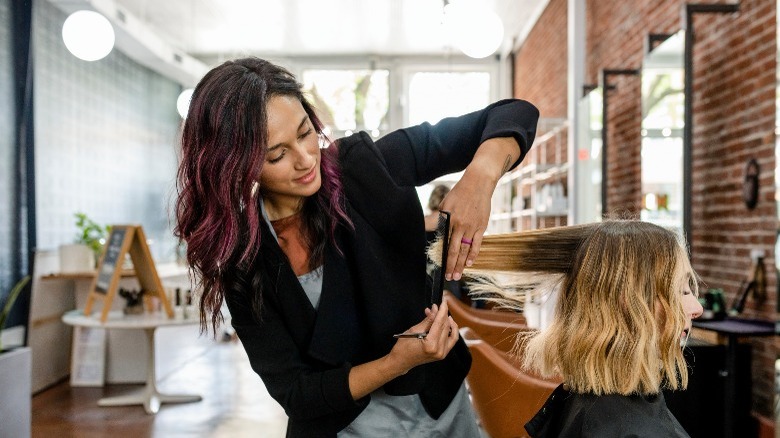 Rawpixel.com/Shutterstock
It's important to note that the "bobcat" isn't one-size-fits-all; you can customize it to match your style and how much maintenance you're willing to put into it. Believe it or not, bobs require less maintenance than you might think (especially for fine hair), says The Right Hairstyles. If you're looking for a softer "bobcat" cut, ask your stylist for an A-line shape to give your hair that just-got-out-of-bed look. It looks fluffier than a typical bob shape, with fewer harsh lines. 
Advertisement
On the topic of soft haircuts, think about taking curtain bangs for a spin. Not only are they easier to style than the straight-across bangs, but they look effortlessly chic. If you're looking for something on the edgier side, ask your stylist for the "bobcat" cut and incorporate micro bangs. Micro bangs aren't for the faint of heart, but if you're willing to step outside your comfort zone and release your inner punk, you're sure to turn heads.
It's easy to style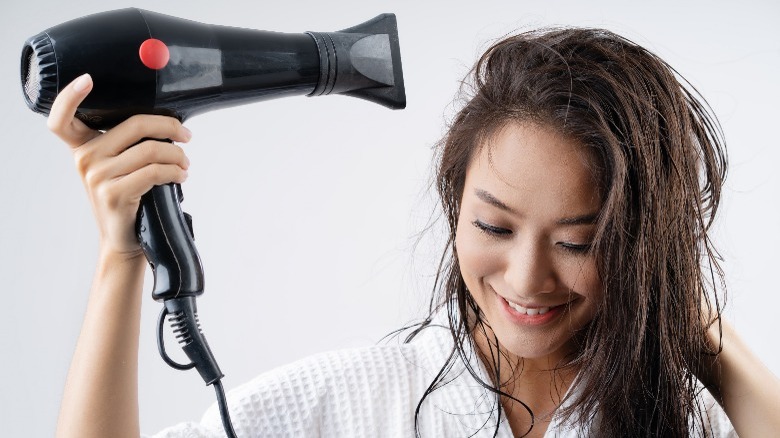 TORWAISTUDIO/Shutterstock
The "bobcat" is probably the lowest-maintenance version of the bob haircut. To achieve the beachy vibe, Latest Hairstyles suggests using a dry texture spray. Give your hair a few spritzes, then zhuzh it up. If you want to go the extra step, take your curling iron to really define your waves or curls. If you don't have many waves to work with, you can create your own by using a hair diffuser attachment on your blow dryer, Reviewed explains. Before blow drying, add a curl cream or lightweight mousse to your hair.  
Advertisement
The best method when using a diffuser is to work in sections, occasionally turning your head upside down to achieve more volume. Alternate between using the diffuser and scrunching with your hands to get the wavy texture you're hoping for. Make no mistake — you can still get the "bobcat" haircut with straight hair; it just takes more effort. MasterClass recommends giving yourself a blowout with a round brush to attain the sleek "bobcat" look.