The Nail Colors That Will Be Seriously Trending In 2023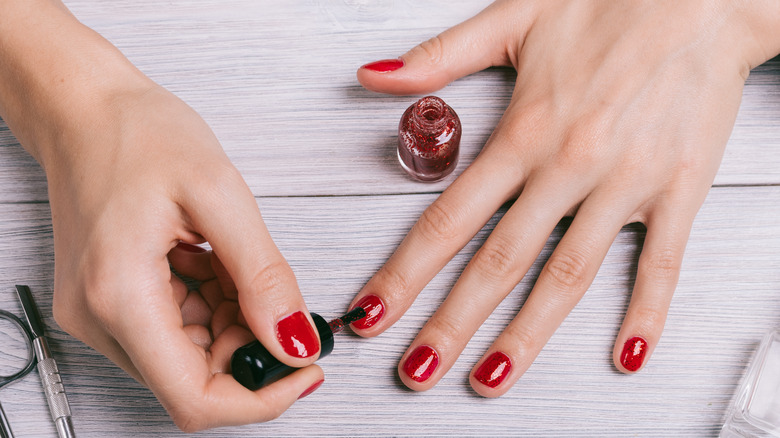 Iprogressman/Getty Images
People have painted their nails for centuries, but there's no doubt that modern manicures have swept the beauty world in 2022. For many people, doing their nails is a routine, whether they go to the salon or do it themselves. Maintaining your nails doesn't only have aesthetic benefits but health ones as well. According to HOLR, regular nail care helps to make your nails healthier by strengthening and hardening any new growth ... and paying attention to any differences in your nails if you have potential vitamin deficiencies.
Beyond the health aspects, having their nails done often feels like a boost of confidence and a way of expressing yourself. With endless styles, from simple minimalist designs and nude colors to bold hues packed with rhinestones, both of which had their moment in 2022, according to Goldie, nail art is a way for people to let out some creative energy and engage in some of the current trends. Inspired by the runway, celebrities, and nail art influencers, here are the colors nail experts are saying to watch out for in 2023.
Cool tones reign supreme
Experts are expecting to see cool tones rising in popularity in the next year. Think of shades of blue, green, and purple. "I see blues in 2023 — from pastels to hot blues — which may have been influenced by the return of the washed-out denim fashion," celebrity nail artist, Jin Soon Choi, tells TZR. Blues are always popular options because, in many cases, they act like a neutral and easily pair with other colors and skin tones, so they won't easily clash with your outfit, makeup, or hair.
Celebrity nail artist Holly Falcone agrees, saying that combining cool tones with 2022's glazed doughnut nail trend, popularized by Hailey Bieber, is the way to go. This trend uses chrome powder, such as OPI's Tin Man Can, to create a metallic effect, according to Let's Eat Cake. The shimmery look to the beauty world by storm and traditionally used a pale pink. But nail artists are predicting this trend to continue with purples and blues. The love of metallics might stem from the rise of Y2K fashion, which often features iridescent and liquid metallics, says Envato. Inspiration from this decade of beauty and style isn't going anywhere any time soon.
Earth tones are on the rise
On the opposite side of the cooler color trend are the warm earth tones that nail experts are expecting to gain traction in 2023. "I'm already seeing a segue toward earthy colors," Jin Soon Choi says, according to TZR. Warm earth tones tend to complement every skin color, and while they tend to trend in the fall, experts are encouraging people to use these tones throughout the year. Brown, tan, red, orange, and yellow are considered earth tones. For specific shades, Choi points to "clay, putty, and rich brown" as earth tones to look for. But you can also look for moss greens, plums, and even sky blue for more earthy options, says Crossroads.
Beauty brand IPSY also sees earth tones as a popular choice for next year's trending nail color palette. They're moodier shades, so they make a statement even when they're used as a single color instead of a design. They're also an easy go-to, so if you're looking for a quick manicure idea, grab your favorite earth-toned polish.