How To Get Perfect Curls Using Your Favorite Pair Of Leggings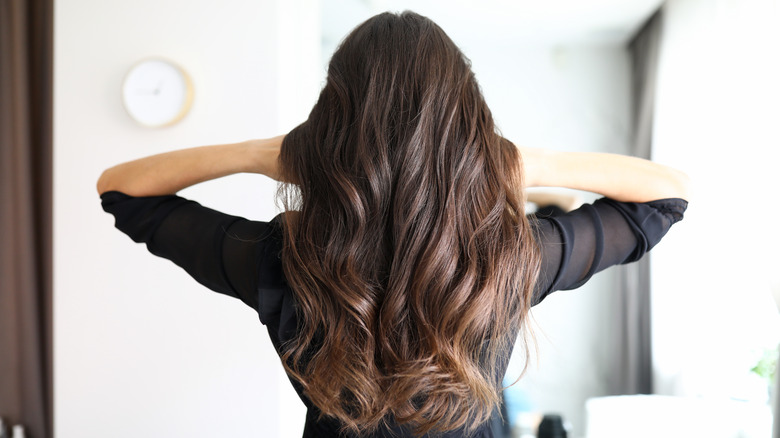 megaflopp/Shutterstock
What do leggings and a gorgeous head of curls have in common? This may sound like the start of an awful joke, but really, we aren't kidding. If you're new to the creative and fascinating world of TikTok (first of all, where've ya been?), you may be missing out on the hundreds of weirdly genius beauty hacks out there that, get this, actually work. The truth is, TikTok has a hack for everything, including curling your hair without the use of any damaging hot tools.
Advertisement
Speaking of heatless waves, we can't help but notice #HairTok's healthy obsession with trying anything and everything to create bouncy locks while keeping the hair strong. After all, it's no secret that too much heat on the hair can lead to a level of damage that no glamorous hairstyle is worth. According to Elite Daily, using hot tools religiously is a surefire way of forcing those strands to dump their healthy relationship with moisture for a toxic love affair with split ends, dryness, and breakage.
So, perhaps the correlation between leg attire and curls is starting to make a little more sense. If you're on the hunt for bouncy, perfect curls without the use of any styling tools, run to your dresser and grab your favorite pair of leggings. It sounds bizarre, and you may get weird looks from your partner or roommate walking around with leggings on your head, but trust — the results are worth it.
Advertisement
How leggings create curls
If you've seen those silk heatless hair tools circling about, you may get the gist of how leggings work to get voluminous hair without heat. But if not, let us enlighten you. Most DIY heatless tools, whether a silk tube-like curler or a robe belt, are placed on the head with the hair wrapped around it. That wrapping method, like how you'd wrap hair around a curling iron, will produce a bouncy curl once unraveled.
Advertisement
The same technique applies to the leggings, which went viral on TikTok thanks to user Reagan Ibach (@reaganibach). In the video, Ibach places her Lulu Lemon leggings on top of her head, with the crotch part on top, the opening facing the back, and a leg on each side of her head. She then parts her hair down the middle and starts at the top of one side, tightly wrapping a small section around the leg once.
Then, she picks up another piece as she makes her way down the leg, wrapping it around and adding sections as she goes. Tight wraps produce tight curls, according to Who What Wear. So, if you're going for a wavy look, be delicate with the wrapping. Once you reach the bottom, secure it with a scrunchie. Roll the bottom part of the leggings up to cover the hair, doing the same on the top, so your entire head is secure in the leggings. Let it sit overnight to reveal viral-worthy locks once you remove the leggings.
Advertisement
Tips for creating the perfect heatless curls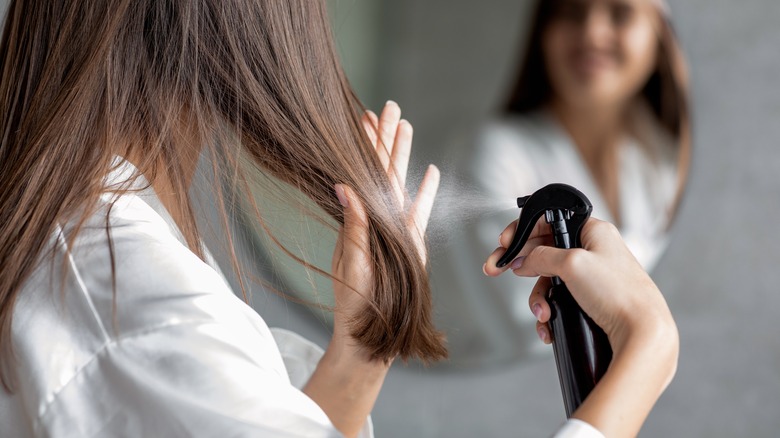 Prostock-studio/Shutterstock
Every head of hair is different, so what works for some may not entirely work for others. However, there are some tips you should make a note of before reaching for your leggings so that you can achieve the best results possible. 
Advertisement
While some find that their curl holds better when starting with dry hair, you may want to dampen your locks before wrapping them around the leggings. This will ensure the curl lasts longer, as the hair dries and sets while it's wrapped around the leg (via The Aesthetic Edge).
In the morning, after you unravel your leggings from your head, you'll be left with hair that looks like you just spent hours curling it. However, sometimes it might need a little pick-me-up at the top, especially if you're a wild sleeper. To give some lift at the root, Hair Romance recommends spraying it with a dry shampoo or texture spray. Finish with a spritz of light-hold hairspray or shine serum for the ultimate glossy curls. No doubt, the final result will definitely have you adding leggings to your weekly nighttime beauty routine.
Advertisement