How To Wear Heels All Winter Long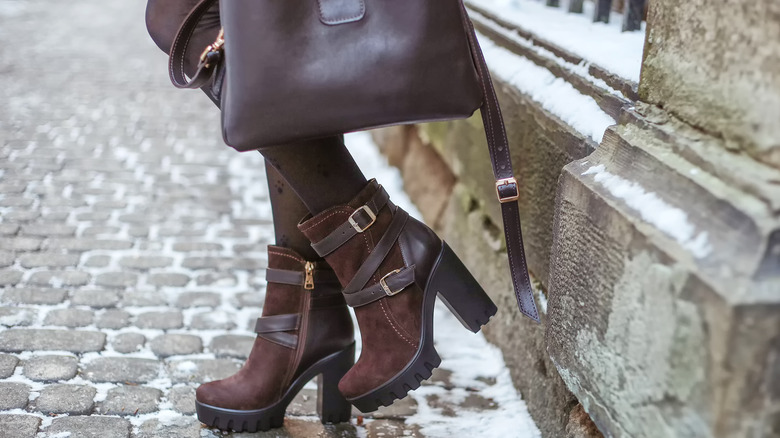 Cozy Home/Shutterstock
Depending on where you live or are traveling to this winter, heels might not be the first option of footwear that comes to mind. That said, colder weather doesn't necessarily mean that heels are automatically off-limits, even in the snow. There is definitely no shortage of great winter looks that can be paired with heels even during the coldest months of the year, no matter the weather conditions. Whether you prefer boots, pumps, or something else, you certainly aren't out of luck when it comes to footwear. 
And since even the clumsiest person can walk gracefully in heels with a little practice, this type of footwear is ideal for anyone who literally wants to elevate their look and add a touch of sophistication. (Granted, if you're someone who prefers sandals or peep-toes, you might want to wait for the weather to warm up a little before putting those back in your rotation.)
Flatforms or chunky heels are ideal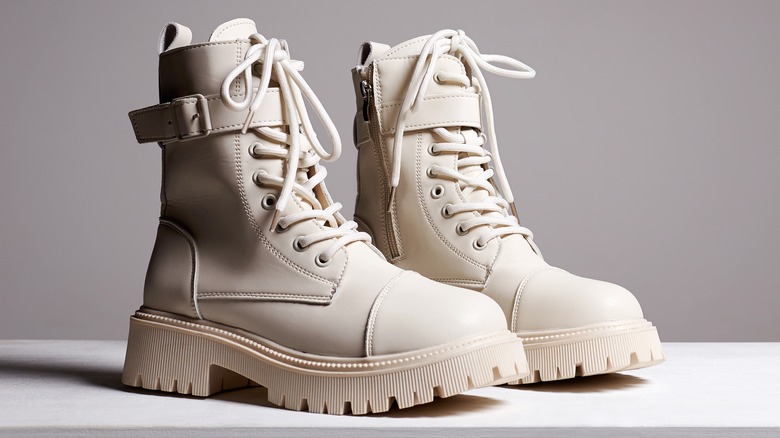 Eugene Partyzan/Shutterstock
Particularly in snowy or icy conditions, sites including Style Circle advise opting for a thicker heel in wintertime for the stability that it can provide over a thinner, stiletto-style heel. 
Podiatrist and human movement specialist Dr. Emily Splichal told InStyle that flatforms are an even better option for those who are going to be around ice and snow, as long as they aren't too high. But she conceded on the subject of other shoe styles, saying, "I would just make sure they have a rubber sole. And I wouldn't go higher than two inches."
Sorel, a company known for its winter boots, also sells a selection of heeled boots on its website that are manufactured with inclement weather in mind. Note that these aren't in the same section of the brand's online store as its other winter boots, specifically, and you might be better off with one of those styles if the climate calls for it.
Pumps can still be worn with some layering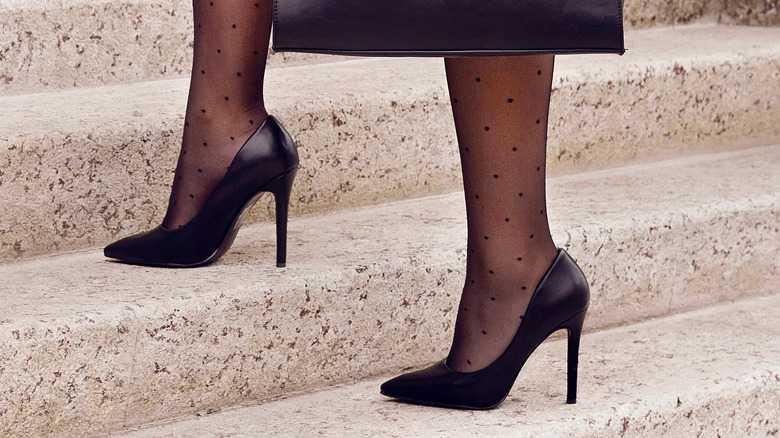 Viktoria Minkova/Shutterstock
Apart from the warning that higher heels may not be ideal for all weather conditions and could lead to injury if you fall, colder weather that doesn't involve slippery surfaces can mean that a nice pair of pumps isn't out of the question just because the temperature has dropped. One tip from Curated Taste is to buy a pair of pumps that are lined, but the same post notes that adding tights or socks to pumps you already own can work just as well to guard you from the cold.
PureWow argues that the tights solution extends to shoes with open toes. Keep in mind, however, that adding a layer might not work well for shoes that are already a snug fit, since thicker hosiery is likely to add some bulk that could make your shoes downright uncomfortable or even difficult to put on.