What To Know About Spirit Gum And How To Use It In Your Beauty Routine
Spirit gum might not be a product that has been on your beauty radar, but there's actually a reason for that. This adhesive is known for its benefits when doing special effects (SFX) makeup, including for film, television, and theater, but it has gradually made its way into the wider world of beauty.
In fact, there's a good chance you've seen spirit gum used without even realizing it. It's a go-to glue for so many applications, from securing drag queens' wigs (via Mane Addicts) to attaching prosthetic pieces to create out-of-this-world looks. As SFX makeup artist Elly Supalo suggested to CNN in relation to Halloween costumes, "Depending on what you're wanting to achieve, spirit gum is great for small prosthetics such as a horn or a witch nose."
While Halloween only comes once a year, the versatility of this great product means that there are some great ways to make use of it in your beauty routine all year long.
Spirit gum is a trusted adhesive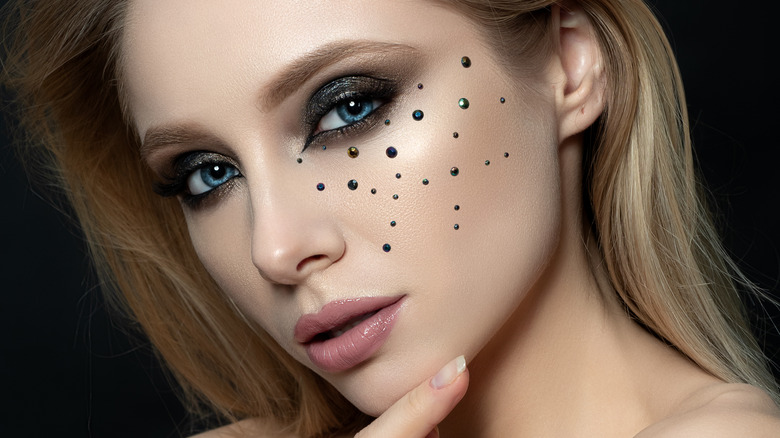 ldutko/Shutterstock
Red Carpet FX writes that spirit gum has been around since the 1870s and is safe for use on the skin, which makes it a great choice for anyone looking to use a stronger adhesive. As discussed by Red Carpet FX, however, there are some applications that are encouraged and some that you're better off skipping. In particular, you shouldn't use spirit gum in place of eyelash glue where it could get into the eyes, nor should it be used in the mouth.
Apart from those necessary safety precautions, it's up to you what you do with spirit gum. Makeup.com suggests using it as an adhesive to ensure that face gems stay stuck to your skin, remaining in line with up-and-coming makeup trends. Meanwhile, Mane Addicts discusses how to use spirit gum to secure lace front wigs, a perfect option whether you wear wigs every day or save them for special occasions.
Dive into the world of prosthetic makeup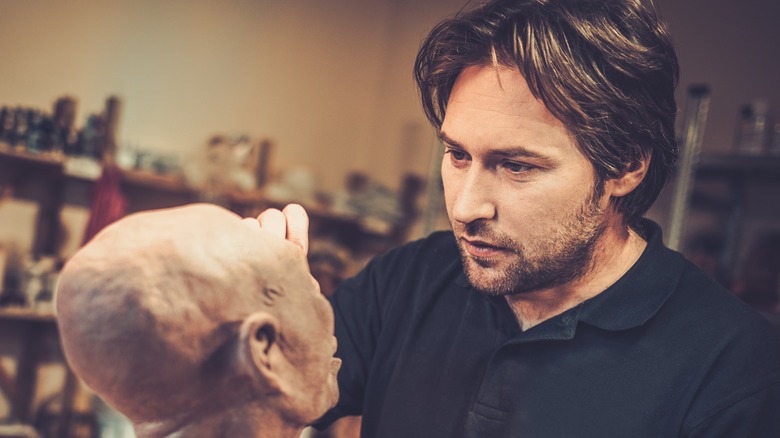 Nejron Photo/Shutterstock
Expanding your view of beauty to the world of prosthetic makeup is another great way to make use of spirit gum beyond what might be expected. Last Looks FX & Beauty Supply has tutorials on how to apply and remove the adhesive, with both guides featuring photographs of each step in the respective processes to make it even easier to follow along.
QC Makeup Academy also has its own guide for novices on how to get started with using prosthetic makeup. This tutorial is perfect if you want to add a touch of whimsy to your looks without leaping headfirst into the more complicated techniques you might have seen used by professionals to create characters for film or television. While it's likely that you will need some additional products besides spirit gum for these options, there's no doubt that you can unleash your creativity even more.