A Common Symbol Is Projected To Be Trendy For Spring 2023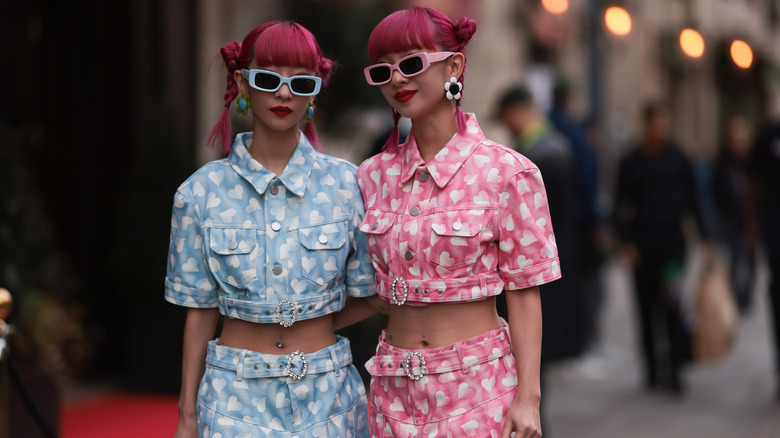 Jeremy Moeller/Getty Images
Spring/Summer fashion week may have wrapped a few months ago, but there's still time to hop on the trends before the upcoming season. We might not all have the funds to afford head-to-toe designer or have the desire to replace our entire wardrobe with each new collection, but luckily, one of the top trends this year is predicted to be a simple, wearable motif you might already have in your closet.
Amidst a wealth of sharp tailoring from Stella McCartney, a flurry of exaggerated silhouettes from Loewe, and a collection fit for royalty from Thom Browne, one slightly less dramatic symbol made a repeat appearance — the simple heart (via Vogue Runway). Moschino, Acne Studios, Vivetta, and Nensi Dojaka were all feeling the love in their Spring Summer ready-to-wear collections, foreshadowing a new era for this sweet, kitschy little symbol, finally free to be worn beyond the confines of February 14 and "I Heart NYC" shirts.
What are the origins of the heart symbol?
MrcTeam/Shutterstock
If you've ever seen an anatomical heart, you know that the popular symbol bears little to no resemblance to the real thing. But why is it still used today? According to The Wall Street Journal, the classic heart symbol dates all the way back to the 1200s in France. The almost pear-shaped symbolic representation of love was a far cry from the iconic shape we know today, but the symbology grew throughout centuries, making its first symmetrical, two-lobed appearance in the 1400s.
Even as medical knowledge grew and the true shape of the heart became universally known, people remained true to the simple shape — after all, an anatomical heart is much more detailed, difficult to draw, and admittedly uglier than the other option. The emblem developed a life of its own, appearing everywhere, from religious seals to social media feeds, and now, it's coming back around in our clothing, too.
How to style this trend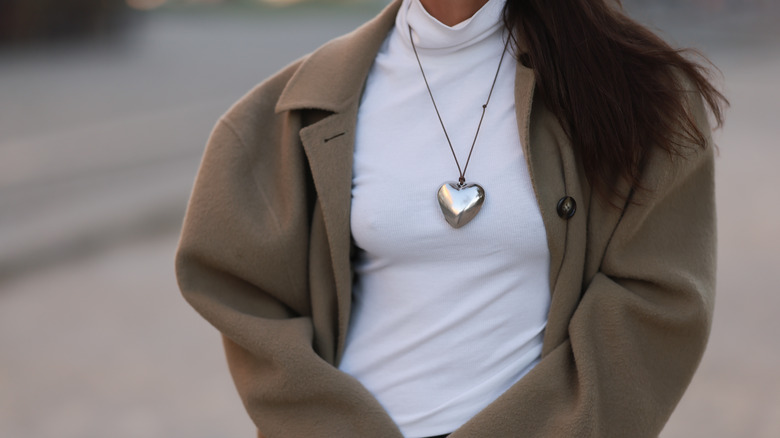 Jeremy Moeller/Getty Images
When you think of the heart symbol in clothing, it may evoke images of little girls' dresses and cheesy tourist t-shirts, but the Spring Summer 2023 trend comes off in a much more adult, refined way. Acne Studios opted for a 3D, monochrome, blush pink approach in their collection, using the symbol to bring a fun touch to an otherwise mature and classic look. Nensi Dojaka went for negative space with their romantic touches, incorporating small heart cutouts in this moody, black, and strappy set, as did Botter, showing this vibrant blue suit with a bold central heart cutout.
If you want to rock the heart trend without feeling like a walking Valentine's Day card, take some advice from the pros and keep everything in balance. Try pairing something like heart-printed tights with an edgier, rockstar-chic dress, or add a sweet accent with a locket necklace on an otherwise simple outfit. You'll be left with a look you want to wear year-round, not just on February 14.