The Nail Design Trends That Will Be Major In 2023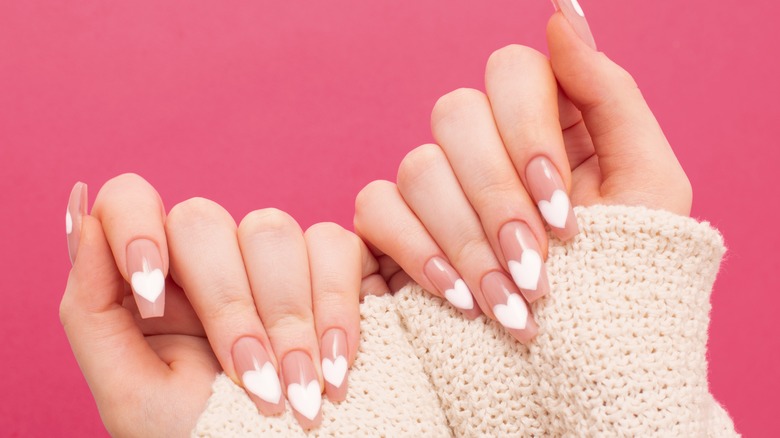 Maya Kruchankova/Shutterstock
As an anonymous saying that would make an excellent nail salon slogan goes, "Nail polish without a sparkle is like a cake with no frosting!" Those who know, know. If a manicure can detox and de-stress your fingers or toes, nail art can give them a new lease of life and draw attention to them. Nail art, or nail design, is the art of embellishing your fingernails with decorative designs, usually after a manicure or a pedicure.
They can be as subtle as a mismatched nail art look or as funky as having a swipe of metallic shade topped with rhinestones at the tips. No matter your choice, nail art can top off your look on a stylish note and be your outlet for creativity, according to SP Fashion & Beauty. If adding a layer of fun and outrageous to your fingernails boosts your mood and productivity, check out our compilation of nail trends that will grow in popularity in 2023. 
Airbrushed nails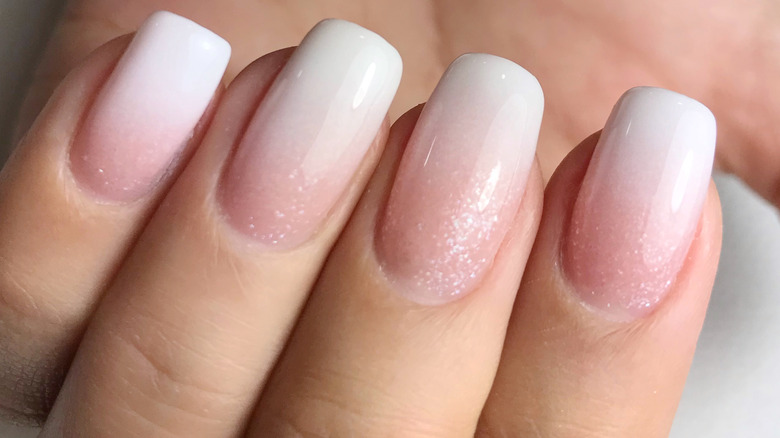 Natali Pink/Shutterstock
Airbrushed nails — the biggest nail trend of the '90s — has made a comeback in 2022 and doesn't seem to be going away anytime soon. There's a high chance that airbrushed nail art will continue to be in vogue in 2023. For instance, searches for "airbrushed nail art" on TikTok have grown to over 70.3 million views at the time of writing.
Quick and simple, the airbrushed nail art technique involves spraying water-based paint on the nails using a hand-held air-powered spray instrument and stencils. From electrifying wave patterns to abstract designs to the gradient look, there's no limit to what you can do to your fingernails with an airbrush kit and stencils. It's more fun when you have a manicure party where you and your friends airbrush each other's nails. According to Airbrush Expert, airbrushing nails is a technique that demands a lot of care and precision. Additionally, the airbrush set needs to be cleaned after each application, so you might want to reconsider if you're not a stickler for meticulousness.
3D nail art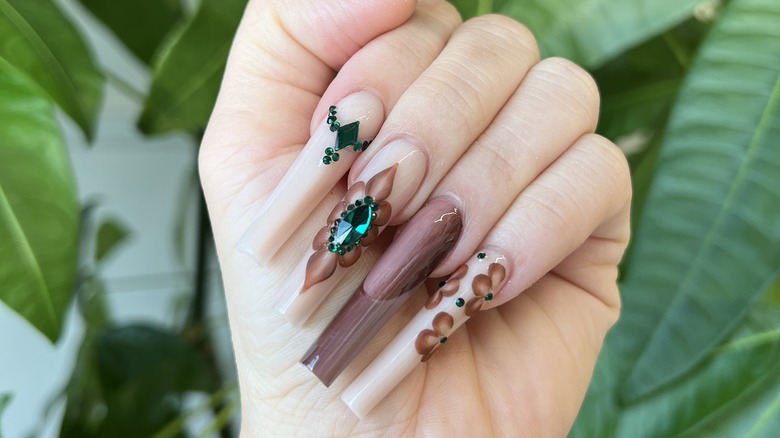 Huan N. Phan/Shutterstock
If flat designs are not your type, go for chunky, "in-your-face" 3D nail art — a major nail trend of 2022. There's a high possibility this trend will be carried on into 2023, given how Grammy Award winner Megan Thee Stallion and Sports Illustrated swimsuit model Yumi Nu have expressed their creative side with these wearable artworks. In short, a 3D manicure is a three-dimension nail art that goes beyond nail polish. This type of nail art requires a high level of detail in visualization and should be done by a professional who has the tools and skills for it.
In order to create detailed forms that seem as lifelike and striking as possible, additional elements such as rhinestones, glitter, or melted plastic are glued to the fingernails on top of the nail coat using nail gel or acrylic. Some 3D nail art creations that are always sought-after are chunky droplets, jewelry, lace, flowers, and unicorn. "It brings nail art to life because it adds dimension and texture," nail artist Naomi Yasuda tells Allure.
Milk-bath manicures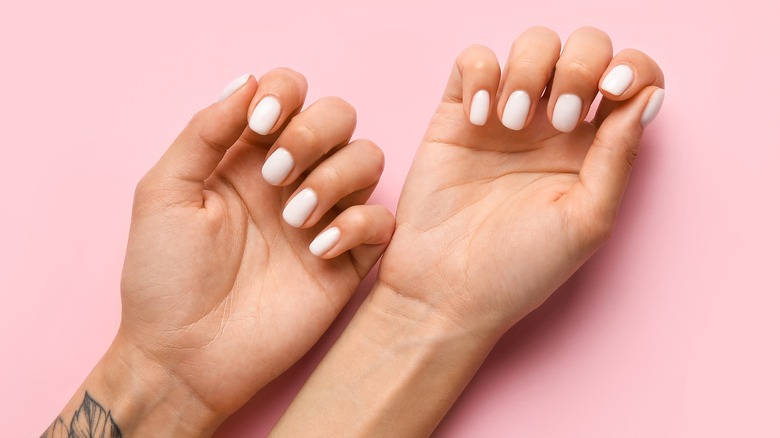 Pixel-Shot/Shutterstock
Another manicure trend that will continue to flourish next year is milk-bath nails. The reasoning is that the versatility of this ever-sophisticated bridal manicure transcends times and settings. Zendaya, Elle Fanning, and Nicola Peltz were among celebrities who displayed sheer manicures on the red carpet earlier this year, proving that simple-looking nails with a classic, pink-neutral finish will always be a hit. If you're a beginner to manicures and don't know how to rock your nails, just stick to semi-transparent nudes or any shade that's close to your natural nail color — they go with all types of outfits and settings. You can bring this sheer nail look to work, on the red carpet, or at your own wedding.
If you have fair skin with blue undertones, the color of sheer pink or creamy blush will give your fingernails a high-shine finish and brighten the skin of your hands. For those with olive skin, two coats of rosy beige or creamy beige nail polish will give your nails a velvety, translucent finish that looks chic in any season. 
Patent leather nails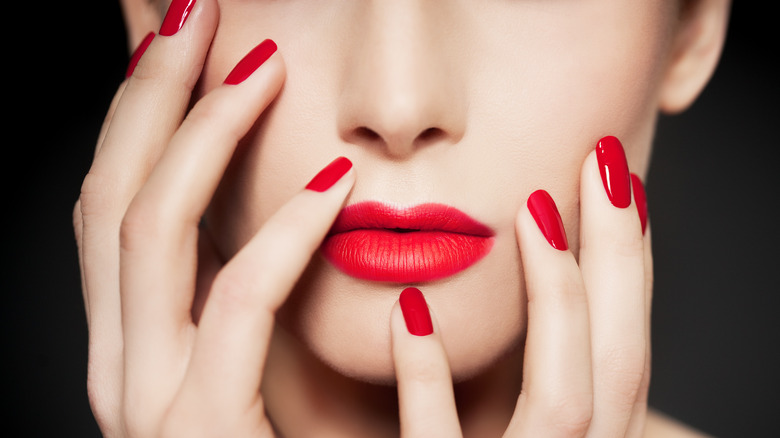 iconogenic/Shutterstock
If long and awe-inspiring 3D nails will continue to make waves in the months ahead, short and details-free nails with a super-shiny patent leather finish are not slowing down in popularity either. Celebrity nail artist Brittney Boyce tells Byrdie that "When it comes to nail length, the trends always go from really long to really short. While really long, extreme maximalism with 3D bedazzled nail art is not going away, the pendulum is swinging toward more simple nail looks that are still statement-making."
Rich hues like burgundy, black, cocoa, and crocodile green, and reflective finishes are the keys to the patent leather manicure look. However, don't discount the impact of short and square nails. Not only are they low-maintenance, but they also help you go around your everyday activities easier without being afraid of chipping the nail polish or breaking the tip. "Longer, dramatic nails have been the trend for a few years, so shorter, more utilitarian lengths feel edgier," manicurist Rita Remark explains (via BeautyEQ). If you want a low-maintenance manicure that feels modern, then glossy, lacquered nails with a hard-shell finish are a good shout.
Glazed donut nails and earthy colors
In 2023, you'll continue seeing swathes of nail art fans serving up inspo with glazed donut nails, a viral opalescent look popularized by Hailey Bieber in 2022. Celebrity nail artist Holly Falcone tells TZR that the dewy, shimmery glazed donut nails will make a big comeback next year, this time in muted, cool-toned shades like blues, greens, and purples with a snow-like metallic finish. Although Hailey's glazed look is originally achieved with sheer white nails at the base, you can try wearing the mani in an opaque blue or green hue, infused with a small amount of shimmer and a high-gloss finish for the sparkly effect.
Falcone also adds that shades of blue will very likely have a moment in 2023. Echoing this sentiment, celebrity nail artist Jin Soon Choi points out, "I see blues in 2023 — from pastels to hot blues — which may have been influenced by the return of the washed out denim fashion." Aside from blue, there will be a pull towards more natural, earthy colors such as shades of clay, putty, and rich brown, she says.
Lip gloss nails
If 2022 was the year of the glazed donut nail trend, 2023 sees the rise of a new nail trend that takes milky nail art to the next level: lip gloss. As its name suggests, lip gloss nails gather inspiration from the glossy luster and the ultra-clean topcoat of lip gloss. Milky and glistening, lip gloss nails are the ideal manicure to match the effortlessly gorgeous and dewy makeup look that's been trending lately. 
To get in on the lip gloss trend, apply one coat of sheer or pearlescent polish — like a tinted baby pink or any translucent neutral shade that's close to the color of your nail bed — to your neatly filed and clean nails. Then, lightly dust a thin layer of chrome powder to add a smooth liquid look to the nails. After that, top off with a gel or lacquer top coat to seal in the color and lend your nails an extra touch of shine. Not only is this nail look perfect for any occasion and venue, but it also makes a great accompaniment to your skin tone and your glossy lips.