The 'Dating Wrapped' Trend On TikTok Explained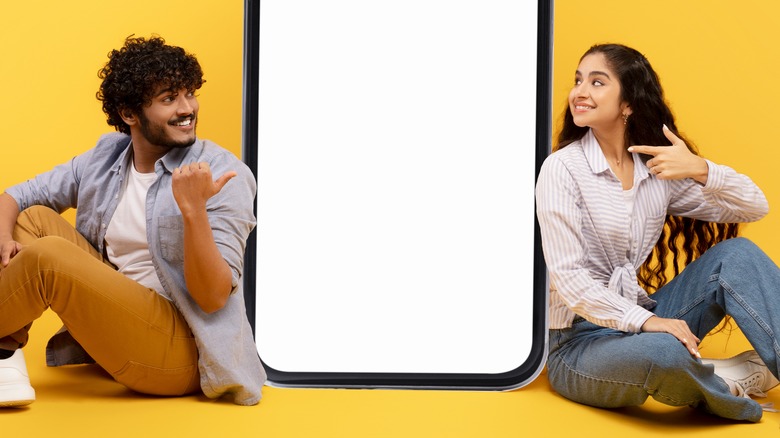 Prostock-studio/Shutterstock
With over a billion monthly users, according to CNBC, TikTok is one of the best social media platforms for trend-setting and trend-spotting. The immense popularity of its short-form video content led to sites like Instagram and YouTube adopting similar formats, dubbing them Reels and Shorts, respectively.
Of course, though innovative, TikTok is not simply a platform that's borrowed from. The Beijing-based social media giant has also done its fair share of feature adaptation, with Business Insider reporting its attempt to compete with BeReal. Similarly to the wildly popular new app, the video platform's new "TikTok Now" feature prompts users to post a photo or video at a random time each day, encouraging authenticity.
One recent end-of-year trend from TikTok was snagged from Spotify, but TikTok itself isn't to blame for this one. Users of the app have created their own version of the music streaming platform's Wrapped with a romantic and hilarious twist.
TikTok users are sharing their dating years in review
On November 30, 2022, Spotify users flooded platforms like Twitter and Instagram with screenshots of their Spotify Wrapped. The colorful graphics created by the streaming service included yearly statistics such as listeners' top artists, top songs, and time spent listening. One viral tweet wished a "happy spotify wrapped day to those who celebrate," and, evidently, many people do.
With the release of Spotify Wrapped comes seemingly annual requests for Tinder Wrapped, or a recap of one's activity on similar dating apps. This year, TikTok users have answered the call. Amber, going by the username @AmberWavesOfBrain, seemed to have the first viral hit of the "Dating Wrapped" trend, with her hilarious PowerPoint presentation garnering more than 3.6 million views.
Her data categories included topics like where she met the men from the dating app and how many she ended up crying over. As the trend took off, participants began adding their own categories. We have to say, this might be one social media feature where the knock-off is more entertaining than the original.
Influencers of all sizes are bonding over disastrous dates
TikTok has helped us all to see a more raw and real side of our favorite influencers, and this latest trend is no exception. Chris Olsen, who gained millions of followers by showcasing his relationship with fellow creator Ian Paget, shared a hilarious wrap up of his year post break-up. "Number of boys I processed with my therapist?" he asks in the video. "All ten!"
If there's one thing we can learn from these TikTok trends, it's that we're far from alone in our relationship struggles. Between these latest statistics and 2022's other romance trend, "Texts With My Situationship," it's clear that modern dating has been hard on everyone.
"One catfish encounter," one user recited from her slides. "That's right: I spent three days talking to someone pretending to be a Polish influencer. I also ended up on the Today Show because of it." Let's take this as a reminder that things could always be worse, and powodzenia (that's Polish for "good luck") to all of us in the New Year.