The Beauty Tool That May Upgrade Your Entire Makeup Routine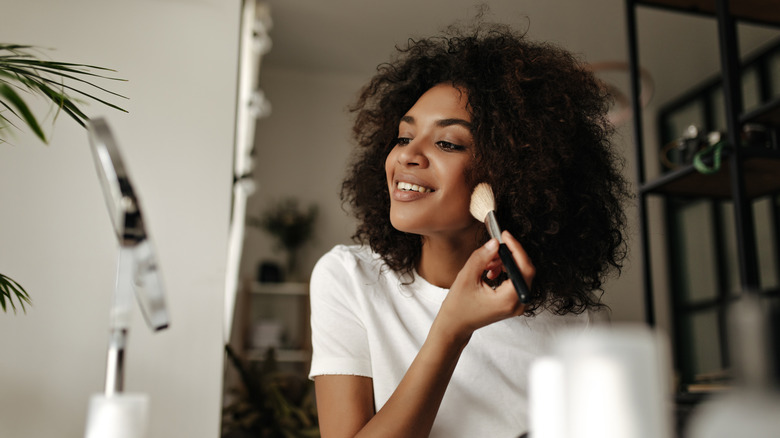 Look Studio/Shutterstock
We've seen quite a few unique beauty hacks throughout the years — scotch tape to leave a perfectly crisp edge of eyeshadow, de-puffing under-eye bags with a frozen spoon, using beer as a shine-injecting hair mask — but this new idea comes to us straight from the pros. By using one simple tool to apply your foundation, you may be left with a flawless finish to rival even the most expensive brushes and sponges.
Advertisement
This new foundation application method comes to us from Korea, the rising capital of beauty and skincare, as a response to the "glass skin" craze. Instead of the more matte, powdery finish that was popular a few years ago, glass skin focuses on skincare first, using makeup only to enhance the hydrated, glowing look beneath (via Healthline). We may not all be blessed with naturally luminous, acne-free faces, but this application method can give you that lit-from-within look with just one extra tool — the makeup spatula.
What is a makeup spatula?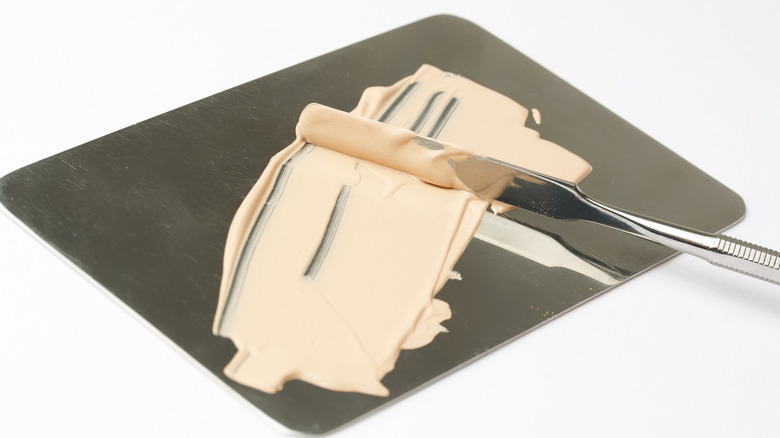 originalpunkt/Shutterstock
Makeup spatulas are tools that professional artists frequently carry in their kits to mix up personalized foundation shades and scoop out products like lipstick onto a clean surface so there is no cross-contamination between clients. They're usually made of easy-to-clean metal so they stay disinfected, and they have a conveniently smooth surface to make mixing products easy and mess-free.
Advertisement
Now, however, this product is finding a secondary use in makeup routines as a new way to spread foundation to achieve a flawless, barely there finish. In her trending video, TikTok creator @jennypysh_ explained that using a spatula to gently "spread" your foundation across your face allows you to get the thinnest layer of coverage possible. She takes a small pump of her foundation on the back of her hand, runs the spatula through the product, and then drags it across her cheeks. After, she blends with a makeup sponge, and is left with that coveted my-skin-but-better look.
Why does this work?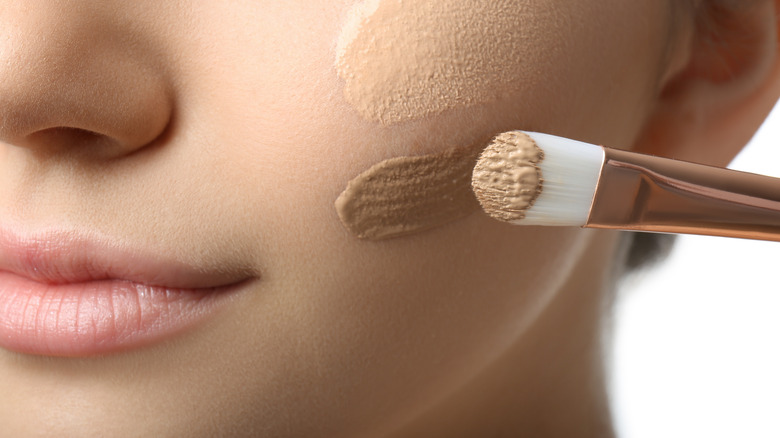 New Africa/Shutterstock
In her TikTok video, the creator explains that spreading foundation with the spatula creates a thinner application than other methods. By using something non-porous, like the metal spatula, excess product is immediately spread instead of just sitting on the skin, and the smooth edges prevent any patchy spots or areas of missed coverage. Think of it like icing a cake — gliding your foundation over the top of the skin creates a smooth, seamless look that can combat dark spots, discoloration, and large pores without looking bumpy.
Advertisement
This method also has the added benefit of not creasing as much throughout the day. Because you're wearing such a thin layer of product, you won't have to rely on heavy powders that can leave you looking cakey or crack around your mouth or eyes. Just finish off with a setting mist or essence, and you should be good to go about your day with the natural-looking, flawless finish of your dreams.