Glam Survey Uncovers Fans' Favorite Outerwear Trend Of 2022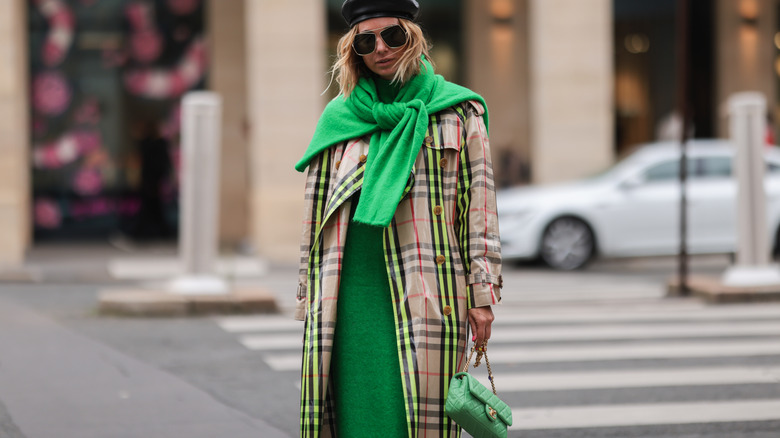 Jeremy Moeller/Getty Images
When it comes to picking out the bleakest season of the year, it's probably a toss-up between fall and winter for much of the population. Not only do these final months of the year come with a long stretch of chilly days, but they also send many of us into a style rut. No matter how fancy your base items are or how sculpted your six-pack stomach is, none of them shows while you're all bundled up to keep warm. For Aerie's chief design officer Andrea Jagaric, however, the necessity of layering during colder months gives us the opportunity to experiment with a variety of styles in one OOTD. When it comes to buying outerwear, Jagaric tells InStyle to "Look for options that are versatile and give you the option to mix and match for multiple different looks."
For High Latitude Style's fashion blogger Nicole Mölders, the key to getting creative about layering is having the right outerwear for your climate zone. Since outerwear usually costs a bomb and occupies too much space, we can hardly see ourselves investing in them as much as we would in skinnier summer items. So, how do we cut a dash while keeping it real with outerwear? Since Glam looks to its readers as a treasure trove of style inspiration, we conducted a survey polling 602 participants around the U.S. to inquire about the outerwear that they can't stop wearing this year and find clues on emerging trends. Here are the results.
Bomber jackets are the biggest coat trend of 2022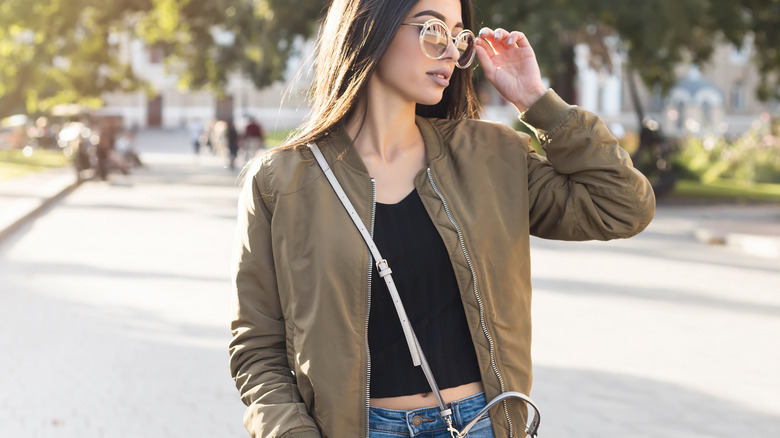 Claudia K/Shutterstock
Out of 602 total votes in Glam's survey, 26.71% of participants chose bomber jackets as their go-to outerwear piece. This laidback pilot jacket-inspired piece beats luxe leather trench coats (22.76%), comfy puffer coats (18.44%), versatile shearlings (16.28%), and color block coats (15.78%) to become the leading outerwear trend of 2022. What's great about bomber jackets is that they can carry over from season to season and fit right into a capsule wardrobe — a limited collection of interchangeable items that go well together for a foolproof everyday look.
Per Angel Jackets, bomber jackets can be worn in warmer months as long as they are made with lighter materials like cotton, nylon, polyester, or denim. During colder months, leather and suede are a better choice. You can pair it with skinny jeans and boots for an edgy appearance or a maxi skirt and heels for a chic look — the options abound. If bomber jackets are heavy on the off-duty look, leather trench coats serve hardcore runway vibes. It's hard to look at a leather trench coat without thinking about the movie "The Matrix" or "Cat Woman." Lyndsey Butler, CEO and creative director of VEDA, tells TZR: "The mix of a classic coat shape with an edgy material like leather is almost always a winning combo." To jazz up the outfit, swap neutral hues for neon colors, reach for a pair of high-waisted pants and a strappy bralette, and accessorize with geometric items.
Puffer coats are still going strong
Maria Markevich/Shutterstock
Coming in at third place are puffer coats, also known as quilted jackets — a functional outerwear that makes you look and feel all snuggled up and toasty. A bulky puffer coat might not be the most figure-flattering outerwear option out there, but it's the perfect choice for comfort seekers. Per Textile Apex, puffer jackets are padded with multiple layers of fabric for ample insulation and are able to keep you warm without hampering your movement. 
They might come in fourth place, but shearling jackets are a real hit from the runway to the streets. For those leaning into lazy athleisure wear, this urbane-cowboy jacket can add some kick to a laidback knit set and ankle boots or a matching workout set and chunky white sneakers.
Coming last are color block coats — a statement outerwear design that not everyone can nail. College Fashion defines color-blocking as juxtaposing colors located face to face on the color wheel to create maximum contrast. For instance, a two-toned color-blocking coat can be one with red and green or yellow and red violet. Even though color block outerwear is striking on its own and a fantastic option for expressing one's personal style, pairing it with other pieces can be difficult. If you want to play safe, denim jeans and a basic white tee are a good option. For those who are too busy to review the color wheel whenever getting dressed, a color block coat is not the best option.