Tips For Nailing Your Makeup Look For A Cocktail Party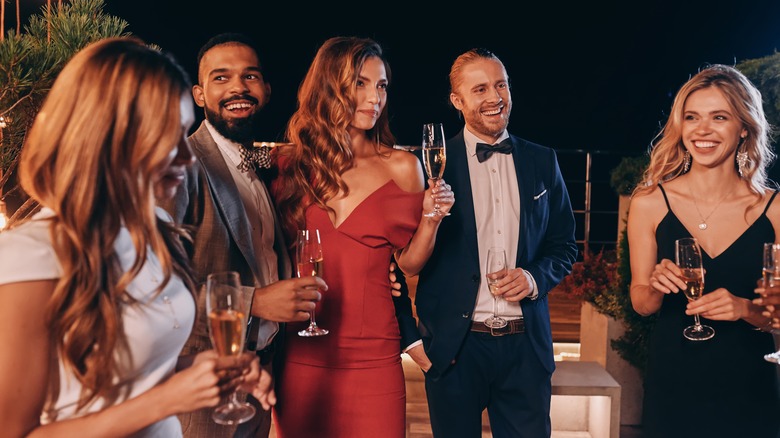 G-Stock Studio/Shutterstock
We may receive a commission on purchases made from links.
If you're ever invited to a cocktail party, you'll likely enjoy intriguing conversations, yummy food and drinks, and the chance to wear and witness gorgeous outfits at the event. Dictionary.com defines a cocktail party as "a social gathering, often held during the cocktail hour, at which cocktails and other alcoholic beverages, hors d'oeuvres, and canapés are served." If you can't say no to an evening filled with drinks, appetizers, and chatting, then the first port of call is to work out what you should wear to the cocktail party.
Of course, you should consider wearing a cocktail dress, like an elegant mid-length black number, but sophisticated jumpsuits and stylish tops are typically appropriate, too. So long as you don't look too overdressed or casual, don't stress about your outfit! Regarding hairstyles, you can try anything from smooth straight locks to a sleek ponytail to a tight bun. Just make sure your hair doesn't look messy and works with your outfit. When that's all worked out, it's time to do your makeup! Here are our best suggestions.
Rock intense eyeliner or sparkly eyeshadow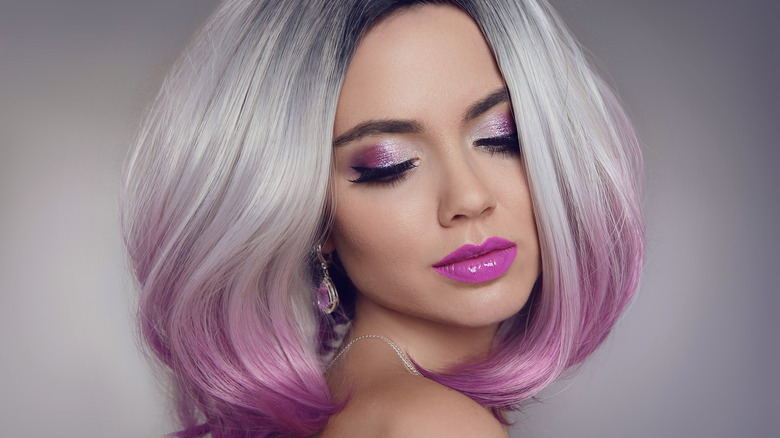 Victoriaandreas/Getty Images
Cocktail parties can be lavish, so you should embrace the glamour of the party with some stunning eye makeup. One TikTok user shared how she did her makeup look for a Valentino cocktail party, making for excellent inspiration. Much to the delight of her followers, @trulue wore a dramatic winged "ombre liner," as the wings were darker than the rest of the lining, pairing this bold eye with foundation, concealer, blush, and bronzer on her skin. Graphic eyeliner like this is sleek and sophisticated, and ideal for wearing to a cocktail party.
Colorful eyeshadow with sparkle is another exciting option for cocktail parties. Makeup artist Shweta Gaur posted a video to YouTube, highlighting bold blue eyeshadow with a smokey eye effect, eyeliner, long lashes, and a lot of sparkles as a stunning cocktail look. If you're looking for sparkly eyeshadow to make your eyes pop at a cocktail party, you might consider the highly rated Stila Glitter & Glow Liquid Eyeshadow in Diamond Dust, available for less than $25 as of December, 2022. 
Flaunt a bold lip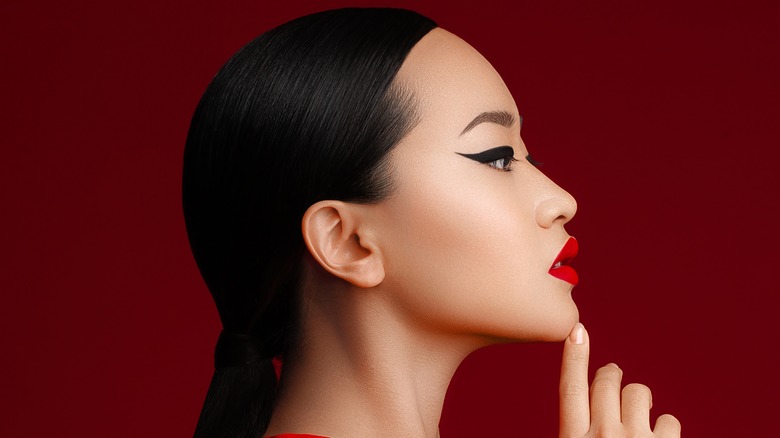 Beauty Agent Studio/Shutterstock
Red lipstick is always a good idea to make your lips pop for effortless glamour. Whether you're rocking subtle shiny shadow or intense eyeliner, you should think about finishing off your cocktail look with red lips. If you want to treat yourself to a luxurious red lipstick, the Rouge Dior lipstick is available at Dior for $42, at the time of writing. On the other hand, anyone looking for an affordable red lip product should check out the L'Oréal Paris Colour Riche Lipstick in True Red, which is available on Amazon.
While you can't go wrong with red lips when attending a cocktail party, brown lipstick is another chic choice — there are over 91,000 posts dedicated to #brownlipstick on Instagram. "Browns are an earth tone. They tend to suit everyone as they warm up the look of the complexion," makeup artist and author Lisa Potter-Dixon told Byrdie. One well-liked brown lip product is the NYX Professional Makeup Soft Matte Lip Cream in Dubai, which retails for under $7 at Walmart.