35% Of People Think This Is The Best Brand Of Self-Tanner - Glam Survey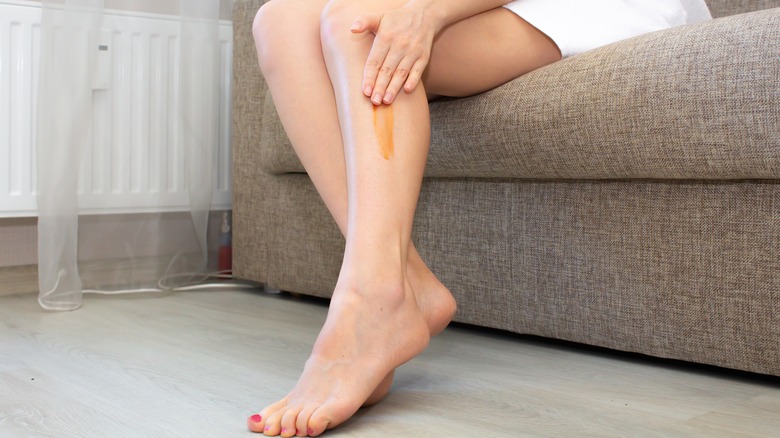 TatianaBor/Shutterstock
As the risks of sunbathing and tanning beds have become more well-known to the general population, self-tanning products have risen to an intense level of popularity, according to Selftanning. These products come in the form of lotions, mousses, serums, sprays, sticks, towelettes, and gels, which can be applied at home to achieve the perfect faux tan, no matter your skin tone. Some will produce a full tan with just one application, while others are designed to create a gradual tan over multiple applications to mimic the natural progression of summer.
As with any popular category of product, certain brands have risen to the top of the self-tanner crop. As the dark season peaks and the sun continues its partial hibernation until spring, Glam asked 587 of its readers which brand they consider to be the best self-tanner currently on the market. Now we want to share the results with you.
L'Oréal Paris takes the win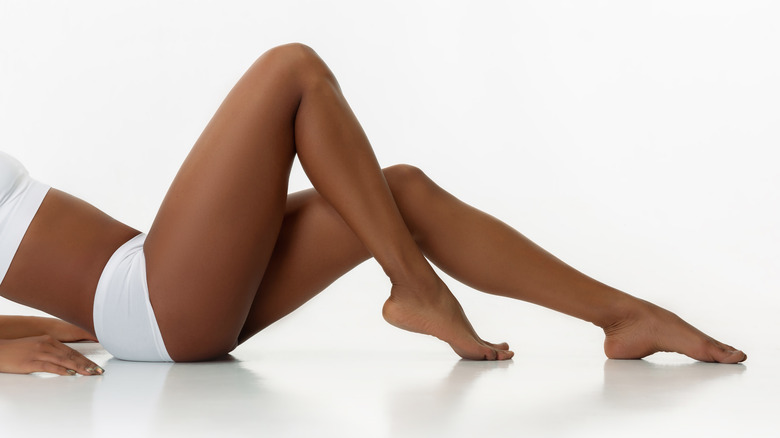 Master1305/Shutterstock
When it comes to Glam readers, L'Oréal Paris's Sublime Bronze line of self-tanning products can't be beat. 34.75% of readers surveyed chose L'Oréal Paris as their favorite brand. Sublime Bronze comes in a wide variety of products, which may explain its popularity. There is an option for everyone, no matter how they prefer to apply their tan. These include lotion, bronzer, airbrush mist, towelettes, mousse, and facial drops. Every one of these products has a four-and-a-half-star rating on Amazon with thousands of positive reviews.
Reviewer Amie raves about the airbrush mist version, "This particular item was recommended to me. It is the BEST self-tanner I've ever used and I've used a lot of them. It doesn't have the typical self-tanner smell that lingers after applying. There is no mess when I'm applying it in the bathroom and it doesn't dirty the floor or cabinets. It doesn't transfer to my clothes or stain my white sheets." 
Less popular self-tanning brands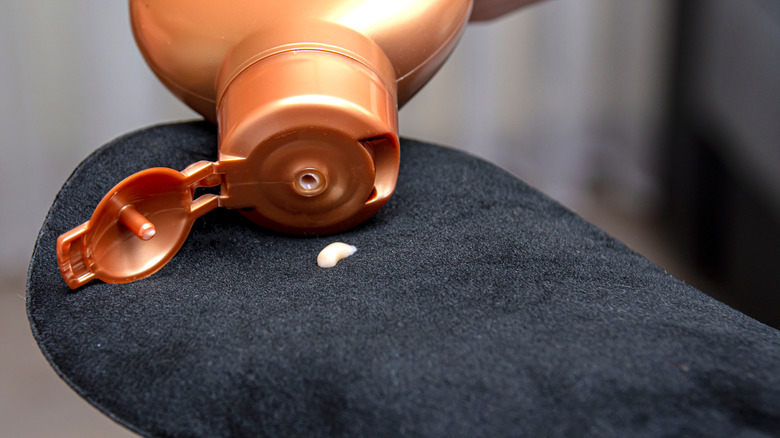 GaViAl/Shutterstock
L'Oréal Paris may have been the clear winner with Glam readers, but it wasn't quite a landslide victory. Coming in a close second with 31.86% of the votes is the classic brand Jergens. Much like L'Oréal Paris, Jergens' line of self-tanning products, Natural Glow, comes in a convenient array of forms. While the brand doesn't offer a spray option, it does offer several lotions, some of which are designed for added skin firming or for wet application. Towelettes, mousse, bronzer, a facial lotion with SPF, and an application mitt are also available.
Jergens Natural Glow products boast the same across-the-board four-and-a-half star rating on Amazon as L'Oréal Paris. Reviewer, Kim, accompanies her five-star review with, "I've tried several tanning products. This one leaves no streaks, smells good, not overpowering, and works quickly. After four days, my legs look tan." The least popular brands of self-tanner among Glam readers appear to be St. Tropez with 15.84% of the votes, Bondi Sands with 8.35%, Coola with 4.94%, and Loving Tan with 4.26%.