The Newest TikTok Eyeliner Hack Is Perfect For Mastering A No-Makeup Makeup Look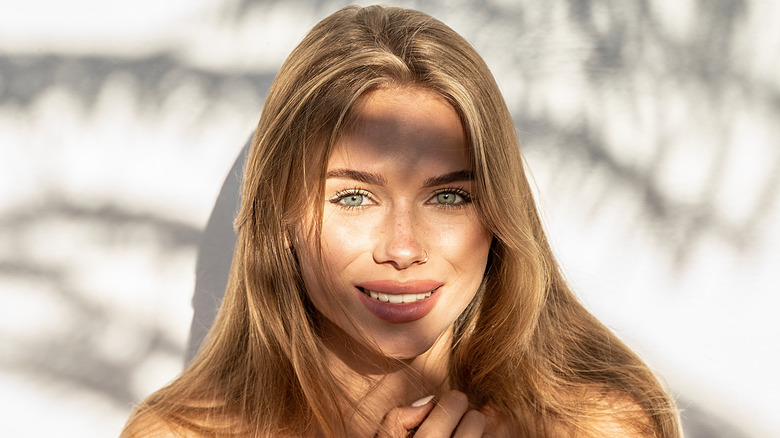 Neonshot/Getty Images
There are countless beauty tips and tricks for those days when you want to go au naturel and make it appear as if you aren't wearing makeup (even though you kind of are). From using a hydrating face serum or tinted moisturizer instead of foundation to applying a natural-looking cream lipstick, the dos and don'ts involved in achieving the perfect no-makeup makeup look are pretty straightforward: less is more. And, according to Maybelline New York, you really want to focus on the face and leave the eyes "simple and almost bare."
So, it's no surprise a lot of these "your face but better" makeup tips don't involve the use of any eyeliner. Let's face it — there's nothing natural about a winged cat eye or smoked-out lower lash line. Sure, you could use a bit of mascara, coating the top and bottom lashes a bit to accentuate your pretty peepers. But eyeliner? No chance ... Or is there? We're excited to announce that TikTok surprised us yet again with a new hack involving eyeliner for the perfect no-makeup makeup look. And we are obsessed.
Apply your eyeliner, then wash your face. (No, really)
This eyeliner no-makeup makeup hack was brought to us by #BeautyTok creator Nykita Joy (@Neoitgirl) with a video she captioned "naturally catfishing." In the video, Nykita is getting ready for her "modeling digitals," aka polaroid photos that showcase her current face and body without fancy editing or lighting for potential clients and agencies (per Mike McGee Photography). She needs to look natural, which means, of course, no eyeliner.
Well, to make her eyes pop and give the appearance of full, voluminous lashes, Nykita does use eyeliner. She coats a thick and messy layer on the bottom and top lash line, saying, "Don't worry, there's a method to my madness." And boy, is there. "Now, we wash our face," she says after applying the eyeliner. When she returns, it looks like she has a gorgeous, naturally defined lash line. "It's one of the best tricks!" she exclaims. And we honestly couldn't agree more.
To try this hack, grab your black eyeliner and give yourself the good ol' raccoon/gothic/panda eye look. Don't be afraid to get a little messy, applying the liner thick along the top and bottom lash lines. Then, wash your face. Don't scrub your eye area too hard, as doing so can cause irritation and inflammation. Plus, you don't want to remove all the liner. Once you pat your skin dry, you'll reveal model-worthy eyes.
Why everyone's loving it
You don't have to be a leggy, flawless model getting ready for fresh digitals to enjoy this hack. For those who love a subtle makeup look or prefer to tackle the day with a bare face, washing your face after applying eyeliner is a foolproof way of achieving that no-makeup makeup look you desire. TikTok creator @fauxnicolerose took this hack to her TikTok page, saying in a video, "I have nothing on my face, and it just looks like I have insanely dark lashes. If you're not into wearing makeup, this is the perfect trick."
This hack is also user-friendly. Whether you're a novice makeup user, or a pro, achieving the look is simple, especially since you don't have to worry about precision. In fact, it's quite the opposite, as it seems the messier you apply the eyeliner, the better it turns out. And even if it doesn't wash off thoroughly, you can always reach for a cotton swab and remove any excess liner, like TikTok creator Stephanie Hui (@stxph.h) did in her video.
Although it took Hui a few washes to get to the finished look because she used waterproof eyeliner (oops!), the results provided an "I did not wash my makeup off properly before I slept look," she says. "And I like it." If you're a fan of that sultry, morning-after makeup look, give this hack a try. Plus, you'll be left with a freshly washed face, which is always an added bonus.