The French New Wave Hair Trend Is The Perfect Subtle Voluminous Look
If you're wondering which hairstyle you'll see celebrities donning as winter rolls us into 2023, just know that the effortless, undone waves we all love aren't leaving -– they're just undergoing a soft transformation. This gentle, brushed-out look, dubbed the French New Wave, has a lot in common with the Pre-raphaelite curls, or angel waves, we saw earlier in 2022. Wispy, ethereal, and romantic -– these waves are easy to dress up or down. They're feminine and powerful, showing us perfection through imperfection. They almost seem to transport us to another era with their simplicity and timelessness.
"The French New Wave trend is a subtler take on cool girl hair with a gentle waved and less pronounced texture," Syd Hayes, Session Stylist and BaByliss Ambassador, told Glamour. The main difference between the French New Wave and other recent wave trends? This look may be relaxed, and a bit tousled, but the glossiness is still there. "It feels like second day hair, but with shine and minimal effort -– the perfect winter-ready haircut," said Hayes.
How to achieve the French New Wave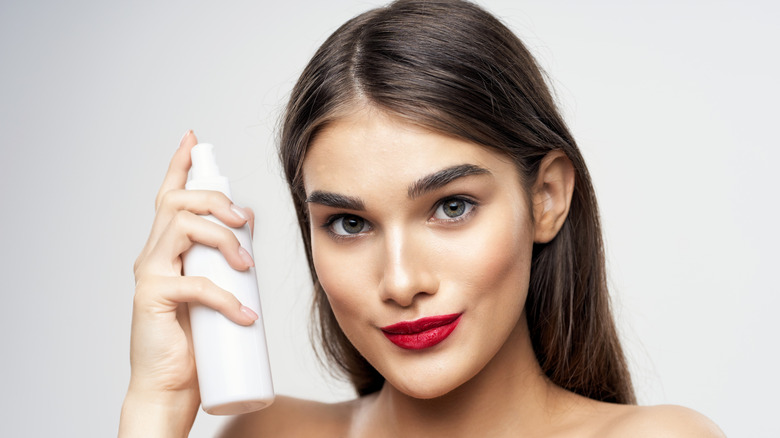 ShotPrime Studio/Shutterstock
If you're in full-on winter hibernation mode, you're in luck because the French New Wave requires minimal effort. Long hair is most apt for this look, but it can be accomplished on varying hair lengths and textures. The French New Wave also requires some volume. So, if your roots tend to lay flat, you'll want to try and reverse that with a volumizing spritz, like Aveda's Pure Abundance Volumizing Hair Spray (via StyleCraze).
Next, heat up the star of the show –- your curling tool. "The key for this look is to alternate the direction of each wave so the hair is unstructured and soft. Don't worry about hair looking flat either, as the tool is placed at the root, it means locks look full-bodied and glossy," Syd Hayes, Session Stylist and BaByliss Ambassador, told Glamour. For some added volume and sass, try tousling the roots with your fingers after curling to really give this perfect, subtle look the energy it deserves.
Try the French New Wave on another French-girl hairstyle favorite
If you're all about the low-effort, high-style approach to beauty and hair, then there's another French style you may want to consider trying out. You probably saw this one coming, but French Bobs continue to be all the craze, and if you feel the itch to switch things up, this one is a no-brainer.
"A short bob is a very popular and in-demand hairstyle right now," Parisian-based hairstylist Stéphane Bodin, told Who What Wear. "There are plenty of variations of the cut that you can choose to suit your face shape. It works with so many types of hair, so it's easy to play!"
Another added plus of the short bob? You can attain the French New Wave trend pretty seamlessly with this cut. As mentioned earlier, the French New Wave isn't just for mermaid hair -– it can be embodied on any hair length. And the French bob is typically cut right above the chin to complement the facial structure (via Southern Living). So, try the technique on your bob for a seriously carefree, it-girl moment.