What To Look For In Shoes For Treading Through Snow And Ice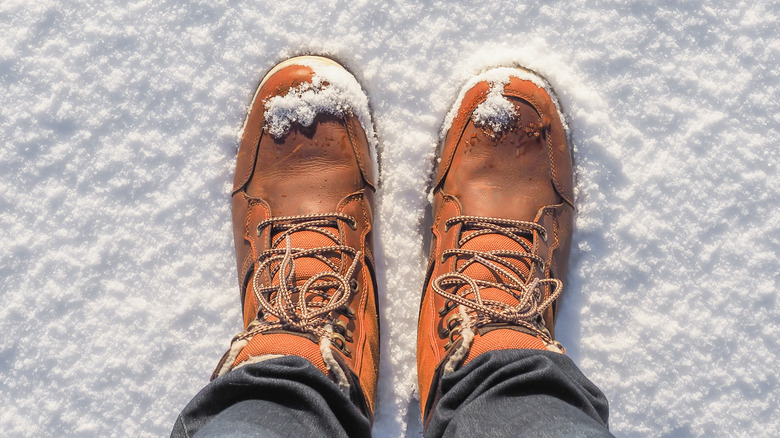 Sindija Svane/Getty Images
When the weather outside is frightful, you may want to snuggle up and stay indoors. But sometimes, there's no help but to venture outside into the land of winter precipitation. And whether you love snow days or dread them, freezing conditions necessitate the right outfit and gear.
Advertisement
For clothing, braving the winter chill usually comes down to a strategy of layering — ideally, with a topmost layer that will keep out the worst wind and moisture. "In really cold weather, you want to wrap your body like you would insulate your house," professor and researcher Cathy Geiger tells Vox, pulling from her experience on 10 polar expeditions.
Winter also calls for its own set of shoes. But finding your perfect pair isn't just about knowing which winter boot trends are out of style and which are up-and-coming. You need to consider the quality, materials, and design of your winter shoes to ensure that they're up to the task of treading through snow and ice. If you're in the market for a new pair of winter shoes, here's what to look for.
Advertisement
Structure and traction for stability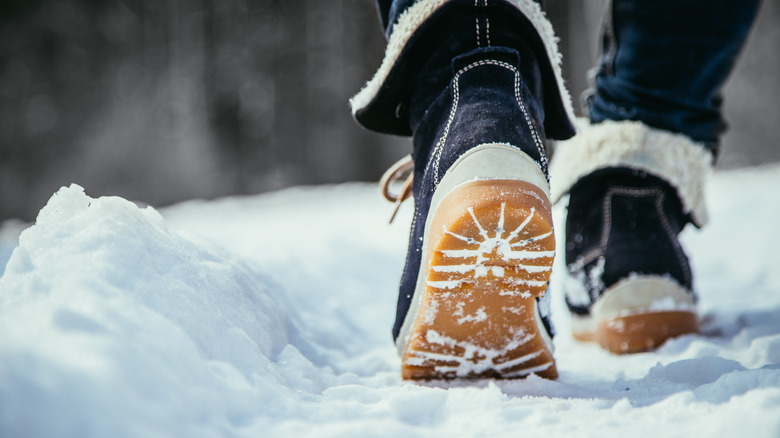 Patrick Daxenbichler/Getty Images
One of the biggest walking hazards in snowy or icy conditions is, of course, the chance of slipping on a slick patch and falling over. When choosing foot gear to conquer this weather, prioritize structure and traction to help you keep sure footing.
Advertisement
The experts at SRI Shoe Warehouse explain that the best treads for icy environments will have deep lugs, which are the bumps and ridges that make up the texture of a shoe's sole. Essentially, the deeper the channels that run through the pattern of your shoe treads, the more traction they will offer. So look for winter shoes that have thick, pronounced lugs on the bottom.
As for structure, providing some stability around your ankles will help you stay on your feet. Speaking to Today, podiatrist Dr. Priya Parthasarathy recommends shoes that are ankle height or higher with a firm structure around the heels and toes. She also touts the advantages of lace-up styles, which will add extra stability.
Waterproofing and insulation for comfortable feet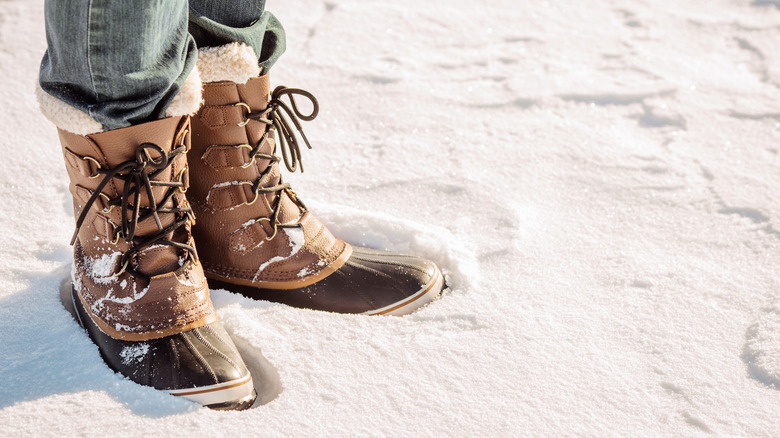 PRESSLAB/Shutterstock
No one likes the feeling of squishy, sodden shoes or cold, water-logged socks. When it comes time to select your next pair of winter-weather shoes, remember that waterproofing and insulation are key to keeping your feet warm and dry. The soles of most winter shoes will already be pretty solid, so direct your attention toward the uppers. A shoe upper is simply the part above the sole that covers the top of your feet (per Oliver Sweeney). On taller shoes or boots, the upper may also surround your ankles or calves.
Advertisement
Good Housekeeping suggests prioritizing upper materials that are durable and weather-resistant, such as nylon or leather that has been treated for waterproofing. And don't forget to check the stitching. Parthasarathy explains that it's "really important to look at the stitching to make sure it's tight if you're looking for a waterproof boot."
Insulation will also help keep your feet comfortable, even on the coldest, snowiest days. For quality warmth, Big Sky Fishing recommends looking for winter shoes made with synthetic Thinsulate insulation or shearling, a fine wool fleece that is both soft and incredibly warm. For context, shearling is often used in Ugg boots and slippers to give them that signature cozy feel.
Advertisement
But what about style? If aesthetics are an important consideration, you can find some fashionable options that will both look and feel good when you journey out into winter weather. Sorel makes a variety of chic, ice-ready boots, even including cute heels and booties in case you want to rock your heels all winter long. For instance, check out the Joan Wedge II from Sorel's "Joan of Arctic" collection, which comes in several different colors of full-grain leather.