Tips For Getting Started As A Fashion Collector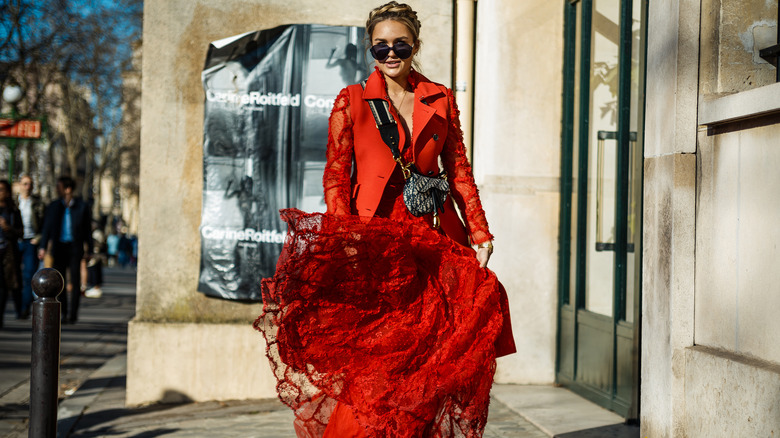 eversummerphoto/Shutterstock
Have you ever wondered why some people would spend so much money collecting trivial objects like stamps, antiques, or books? According to professor of psychology Kiara Timpano (via News @ the U), people love collecting certain items because they carry substantial values and represent a way to connect with others. Actually, the value of a collectible lies in the eye of the collector. As long as it's worth collecting — monetarily or sentimentally — collectors are willing to pay an exorbitant price to own it. In recent years, archival fashion has also joined the ranks of the most popular collectible investments.
The definition of archival fashion, according to SUMUNAGÉ, refers to garments designed by some of the greatest names in the fashion industry that were released a few seasons ago. However, archive pieces are not just any vintage garments. Typically, they should belong in a high-end designer's career-defining collections. An example is Raf Simons' "Riot! Riot! Riot!" bomber jacket from his Fall/Winter 2001 collection, which sold for an astounding $47,000. In the eyes of passionate fashion archivists, archive pieces are like time capsules. They typify the spirit of the season, capture the zeitgeist of the era, and mirror the designer's vision. If you're passionate about owning a rare piece of sartorial history and enjoy the thrill of the hunt for the remaining specimens of your favorite designer's most coveted rarities, here are some tips for getting started as a fashion collector.
Start with the brands and designers you know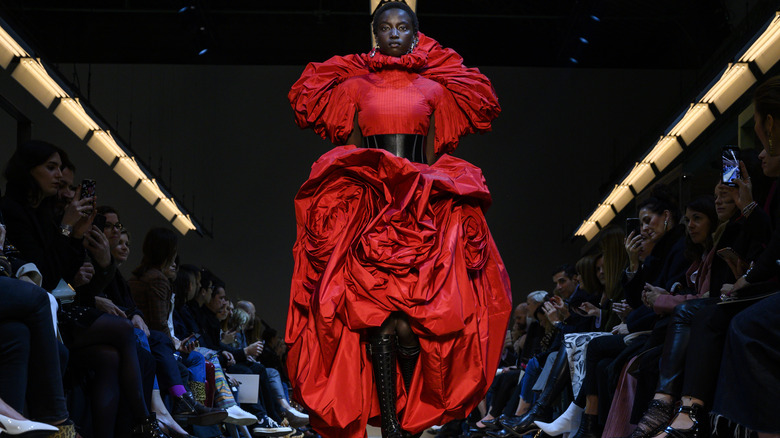 Peter White/Getty Images
The world of archival fashion collecting is vast, so it's better to dip your toes into it, starting with your favorite designers and brands. Julie Ann Clauss, founder of archiving studio The Wardrobe tells Refinery29: "If you start where your current obsessions lie, the collecting will come easy," she says. For a start, write down the name of the designers whose works resonate with you the most and start doing research about them. Fashion collectors should be familiar with their fashion house's codes — the colors, patterns, forms, narratives, and other components that are essential to the fashion house's brand image. For instance, the exuberant Flora Print is one of Gucci's most recognizable codes, while the theatrical Elizabethan collar is Alexander McQueen's. Ask yourself: what is it about a particular design that speaks to you?
In the eyes of musician Daphne Guinness — a devoted collector of archive pieces by Alexander McQueen — the British designer understood women, and his clothes "make women feel strong and beautiful, bold and elegant," Guinness tells Interview. Meanwhile, the designs of John Galliano never fail to captivate journalist and fashion collector Alexander Fury since they masterfully blend elements from the past while remaining relevant and modern in the fashion world. For stylist David Casavant, what makes him a collector of Helmut Lang and Raf Simons's designs is that "there's attitude and angst in their clothes," and they keep you desiring more.
Look to TikTok for tricks of the trade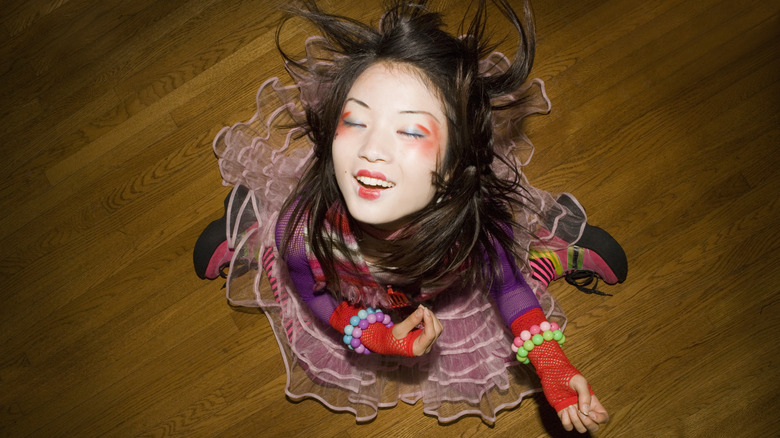 Sean Murphy/Getty Images
TikTok might get a bad rap for its deviation from the norms. However, it's a great treasure trove of information for those who want to get a crash course on archival fashion from a new generation of sartorial hypebeasts — who enjoy collecting elusive vintage finds and showcasing their closets to the world. On TikTok, the hashtag #archivefashion has received over 300 million views as a result of the climbing interest in archival fashion collecting. In this online space, you'll find a niche community who know about the craft of collecting and selling archive pieces and are eager to trade tips.
Ryan Kwong — whose username is @ryanisrotten — is one of the most followed archival fashion collectors on TikTok. Not only does this Californian content creator own an impressive collection of coveted rarities, including Raf Simons AW17 disturbed knit cardigans and Balenciaga FW17 square-toe harness boots, but he's also generous with inside-baseball tips on styling and turning a profit from archive fashion pieces. 23-year-old archivist Landon Annoni, who goes by username @landonsarchive, is well-known in the TikTok land for his one-of-a-kind collection of over 15,000 garments worn by pop culture icons and celebrities such as Harry Styles, Lady Gaga, and Stevie Nicks. Some of the pieces he owns include Lady Gaga's costumes in the movie "House of Gucci" and a chiffon horse-printed top donned by Stevie Nicks during the Buckingham Nicks tour. For those who are new to archival fashion, TikTok can offer a pretty engaging learning experience for free.
Look for dealers to buy from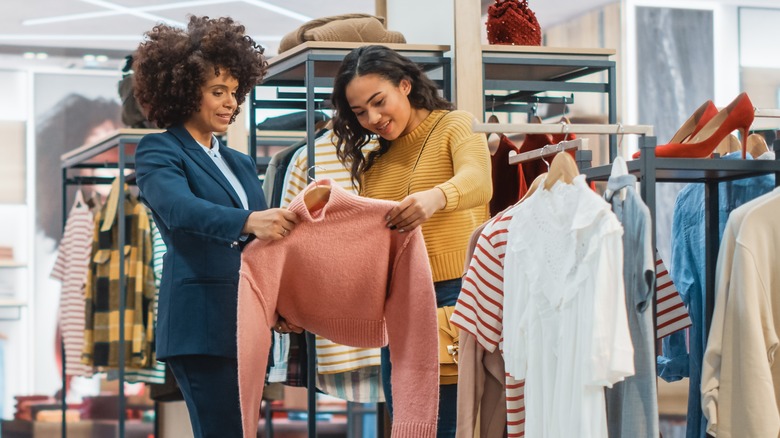 Gorodenkoff/Shutterstock
When it comes to archival fashion shopping, there are many online archival-focused boutiques and forums where you can find a myriad of archive pieces from various brands and designers from different eras. For instance, Grailed is probably home to the largest and arguably the most reputable collections of authentic archive pieces from the world's leading brands. Be it haute couture or prêt-à-porter, the pieces on display have all been authenticated by in-house experts to ensure their qualities are up to standard. Here, you'll find plenty of highly sought-after items available in a vast price range from celebrated fashion houses and designers like Yves Saint Laurent, Bottega Veneta, Alexander McQueen, Yohji Yamamoto, and Junya Watanabe. However, Grailed leans towards menswear, so your choices of garments might be limited.
Female visitors should also visit The Fifth Collection, home to a host of designer garments, bags, watches, and shoes from Céline, Moncler, Gucci, Chanel, Hermès, and Vivienne Westwood, among other famous brands. ARCHIVE — founded by editorial and commercial stylist Kerry Bonnell out of a sheer passion for vintage clothing — is also where you'll find a lot of unique designer and haute couture pieces from the 1960s to the 2000s. Another place to score your next archive fashion investment is Farfetch, where you'll find a well-curated selection of archival pieces available for purchase, such as a skull scarf by Alexander McQueen, Issey Miyake's 1980s Sport Line Care Label print bomber jacket, and Pierre Cardin's 1980s straight-leg tailored trousers.
Look for good deals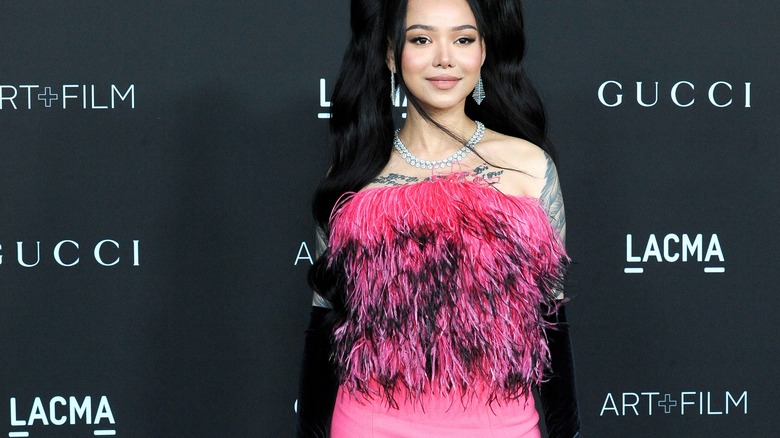 Tinseltown/Shutterstock
You don't have to be rich to become a fashion collector. Brands and dealers organize archive sales every once in a while, so if you search hard enough through auctions, second-hand boutiques, and even flea markets — you'll find some really good archive pieces at discounted prices. The best way to keep tabs on sales events is to stay informed about what your favorite brands are offering in their archive collection. For instance, Gucci has a platform dedicated to its archive pieces and the stories behind them. Fendi also has a place where re-edition items are updated regularly.
Another way is to visit e-commerce websites specialized in distributing pre-owned designer items, such as Rebag, Rue La La, and Vestiaire Collective. My Runway Archive is also a place where you'll run into a plethora of archive clothes, bags, and shoes from celebrated designers like Dior, Versace, Dolce & Gabbana, and Valentino — sold at markdown prices. Some of the reasonably-priced stuff you'll find here include a Dior logo floral bag that dates back to the 2005 spring collection priced at £390 ($469) and a £95 ($114) D&G leopard print top worn by Christina Aguilera to the 1999 VMAs. Whenever you have time, browse through these sites to see what's good in the hood. It takes lots of research and shopping to hone your eye for designs and acclimatize yourself with the market.
Invest in brands that hold value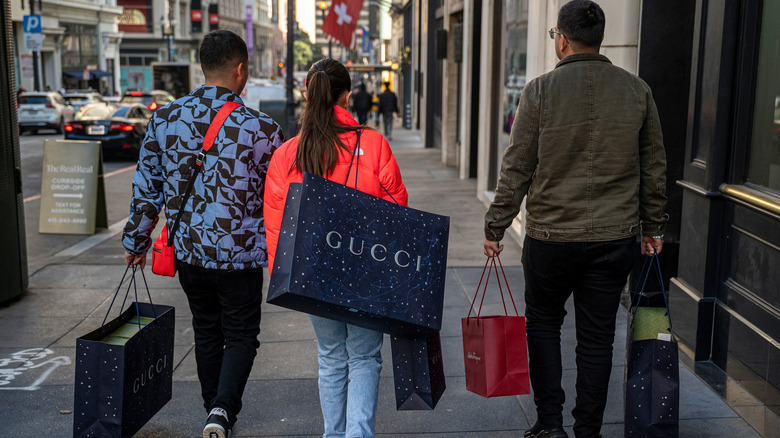 Bloomberg/Getty Images
Archival fashion is like real estate. Just like how landed properties appreciate and apartments depreciate in value, no luxury brands are created equal. If you treat your collection as an investment rather than a mere hobby, you need to invest in brands that do not depreciate in value. According to a 2020 TheRealReal report on luxury brands that make the best return on investments, fashion brands that retained the most value throughout the 2010s are Supreme, Goyard, Van Cleef & Arpels, Hermès, Louis Vuitton, Rolex, Tiffany & Co., Patek Philippe, Cartier, and Moncler.
If you want to curate a profitable fashion collection, it's important to stay up-to-date with market demands, knowing what brands, what revival looks, and what items consumers are going after. Being in the know will help you make wise purchases and enjoy a higher chance of liquidating your investment. According to Statista, the global market for used luxury goods was estimated to generate $4.9 billion in sales in 2021. The market is anticipated to grow, likely exceeding $14.6 billion by 2027. So technically, this is a profitable trade to be in if you go about it with precision.
Turn your collections into money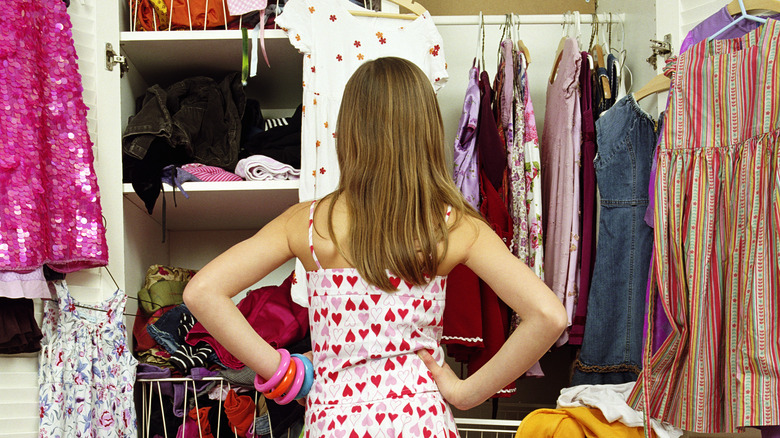 Digital Vision/Getty Images
Monetizing your purchases is a great way to help fund your expensive hobby. The first thing you need to do is to find a place to list your treasures. ThredUp, Poshmark, Shopify, eBay, and Vestiaire Collective are several marketplaces that make selling pre-owned clothes and earning extra income so much easier. If you have lots of menswear or outerwear items, go to Grailed. This resale giant now has over 10 million global users and more than four million listings, offering a huge market growth potential. According to Chloe Binetti, a pre-owned clothing shop owner on Poshmark, the key to pricing your items is to do market research to see how similar items have been sold. Do market research to determine how to price your items. "Even if other people are currently selling the same item, you don't necessarily need to list a lower price to be competitive," Binetti tells Real Simple. 
Timeless archive pieces can sell themselves, so pricing might not be a problem for this genre. When describing a product, be as specific as possible about the color, texture, material, and even the flaws of the garment you're listing. Also, try to choose a shooting style that best helps your prospects visualize the outfit on themselves. If you're not interested in selling your hard-earned archive pieces, consider renting them out and earning rental income. To enquire about collaboration opportunities, contact clothing rental service providers like John Lewis Rental, Rent The Runway, or Hirestreet.