Should You Take A Friendmoon Instead Of A Honeymoon?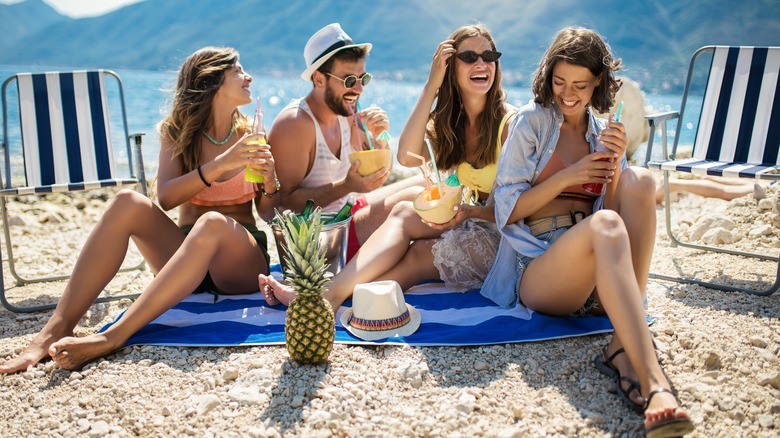 adriaticfoto/Shutterstock
After you and your other half exchange vows and share your first smooch as a married couple, the standard protocol is to soon be whisked away to a dreamy, private honeymoon. But you might want to reconsider the traditional honeymoon and opt for a friendmoon instead.
A friendmoon is a post-wedding trip that includes not only you and your boo but your closest friends and family too. Ex-spouses Jennifer Aniston and Justin Theroux were credited with taking the friendmoon mainstream after they invited several of their pals to their 2015 honeymoon (per Yahoo! Life). But even before the Jen and Justin wedding, the idea of transforming your honeymoon into a group activity was already taking off. According to a 2014 Travel Guard survey (via CNBC), nearly one-third of travel agents reported an increase in couples planning to invite loved ones on their honeymoon.
Following the height of the COVID-19 pandemic, a friendmoon might make even more sense. As The Knot explains, the pandemic caused life shake-ups and postponements, resulting in honeymoons that are flexible and unique to each couple's circumstances. In some cases, that means holding friendmoons in lieu of the customary two-person honeymoon.
Before you finalize your post-nuptial vacation plans, here's what to know about bringing your friends along.
Reasons to go on a friendmoon after getting married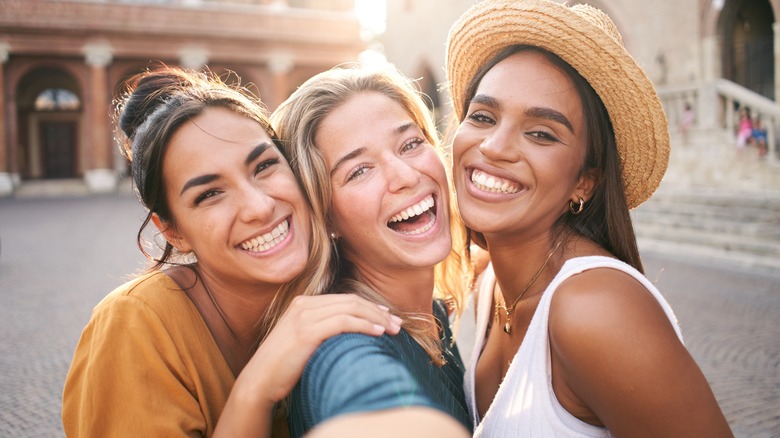 CarlosBarquero/Shutterstock
You may have long imagined going on a romantic getaway with your significant other to celebrate your wedding, but having friends or family tag along can make sense for several reasons. One of the simplest: the more honeymoon guests, the merrier. Newlyweds who love to socialize might prefer the fun, festive vibe that comes with sharing their honeymoon with their closest buddies.
But there are practical benefits of taking a friendmoon too. Brides Up North notes that weddings and honeymoons can be expensive, and splitting travel costs with several people might make more financial sense for some couples. Guests who are already spending a pretty penny to attend a faraway wedding may also prefer to continue their travels even after the wedding is over. That way, they get the most bang for their buck.
Additionally, a friendmoon is a chance to stay connected with close friends, says WeddingWire. Your wedding is a unique opportunity to gather people you rarely get to see. Why not extend that quality time with a friendmoon?
As for friends and family members who couldn't make it to the wedding due to scheduling conflicts, a friendmoon is a way to make sure they're included. If your friendmoon lasts, say, a week, they can drop in whenever they're free, even if only for a couple of days.
How to plan a successful friendmoon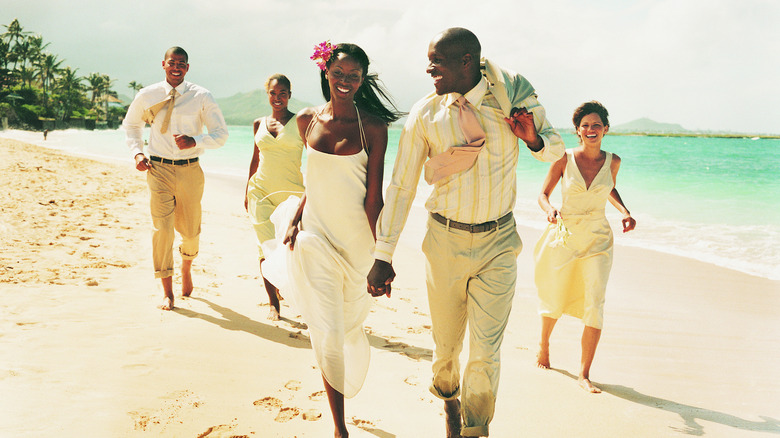 Digital Vision./Getty Images
Bringing your friends along on your honeymoon doesn't mean you can't savor wedded bliss with your partner. Choose a honeymoon destination that's equal parts romance and entertainment. Then, limit the number of invitations you hand out. Susan Moynihan, founder of The Honeymoonist, told WeddingWire that it's best to limit your friendmoon group to 10 or fewer people.
For accommodations, a shared villa can be convenient and affordable if you don't mind staying in close quarters, while separate hotel rooms allow for more privacy. Alternatively, a cruise strikes a balance between personal space (as long as you book separate cabins, of course) and shared entertainment and activities (per Yahoo! Life).
Finally, book some group dinners and excursions in advance, but don't forget to leave free time in between. This gives your friends an opportunity to explore or rest on their own. And, perhaps most importantly, it gives you and your other half time to connect as newlyweds.