The 'Invisible' French Manicure Is The Perfect Twist On The Classic Mani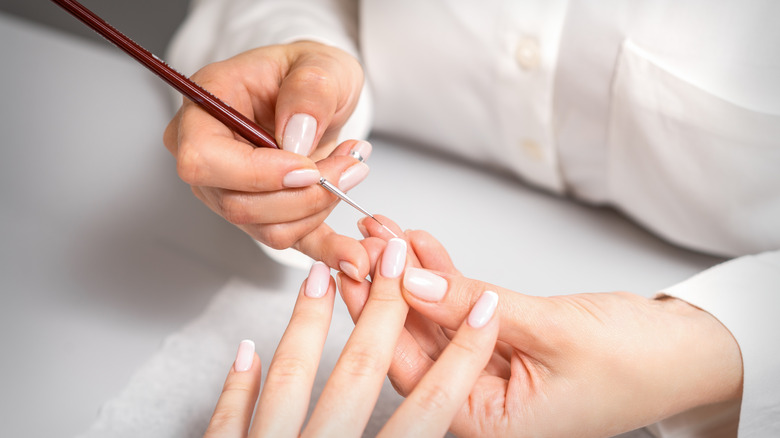 MorphoBio/Shutterstock
The classic French manicure has been a staple of beauty routines for nearly a century, and it's no surprise why. The look, originally created by American makeup company Max Factor and popularized by Orly CEO Jeff Pink, is a light pink base with opaque white tips (via Juju's Beauty). It's essentially your nails but better, a true neutral that can go with just about anything. After the surge of popularity in nail art, however, this look transformed into a template for people to explore and play around with new designs, from neon tips to stamped-on, contrasting ombre looks.
Advertisement
Now, we're taking it back to square one. After the resurgence of more neutral, but still glamorous, designs, like Hailey Bieber's "glazed donut" nails, French manicures are getting the same treatment. Instead of the bold blocks of white and pink so popular in the '90s and early 2000s, nail artists are opting for a more subtle, minimalistic approach to the classic design — the invisible French.
What is the invisible French?
Instead of the classic, bold white in a French manicure, the invisible French takes a more blended approach. There are several variations trending, but the consistent theme is that the look is free-flowing instead of blocky and opaque. Most start with a jelly, semi-sheer base, like the ever-so-popular Bubble Bath by OPI, that is then either topped by a filigree design around the edge of the natural nail, or finished off with a similarly semi-sheer white or colored polish on the tip. It's a subtle shift, but one you're sure to notice.
Advertisement
This method is meant to make the typical French look less fake or artificial. By opting for a jelly, slightly see-through base and accent, the natural texture of your nail shines through. It's like an amped up base coat, still featuring a subtle design so you feel put together and polished, but it's understated enough for both everyday and special occasion looks.
How to create the look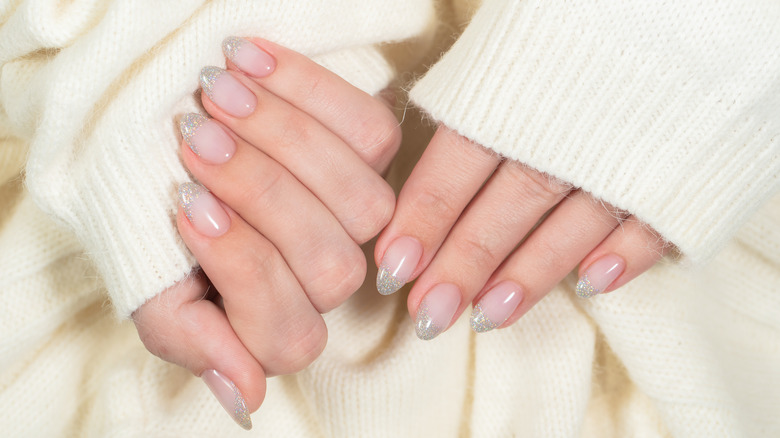 Andrii Oleksiienko/Shutterstock
If you're headed to the salon, this look is an easy one to request — manicurists have been trained to do French nails for years. Either show your nail artist a reference photo or, when picking out your colors, look for semi-sheer gel or regular polish shades on the wall. Unless you're very pale, stick to more neutral tones instead of full-on pink for a more natural look.
Advertisement
If you're looking to do this at home, however, it might take a bit of skill. OPI, in a recent TikTok, shared their top three methods for pulling off your own French manicure at home. In the video, two options are freehand — you can either start by mapping out your polish on the tip, then fill in to give yourself some more control, or paint a swipe of your desired color across the nail and clean up with a nail brush. The third choice requires an extra tool, but it makes the process quick and easy. Simply paint a bit of polish onto a jelly stamper, then gently press your nail in to get the desired coverage. Whatever method you choose, try it out with semi-opaque polishes to get the invisible French look.
Advertisement