What Exactly Is White Tie Attire?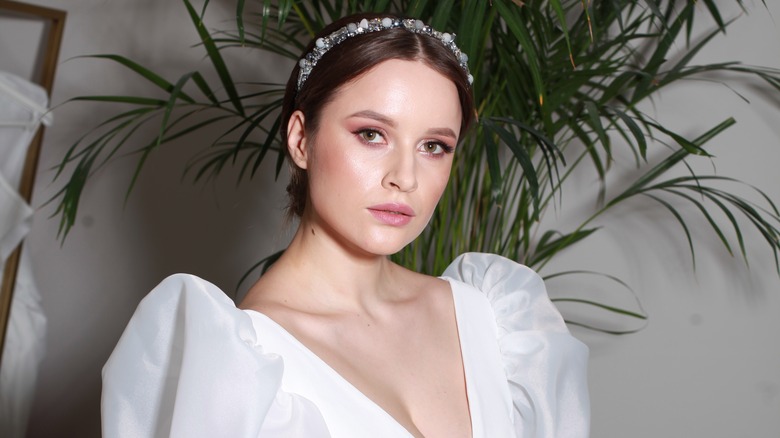 Ina ART/Shutterstock
We've all been to a black tie event at some point and had fun getting all dressed up for the occasion. "The lines have been blurred over the years, but it is safe to assume that black tie means fancy, and you really can't be too over-dressed (short of wearing a white, floor-length dress yourself)," Marteal Mayer, a co-founder of a bridal boutique, told The Knot. Therefore, you can typically expect guests to wear beautiful dresses or suits at black-tie events such as weddings.
But here's a scenario: you understand the black tie dress code, and you get an alluring invitation in the mail informing you that you're invited to a white tie event. White tie attire is the same as black tie attire, right? Sorry, but nope! Believe it or not, while the two dress codes have some similarities, they aren't the same. After all, there's a reason why they have different names.
Wear a gown because white tie attire is as fancy as it gets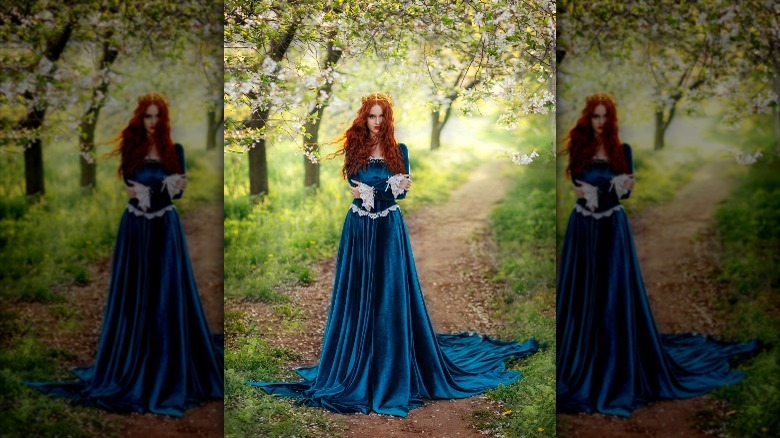 Ironika/Shutterstock
While you may have initially thought that black tie attire is as formal as an outfit requirement can get, white tie dress codes are even fancier; "a woman can wear a grand ballgown and opulent jewels," Anne Chertoff, a wedding specialist for Beaumont Etiquette, told Brides. She added that "Women should avoid cocktail style dresses or anything that is considered semi-formal or other less formal dress styles."  That means that you probably won't be able to get away with garments that are borderline fancy enough for black-tie events. So, don't wear little black dresses, chic mid-length clothes, or even simple maxi dresses for white tie occasions because if you're not wearing a long gown, you're not wearing white tie attire.
Although this dress code may seem a bit too over-the-top — or dare we say extra — white tie events are typically formal occasions such as balls, ceremonies where people will receive awards, dinners featuring honorable guests, and weddings, per TikTok. At these exquisite events, it would be disrespectful not to follow the dress code. So, even if you don't like dressing up, a white-tie event is one of the few occasions where you need to get fancy with no excuses.
Think about your shoes and accessories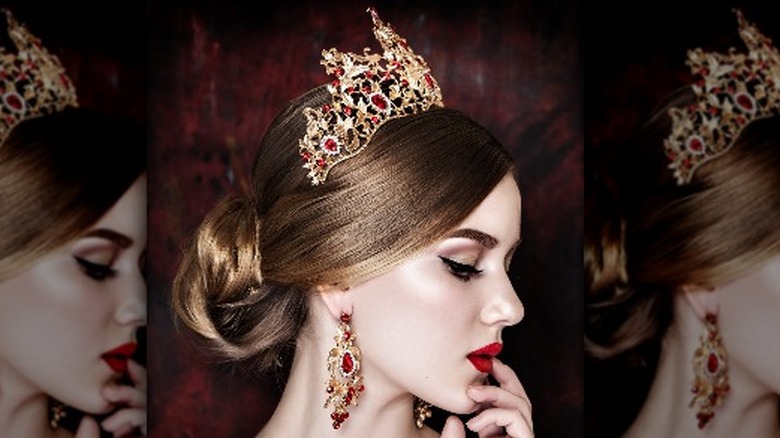 Redchanka/Shutterstock
Gowns are crucial for white tie attire, but they're not the only aspect of a white tie ensemble, even if they're the most prominent part. When attending a white tie event, you should additionally consider the footwear and accessories. Regarding purses, you should carry around a petite purse rather than a big statement bag, so try to choose a dainty option, and your heels shouldn't show your toes (via TikTok), as white tie events are all about elegance. And get ready for a princess moment, because sometimes you have to wear long white gloves at these occasions.
Moreover, a white tie event is one of the few places where people won't cringe or think you're desperate for attention if you show up in a tiara. These princessy pieces are often expected and even encouraged at white tie occasions, so if you've always wanted to flaunt a tiara, a white tie event is the best place to rock it, per TikTok. Plus, don't wear cutesy or costume jewelry if there's a white tie dress code. When attending these events, you should wear your most expensive jewelry featuring real gold or gems — nothing fake or cheap.