The Easy Hack To Prevent Frizz When Straightening Your Natural Hair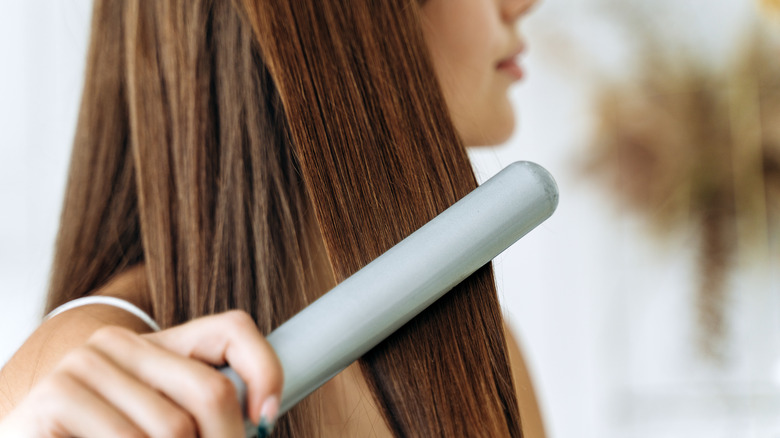 Sklo Studio/Shutterstock
We may receive a commission on purchases made from links.
While your natural hair is undoubtedly beautiful, you may sometimes desire pin-straight locks, and one of the most common ways to achieve this look is with a flat iron. Running this device over every single one of your strands will not only make them much straighter but may also create a more sleek and shiny appearance.
However, in order to achieve the look you're going for, it's important to take some precautionary measures before you wield your flat iron. If you don't, you may end up with countless flyaways and dry strands that feel like they can't be controlled. Or, maybe your frizz is caused by something else, such as a humid climate, damaged strands, or just your specific hair type. Whatever the case may be, there is an easy hack that will help you prevent a frizzy appearance when straightening your hair, as well as tips on where you can find some of the best frizz-controlling products. 
Include this step in your shower routine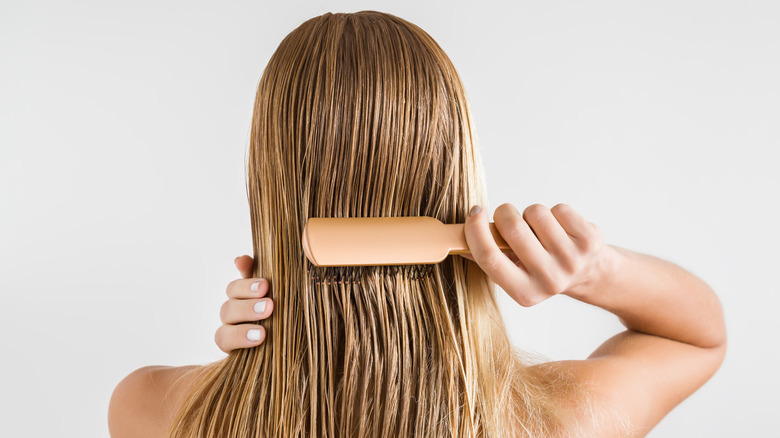 FotoDuets/Shutterstock
Luckily, this extra step is easy and doesn't require too much time. According to the commerce editor of Glamour, Shanna Shipin, it's important to brush your hair while in the shower, not afterwards. "While it's super tempting to grab a brush and detangle my hair before straightening, I never do it. Taking a brush through my hair separates the strands and makes my hair super frizzy when I go over it with a flat iron. Instead, I use a detangling brush in the shower — and if it gets a little knotty while straightening, I finger-comb it," explains Shipin. In fact, combing your hair in the shower will not only help prevent frizz but may also make it easier to brush out, as your strands will be softened by your conditioner and less tangled.
However, avoid straightening your hair while it's still wet, as this can cause irreversible damage and may also create a frizzier look. Therefore, if you're pressed on time, you may need to blow dry your hair first, then use your flat iron. However, if you have time to spare, you can always towel or air-dry your mane before straightening it.
Incorporate anti-frizz products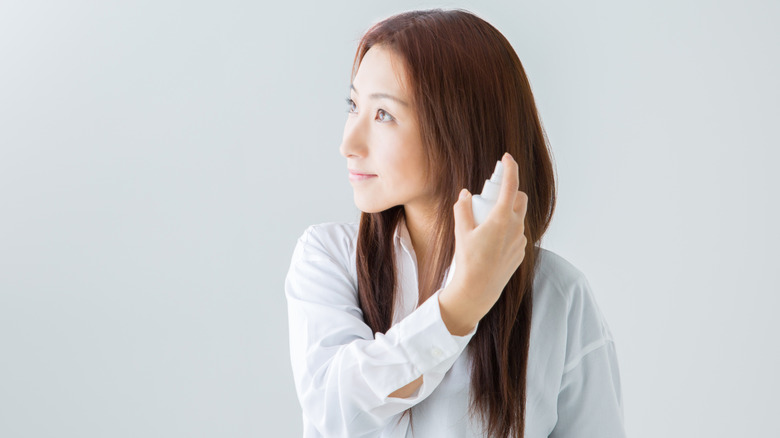 buritora/Shutterstock
It's important to use a detangling brush in the shower, as Shanna Shipin recommends via Glamour, and one of the most popular brands is the Wet Brush. These types of brushes are much gentler on hair than regular ones, as they are made for dry or wet hair and should protect your locks from damage. Aside from a good hair brush, one product to use before applying any heat is a heat protectant spray. While there are many types on the market, some are specifically formulated to be used before straightening, such as L'Oréal Paris Sleek It Iron Straight Heat Spray sold on Amazon. Another benefit to this product? It also works to limit frizz and flyaways. 
Lastly, certain styling tools may be better suited than others at controlling frizz. For instance, T3 Micro's Lucea Straightening and Styling Iron claims to be ideal for avoiding frizz. On the other hand, if you want to dry your hair while straightening it, check out Drybar's The Straight Shot Blow-Drying Flat Iron, which allegedly will smooth hair and add shine.