Can A Too-Long Engagement Spell The End For A Relationship?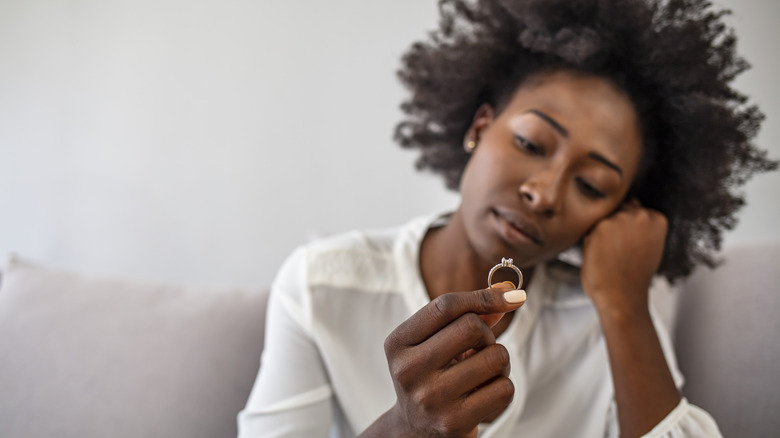 Dragana991/Getty Images
The day you and your boo got engaged was likely one of the best of your life. The proposal speech, the engagement ring, the happy tears — there's so much that makes a new engagement feel like a high you'll never come down from. But even if you're excited to start your happily-ever-after married life with your partner, the reality is you might be stuck in limbo for a while. According to The Knot 2021 Real Weddings Study, the average engagement lasts 14 months (and couples who delayed their wedding due to the COVID-19 pandemic were engaged for 24 months on average). After a few months of wedding planning and stressing over dresses, the day you became engaged can start to feel like a distant memory.
In other cases, couples might put off wedding planning altogether, sitting in the "we're engaged" stage for months or even years without taking action. As Budget Savvy Bride points out, there are several potential benefits of an extended engagement, from saving money to attending pre-marriage couples counseling together.
But how long is too long? Here's what waiting to tie the knot might mean for you and your partner's future.
The downsides of a long engagement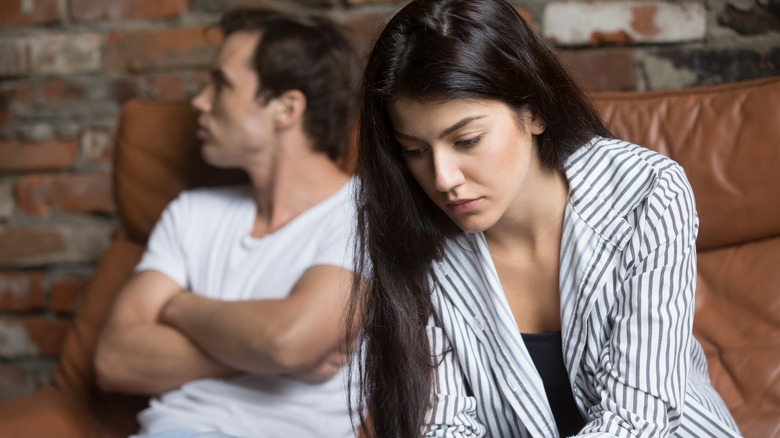 Fizkes/Getty Images
A long engagement could spell trouble for your relationship and may even stop you from walking down the aisle, according to some experts. "You want to set a date within 18 months after getting engaged," Barton Goldsmith, author of "Emotional Fitness for Intimacy," told Cosmopolitan. "Research shows that the likelihood that you'll actually get married drops after that."
It's true that a prolonged engagement may provide more opportunities to back out. For example, a big fight could force you to rethink the relationship, or you could grow apart during the length of your engagement. Couples with shorter engagements may not have to face these issues until later after they've already said "I do."
However, there's limited data confirming that a long engagement is actually a predictor of failed relationships. What might matter more is how long you and your other half date before becoming engaged. In a 2015 study published in the journal Economic Inquiry, researchers found that couples who dated for at least three years before popping the question were much less likely to divorce.
Is a brief engagement better?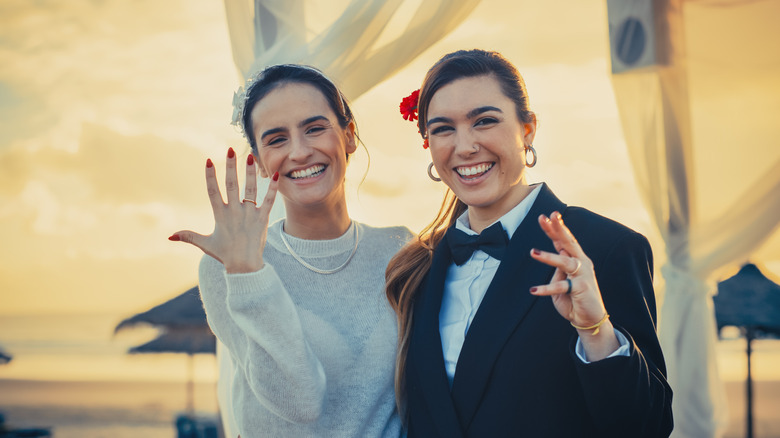 Gorodenkoff/Getty Images
Long engagements may allow for more time to second-guess your relationship and pull out altogether. But in many cases, a shorter engagement isn't a good antidote to a lengthy one. A 2006 study published in The Forum for Family and Consumer Issues noted that engagements lasting fewer than 12 months were more likely to lead to divorce within seven years.
Couples who rush to the altar may also do so for the wrong reasons. "Sometimes, we believe that relationship problems will resolve themselves with marriage, but the opposite is usually true," Dr. Jess O'Reilly, host of the @SexWithDrJess Podcast, told Bustle.
Still, every relationship — and engagement — is different. Some experts suggest spending more time in pre-wedding bliss, while others warn against dragging it out (wedding experts, on average, told Brides that a nine-month engagement period is ideal — significantly shorter than the typical 14-month engagement). Know your reasons for getting married, and settle on a timeline that fits your and your partner's needs. At the end of the day, marriage is a highly personal union that has little to do with the opinions or experiences of others.