What To Look For In A Serum If You Have Combination Skin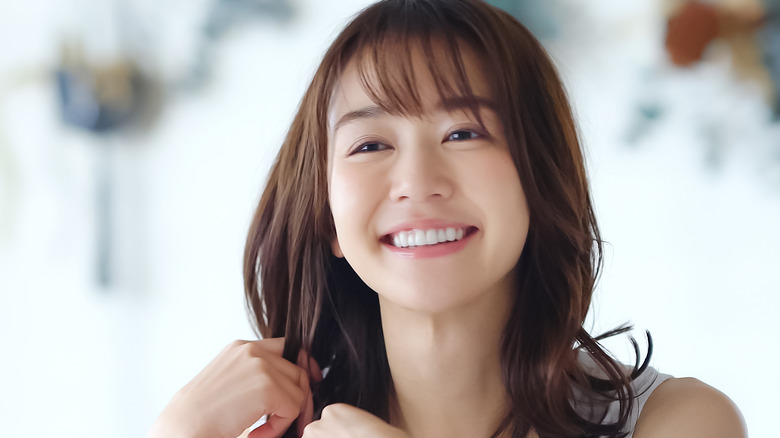 metamorworks/Shutterstock
When it comes to shopping for skincare products — including serum — those with predominantly oily or dry skin always have lots of hurdles to cross. For those with oily or acne-prone skin, products filled with occlusives and silicones can only make things worse, dermatologist Batul Patel tells Vogue. Meanwhile, acne-slaying heroes benzoyl peroxide and salicylic acid can make dry skin even dryer. Now, imagine how much more challenging dotting the I's and crossing the T's must be for those with combination skin.
Advertisement
CeraVe defines combination skin as skin that is oily in parts and dry in parts, with the T-zone typically being oily as a result of overactive oil glands and the cheeks being either dry or normal. When one has combination skin, the forehead, nose, and chin are particularly shiny and more vulnerable to clogged pores. During summer, the T-zone feels extra greasy while during the colder months, the T-zone will secrete less oil while the usually dry spots get drier. With combination skin, your makeup easily ends up looking patchy and feeling paste-like. Like oily and dry skin, combination skin can also benefit from serums' concentrated delivery of active ingredients deep into the skin to effectively tackle skin concerns like acne, fine lines, or sun damage. So, what should you look out for in a serum when you have combination skin?
Advertisement
Do's and don'ts when buying a serum with combination skin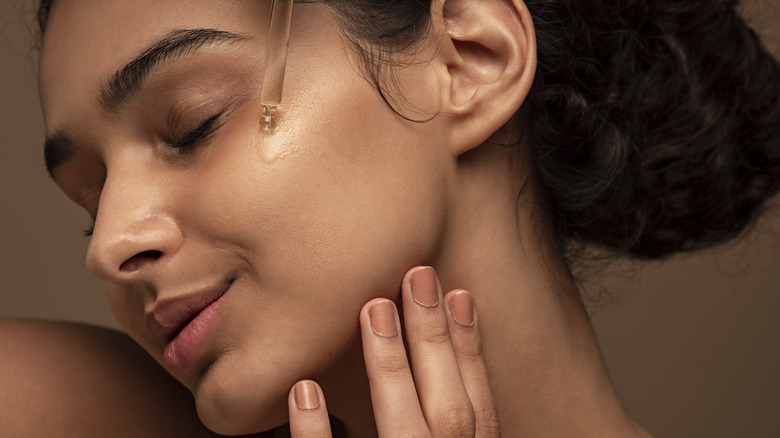 Pronamy/Getty Images
If those with predominantly oily or dry skin always find themselves at the opposite ends of the skincare space, those with combination skin are stuck between the devil and the blue sea. Finding a balance between treating any oily and dry areas is the key to combination skin. According to Derm Collective, those with combination skin can benefit from serums loaded with active ingredients that promote skin's health such as vitamin C, vitamin E, ferulic acid, salicylic acid, hyaluronic acid, and vitamin B3 (niacinamide or nicotinamide).
Advertisement
For dermatologist Azadeh Shirazi, her favorite combinations are retinol with bakuchiol or niacinamide and hyaluronic acid with vitamin C, E, and ferulic acid. "[I also like] copper peptides with niacinamide or azelaic acid with arbutin and hyaluronic acid," Shirazi tells Who What Wear. These components all address a variety of skin issues, including fine wrinkles, dehydration, uneven texture, and acne and discoloration, Shirazi explains.
When shopping for a serum, Shirazi warns against products containing ingredients that are sensitizing to the skin, including synthetic fragrances, formaldehyde and formaldehyde releasers, as well as polyethylene glycol. Monoethanolamine (MEA) and diethanolamine (DEA), two members of the ethanolamine component class, are also allergens that can cause skin irritation. Now that you know what to look for in a serum, let's take a look at other steps in the skincare routine to find out what else you can do to best care for your skin health.
Advertisement
How to take care of combination skin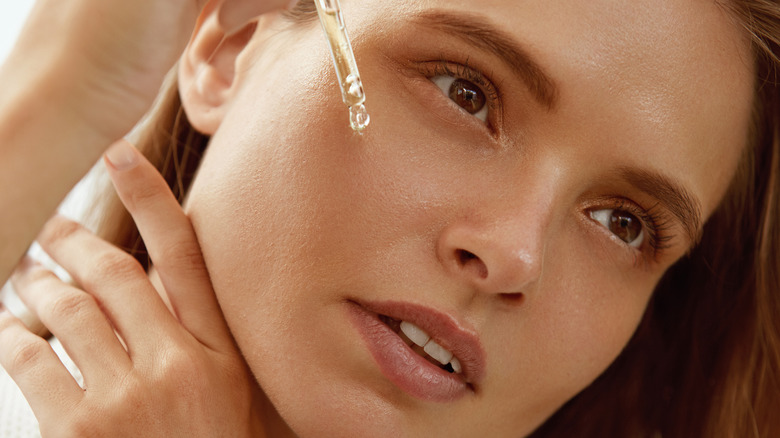 Puhhha/Getty Images
Cleanser-wise, if you have combination skin, find ones containing ingredients that help get rid of product build-up and impurities, and which rebalance oil without drying out the other dry parts. For instance, dermatologist Dr. Michele Farber recommends using a cleanser containing salicylic acid to reduce excess oil and minimize clogging (via Byrdie). After cleansing, use a toner formulated with skin pH level-balancing ingredients such as salicylic acid, lactic acid, or witch hazel. Once your skin has fully absorbed the toner, start applying your serum. After that, top your skincare routine off with a lightweight, water-based moisturizer containing hydrators that both hydrate and minimize oil and shine — like glycerin and hyaluronic acid. "You should also look for oil-free formulations that are non-comedogenic so they won't clog pores," says dermatologist Marisa Garshick (via Good Housekeeping). 
Advertisement
No a.m. skincare routine is complete without sun protection, so take care to apply sunscreen liberally before heading out to shield your skin from glaring UV rays. For an oil-free and matte finish, reach for a non-comedogenic, gel-based sunscreen with an SPF of at least 30. Makeup wise, opt for lightweight products that don't clog pores and give your skin a matte finish throughout the day. With combination skin, you can exfoliate once or twice a week, alternating chemical and mechanical exfoliation, to get rid of extra dead skin cells and improve the texture of your skin without irritating it (per Healthy Skin).