What To Expect When Getting A Facial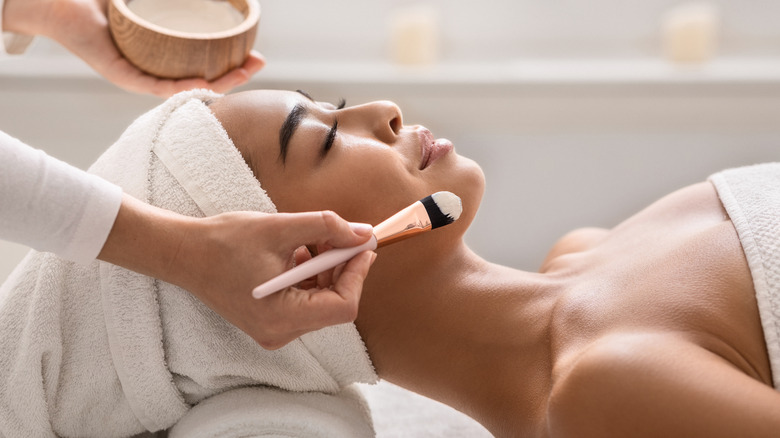 Prostock-studio/Getty Images
If you've yet to experience the relaxing, restorative, and healing powers of a facial from a licensed esthetician, you may be wondering what exactly a facial accomplishes and why it's worth the investment. Some might lean towards booking a massage or pedicure at the spa with their holiday gift certificate, but your skin is just as deserving of time and energy, especially in the cold winter months.
Facials may seem indulgent and luxurious if you aren't sure what to expect. They may also, understandably, feel intimidating, but there's no need for them to. A facial is meant to enhance the vitality of your skin and calm the mind. Still, there's one big thing you should do when you arrive at your salon. "You should let them know it's your first time," Joanna Kwiatkowska, an aesthetician at NYC's Spa Nalai, told Teen Vogue. "We'll then use a little bit of a different approach. We don't go as extreme—there are certain steps we might omit." If you have a skin concern you're looking to address or you're ready to book your first facial out of pure curiosity, here's what you can expect.
Skin consultation and cleansing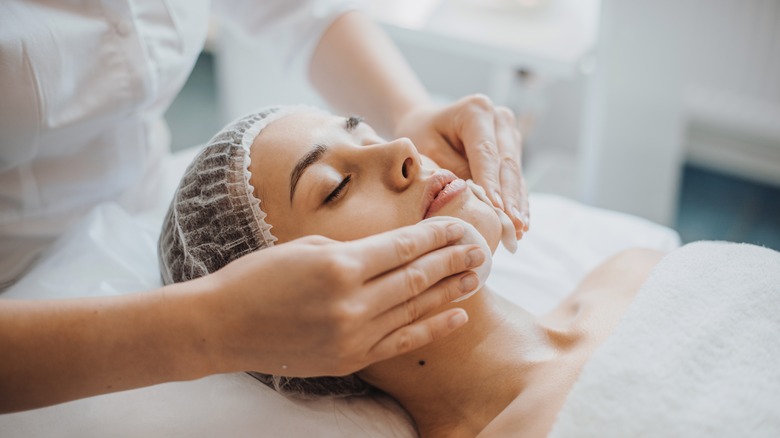 dekazigzag/Shutterstock
When you arrive at the spa for your facial, you'll be asked to lie down on what is very similar to a massage table in a private room. Your hair will be wrapped, and a soft eye pillow is typically provided. Your esthetician will begin by examining your skin and asking questions about your skincare routine and goals. "I'd want to know lifestyle influences such as if you're always in an office where the heat runs in the winter, which can lead to dehydration issues, or if you live on coffee, that can lead to the same issues," Sunday Riley facialist Neringa Sutkute told the Sunday Edit. "And, of course, we'd discuss allergies, any medications you're on and review your current skincare routine, which helps me to see what are the missing pieces in your routine product wise, to see how we can reach your skincare goals from the use of products and treatments."
After assessing your skin type, your facialist will start with cleansing. Hot towels may be used as a compress to steam and open your pores. Then, a cleanser and exfoliant will be used on your face, neck, and décolleté. This will prime your skin and slough off dead skin cells. Your facialist may also use a steamer pointed at your face to help open your pores (via Skincare.com). Warning: this can feel intense. It's often pretty hot and can feel a little claustrophobic, but the results are worth it.
Personalized treatment and lymphatic massage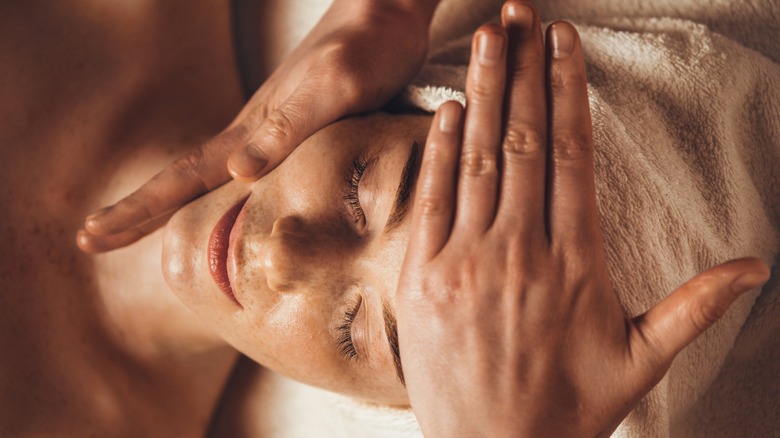 dekazigzag/Shutterstock
Once you and your facialist have determined whether your skin needs hydration, extractions, acne treatment, or just some added luminosity, you'll tackle the next step of your facial. This could look like a moisturizing mask, deep pore cleansing performed with an extraction tool, or an LED light for inflammation. These treatments will likely leave your skin a bit irritated and can even cause a breakout, so it's best to check your calendar when scheduling your facial and make sure you don't have important appearances to make in the days following your appointment. "If your event is a week from today, I wouldn't recommend having an intensive facial with deep eoliation or cleansing," Joanna Kwiatkowska told Teen Vogue.
Before wrapping up your facial with a moisturizer, your facialist may perform a lymphatic massage on the face and neck, which is an important healing technique no product can achieve for you. "The lymphatic system is our body's natural waste disposal unit, which works along with the circulatory system, though the lymphatic system doesn't have a pump, so it relies on exercise, dry brushing, sweating, or another type of movement such as massage. That's why a massage is very important to encourage movement of the lymph to encourage detoxification, oxygenate the skin cells and bring vital nutrients to the skin's surface, giving it that lovely glow appearance," Neringa Sutkute told the Sunday Edit.
Potential breakouts after a facial aside, treating yourself to a facial is one of the best things you can do for your face and a body, so why not try one out?