BB Cream Vs. CC Cream: What's The Real Difference?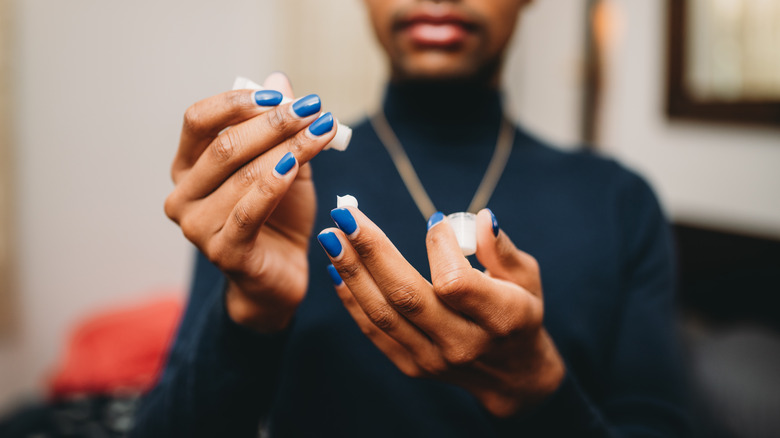 Filippobacci/Getty Images
We may receive a commission on purchases made from links.
In the vast world of beauty products, two acronyms remain quite the buzz: BB and CC creams. But what do these two names actually stand for, and how do they differ in terms of functionality and application? If you've ever found yourself wondering exactly that while staring at an overwhelming array of beauty products at your local cosmetics store, you're not alone.
BB and CC creams are two beauty products that have taken the cosmetic world by storm largely because they promise to merge multiple products you might already use in your skincare and makeup routine. But do they live up to the hype, and which one is right for you? In order to answer that, we need to examine how each cream addresses specific skincare concerns, from discoloration to hydration. Additionally, we'll explain the differences in coverage, application, and the skin types that can benefit the most from these two products.
So, whether you're a makeup lover who's always on the hunt for new products or someone who wants to simplify their makeup routine, the world of BB and CC creams has plenty to offer.
What is BB cream?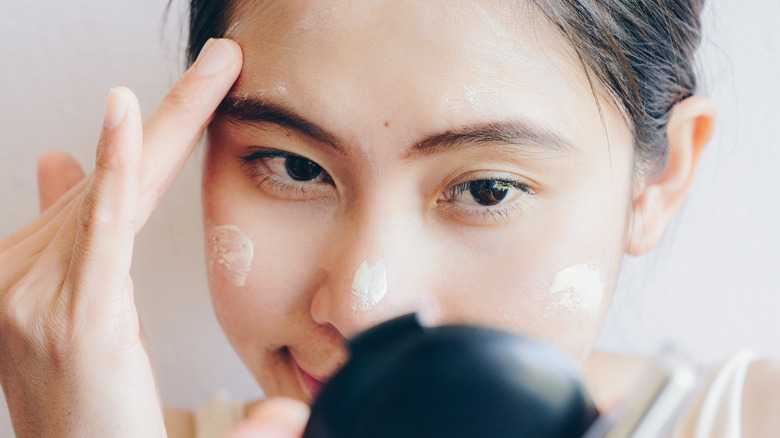 Boyloso/Getty Images
BB cream — short for "beauty balm" or "blemish balm" — is a versatile beauty product designed to provide multiple benefits in one easy step. As makeup artist Brandy Allen explains to Allure, "A BB cream is a multi-use product that acts as a primer, foundation, moisturizer, and sunscreen." This all-in-one approach makes BB creams a time-saving addition to your beauty routine, especially on those busy mornings when you need a quick and effective solution.
What sets BB creams apart is their ability to offer more than just coverage. While it provides a light, natural-looking foundation, many BB creams also come packed with additional skincare benefits. Some formulations incorporate antioxidants and vitamins, effectively combating signs of aging and free radical damage. BB creams can also include sun protection, offering a layer of defense against UV rays. However, we still recommend using regular sunscreen underneath it, as there are areas you might not cover with your BB cream — the eyelids, ears, or neck, for instance — that still require sun protection.
When to use BB cream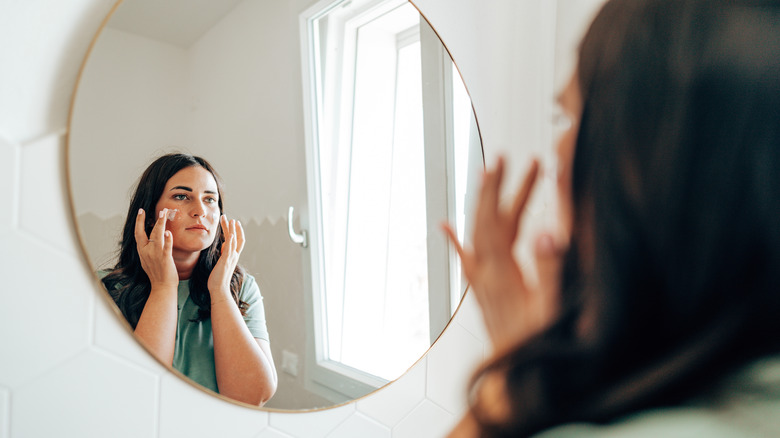 Franckreporter/Getty Images
This versatile beauty product can be used year-round, making it a great addition to your makeup routine. While foundation can sometimes look cakey and smudge throughout the day, a BB cream is much lighter in texture, and its movement on your face will be much less noticeable. This makes a BB cream a much better option for a long day when you know you won't be able to touch up your makeup much. A BB cream should also be your go-to on those days when you want to enhance your skin without going for a heavy makeup base. What's more, BB creams are great for achieving the ever-trendy no-makeup makeup look.
BB creams are also great travel companions. When you're on the go and need a versatile product, a BB cream fits the bill, can fit in your bag, and is easily reapplied. In this vein, BB creams are fantastic options when spending time outdoors, especially when they double as sunscreen. Finally, if you have acne-prone skin, a BB cream is a great choice for everyday makeup. "Acne-prone skin will also benefit from the lighter textured product that allows the skin to breathe as well as the shorter ingredient list," makeup artist Maria Velve explains to Healthline.
What is CC cream?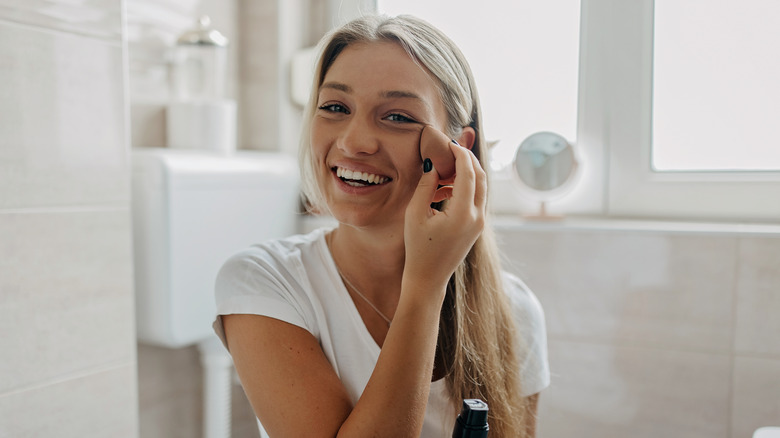 Supersizer/Getty Images
CC creams — short for "color-correcting" or "complexion corrector" cream — take your skincare-makeup routine up a notch by offering a solution for discoloration. CC creams are formulated to correct issues like redness, sallowness, and uneven skin tone, and they can also have additional skincare benefits due to hydrating ingredients, antioxidants, or anti-aging components. "If you like the idea of a BB cream but have some skin issues like discoloration or redness, try a CC cream," celebrity makeup artist Brittany Spyksma explains to Byrdie. "It has color correcting qualities that can make it a better fit for people who need a little more color balance."
Unlike BB creams, which tend to offer slightly more coverage, CC creams typically have a lighter texture. They prioritize color correction, making them an excellent choice for individuals who want to address specific color-related issues without feeling or looking like they're wearing heavy makeup. Some CC creams may have a noticeable purple or green tone, which is strategically designed to counteract any yellow or red areas on your skin.
When to use CC cream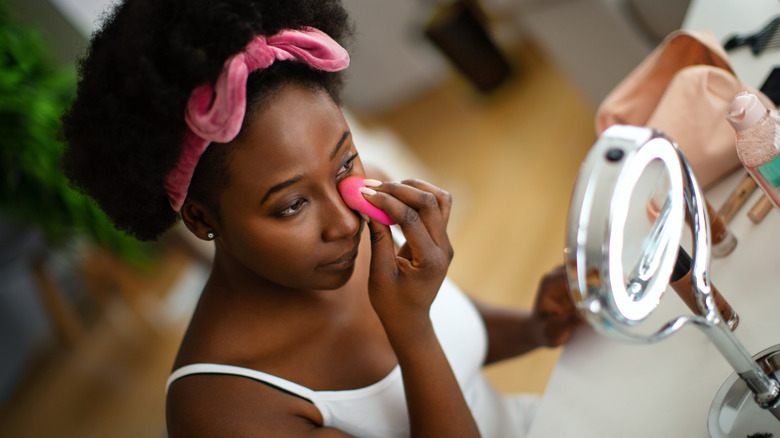 Aja Koska/Getty Images
Similar to BB cream, you can use CC cream as a standalone product to achieve a light, natural look with subtle coverage. However, what sets a CC cream apart is its color-correcting properties. As such, CC cream can be used as part of your regular makeup routine as a color correction base. This approach allows you to minimize the need for heavy makeup to cover up discoloration or problem areas. 
"You can use a CC cream as a primer to correct dark spots and redness and balance your overall skin tone by using this under your normal foundation," celebrity makeup artist Ashley Gomila explains (via Byrdie). For example, by strategically using a green CC cream on specific areas like your cheeks or around the nose where redness may be prominent, you can achieve an even complexion without feeling like you're wearing multiple layers of makeup. This makes CC creams an excellent choice for anyone who is struggling with rosacea. As such, if you enjoy wearing makeup during activities like hiking or hitting the gym, which can make your face red, we suggest opting for a CC cream rather than a BB cream.
How to apply BB and CC creams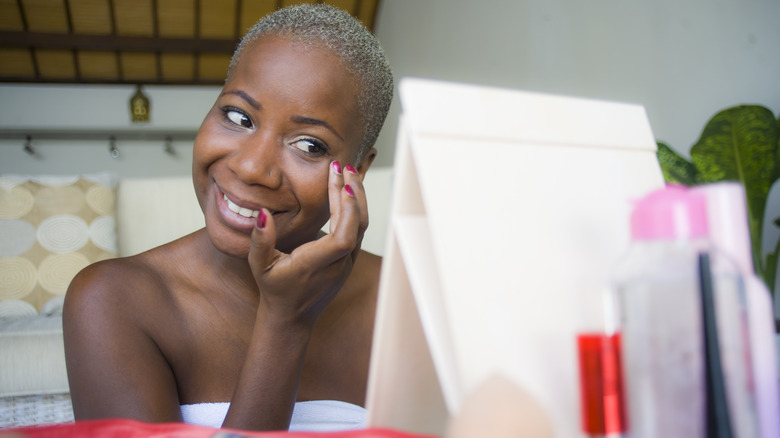 Marcos Calvo/Getty Images
To apply BB and CC creams effectively, you should begin with freshly cleansed and moisturized skin. When it comes to BB creams, "ideally they would be applied after serums and gels, and before any makeup," dermatologist Dr. Rachel Nazarian tells Byrdie. "Sunscreen is often included to avoid the confusion of whether to apply over or under this tinted layer." After your skincare routine, put a small amount of the cream onto your face. Most experts recommend applying it with clean hands, but if you prefer a sponge or a brush, you can use those instead.
When it comes to CC creams, experts seem to tend to go for the same approach. "I prefer to use my fingers and warm up the CC cream before applying it on my skin," celebrity makeup artist Jeannia Robinette tells Today. "I treat it like a sunscreen and put it all over my neck, chest, and face." If your BB or CC cream doesn't come with SPF, apply sunscreen before it. Be thorough in blending your BB or CC cream, and pay extra attention to areas that require more coverage. You can layer on a bit more product on blemishes or redness if needed. However, if some areas need a little more coverage, concealer is your best friend. "Concealers are great to pair with a BB cream or CC cream because you can target areas on the face that need more coverage," celebrity makeup artist Nydia Figueroa suggests (via Today). 
Do BB and CC creams work for all skin types?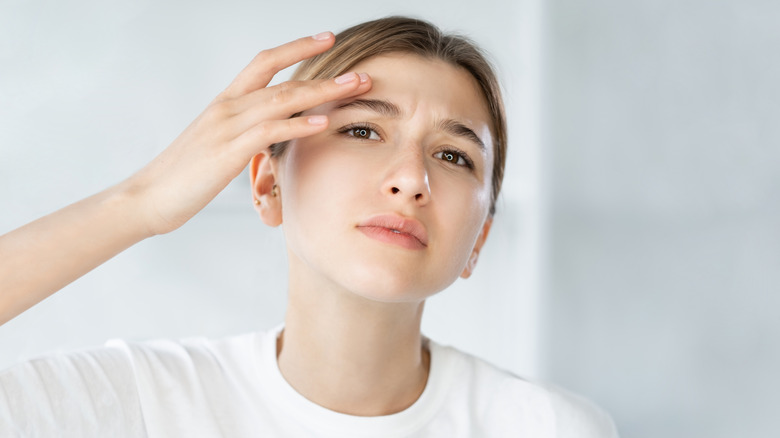 Golubovy/Getty Images
It's hard to properly categorize BB and CC creams, as there are so many options on the market — all of which target different concerns. However, BB creams, with their hydrating and priming properties, are generally well-suited for dry or combination skin because they moisturize and even out the skin tone. CC creams are often targeted at concerns like redness or uneven skin tone, making them suitable for those with skin conditions like acne and rosacea. Both can work for normal skin types, providing a lightweight alternative to heavy foundation.
Those with oily skin may find that these creams don't control shine well enough, so they need to use a mattifying primer or setting powder. "BB cream is more hydrating and can provide a beautiful radiance to the skin, [which] is ideal for dry skin types. [Meanwhile], CC cream is lighter in coverage and is great for oily skin as it often comes in a matte formula," celebrity makeup artist Nydia Figueroa tells Today. Some products are also explicitly designed for acne-prone skin. Because of this, it's always best to check the product label and take into account your skin's unique characteristics to find the best match.
BB and CC creams vs. foundation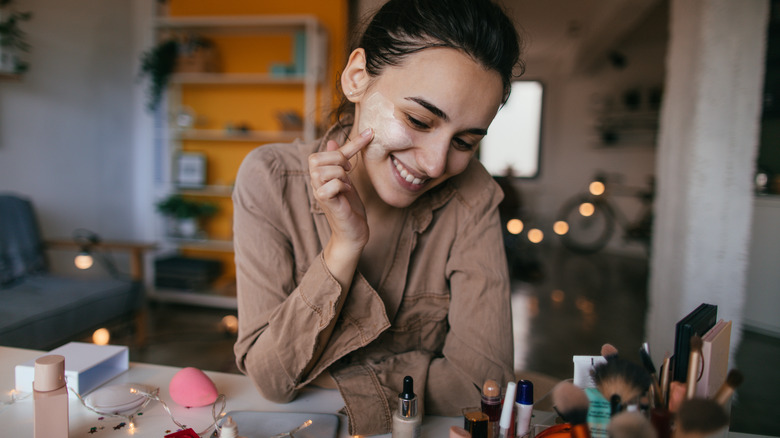 Aleksandarnakic/Getty Images
BB and CC creams offer sheerer coverage than traditional foundations. "BB cream is a great lightweight option that avoids that more cakey, drying look you sometimes see from full coverage foundation," celebrity makeup artist Sir John explains (via Byrdie). These creams are more focused on providing skincare benefits like hydration and sun protection, and their sheer tint comes second to that. This makes them ideal for those who are looking for a natural, everyday look.
On the other hand, foundation provides plenty of coverage, especially because they're intentionally buildable, and is perfect when you want a blank, even canvas for other makeup or simply need to conceal stubborn blemishes and imperfections. Ultimately, your base choice should align with your makeup goals and the specific needs of your skin. If you're feeling like doing a no-makeup makeup look, a BB or CC cream might be the better choice, but a classic foundation is still unbeatable if you want to go full glam.
BB and CC creams vs. tinted moisturizer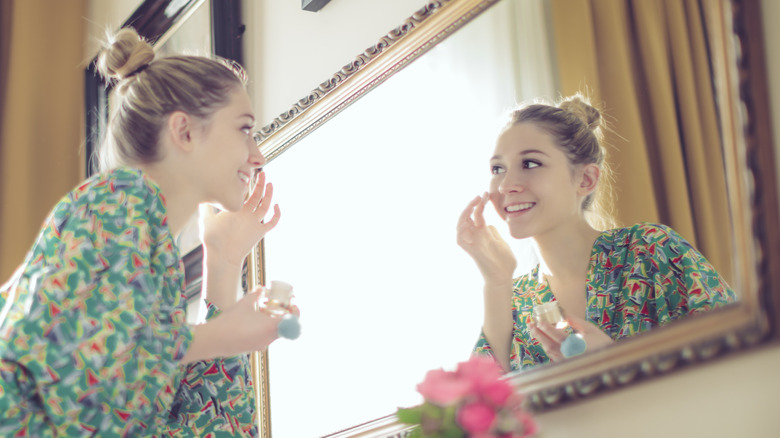 Eva-katalin/Getty Images
BB and CC creams are similar to tinted moisturizers in that they offer hydration and a touch of color, but they go a step further. "A tinted moisturizer, versus a BB or CC cream, usually has fewer skincare benefits infused into the product," celebrity makeup artist Melissa Hurkman tells Real Simple. "This is typically a foundation mixed with an emollient moisturizer to keep your skin looking fresh and hydrated throughout the day with minimal coverage."
BB creams typically contain skincare ingredients like antioxidants, SPF, and hydrating agents, and CC creams are designed to cover up specific skincare concerns while still prioritizing skincare benefits. Tinted moisturizers are essentially moisturizers infused with a bit of foundation. Of the three, tinted moisturizers offer the least coverage, meaning that they'll barely hide any discoloration or imperfections. However, even in the makeup and skincare industry, many use the three terms interchangeably, and given their similarities, this confusion is completely understandable.
How to find the right shade of BB and CC cream for you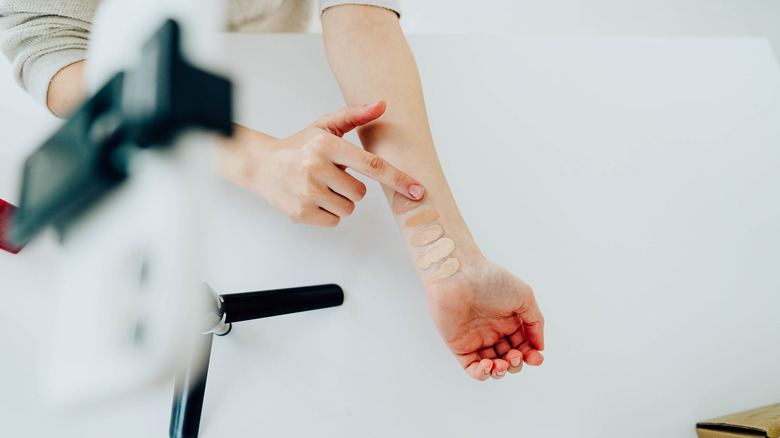 Aleksandarnakic/Getty Images
BB cream is "meant to offer super light coverage, and, therefore, often blends into most skin tones and does not need to match exactly," Dr. Rachel Nazarian explains to Byrdie. "Some brands do offer a large range of shade options, but because of the classical nature as a light coverage product, many companies still only create a handful of colors." However, it's still always best to test the product on your jawline or the inside of your wrist in natural light to see how it blends with your skin.
Unfortunately, BB and CC creams often offer poor shade ranges, so you have to choose one that's the closest match to your skin tone with the chance that it might not be a perfect match. When in doubt, we recommend going for the darker shade instead of the lighter since you can always add some brightness with concealer. However, if you pick a shade that's lighter than your skin tone, you can end up looking overly pale. Also, keep in mind that your skin tone can change with the seasons, so it's a good idea to have two different shades of BB or CC cream on hand for different times of the year. This also allows you to mix them for that perfect in-between shade.
Best BB and CC creams for dry skin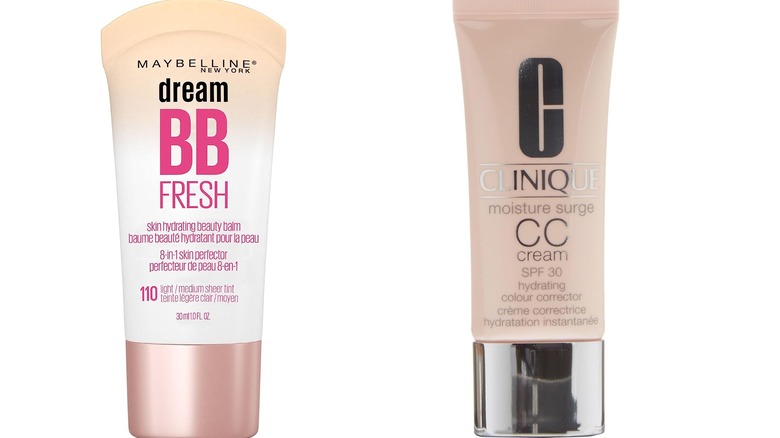 Amazon/Clinique
When it comes to dry skin, finding the right BB or CC cream can make all the difference in achieving an even complexion while keeping your skin hydrated and comfortable. Our favorite BB cream for dry skin comes from none other than Maybelline. One satisfied Amazon buyer raved, "This one of all the brands and types I've tried makes my skin look luminous, and the SPF actually does work (no dark spots on sunny days). The moisturizing lasts even after washing off, so this doesn't dry skin even with the pigments at all." You can buy the Maybelline Dream Fresh BB Cream on Amazon for $7.49.
Our favorite CC cream for dry skin is by Clinique, and it's one that an Amazon reviewer praised by saying, "I love the way this cream not only covers my Rosacea but also moisturizes my skin." It even has SPF 30 to boot! You can buy the Clinique Moisture Surge CC Cream on the brand's website for $43.00.
Best BB and CC creams for normal skin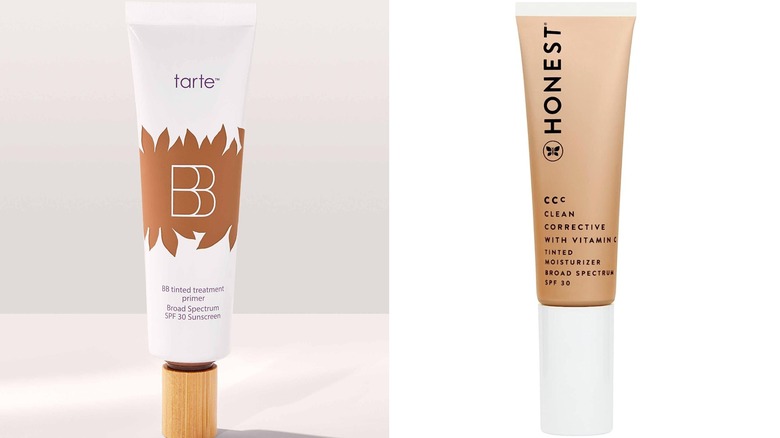 Tarte Cosmetics/Amazon
If you have normal skin, BB and CC creams can enhance your complexion while offering the right balance of coverage and skincare benefits. When your skin falls into the normal category, you luckily have the flexibility to choose from various BB and CC creams.
Our top BB cream pick for normal skin is from Tarte Cosmetics. "I'm 43 with pale skin, freckles, and fine lines. This BB cream is amazing – honestly, the best product. Beautiful natural coverage so soft and creamy – my skin glows and doesn't look dry at all," one happy customer wrote on Tarte's website. "I'm addicted." You can buy the Tarte BB Blur Tinted Moisturizer on the brand's website for $40.00.
Meanwhile, our CC cream pick for normal skin comes from Honest Beauty. "This is my absolute favorite 'makeup' product. It is light coverage but buildable. Perfect for all seasons. Doesn't leave your skin feeling oily or feel like I'm wearing makeup," a satisfied buyer raved. You can buy the Honest Beauty CCC Clean Corrective with Vitamin C Tinted Moisturizer on Amazon for $20.78.
Best BB and CC creams for oily skin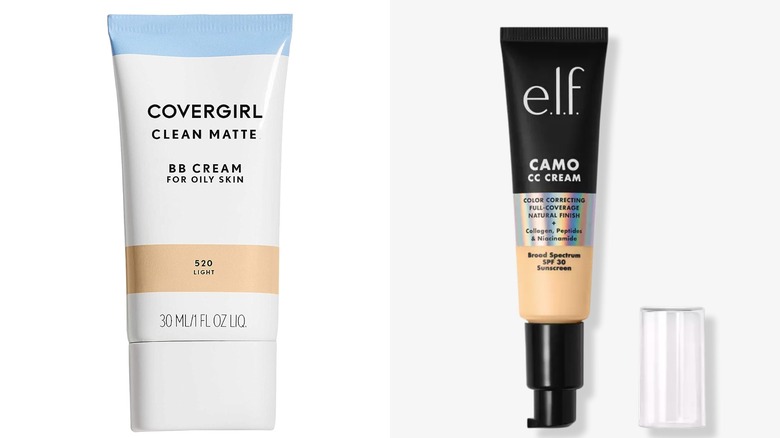 Amazon/Ulta
For those with oily skin, finding the right BB or CC cream can be tricky, as oil tends to move products around. However, finding the right cream is also a game-changer, as it can help control excess shine and keep your skin looking fresh throughout the day. 
Our favorite BB cream for oily skin is by CoverGirl, with one satisfied buyer writing, "I have super oily skin like my T-zone and upper cheeks will be so oily by mid-day... I just tried this BB cream, and [about] 5 hours later, my skin was basically still matte! It was barely shiny. I'm shocked." You can buy the CoverGirl Clean Matte BB Cream For Oily Skin on Amazon for $3.51.
Then, our top pick for a CC cream that works well on oily skin is by e.l.f. Cosmetics. "The coverage is amazing, and it lasts all day. I was surprised by the quality for such a low price," a happy buyer shared in a review. You can buy the e.l.f. Camo CC Cream SPF 30 at Ulta for $15.00.
Best BB and CC creams for acne-prone skin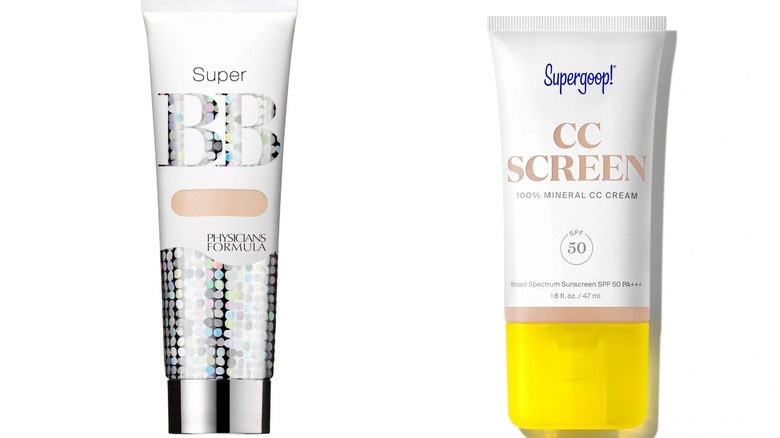 Supergoop/Walmart
If you have acne-prone skin, finding the right BB or CC cream can be daunting since products that provide even the lightest coverage can still break you out. However, some BB and CC creams on the market provide light coverage without clogging pores or exacerbating breakouts. 
Our favorite BB cream for acne-prone skin is by Physicians Formula, with a user who has been using it for years sharing, "It provides great coverage, and I can add on layers onto my acne or acne scars without it looking cakey." You can buy Physicians Formula Super BB All-in-1 Beauty Balm Cream at Walmart for $18.96.
Our pick for a CC cream that works well on acne-prone skin is by Supergoop. "[I] was looking for something gentle on my acne-prone skin while remaining light and gently color-correcting. Supergoop hit the nail on the head with this one," a satisfied buyer raved. You can buy the CC Screen 100% Mineral CC Cream at Supergoop for $44.00.
Best BB and CC creams for sensitive skin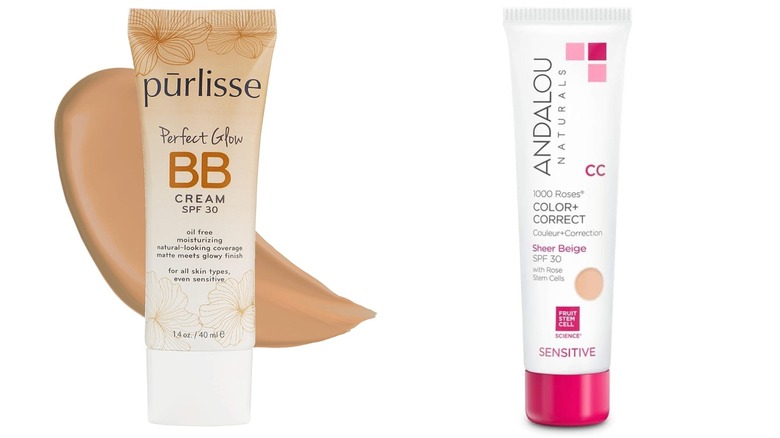 Amazon
Those with sensitive skin also need to ensure that the BB or CC cream they choose is meant for their skin type. Beauty brand Purlisse makes our best choice of BB cream for this skin type. "I love this stuff. It doesn't make me break out; it protects, covers without looking cakey, gives a dewy look, and moisturizes phenomenally! I can build coverage with it if I need to," one user wrote in their review. You can buy the Purlisse Perfect Glow BB Cream on Amazon for $36.00.
Meanwhile, a great CC cream for sensitive skin is by Andalou Naturals. A user on Amazon shared their positive experience with the product, writing, "It doesn't irritate my sensitive skin, lasts through the day, and works well as a sunscreen. Not as heavy as makeup, but it does even out the appearance of my skin and tones down any redness." You can buy the Andalou Naturals 1000 Roses CC Color + Correct on Amazon for $18.02.
Best BB and CC creams for mature skin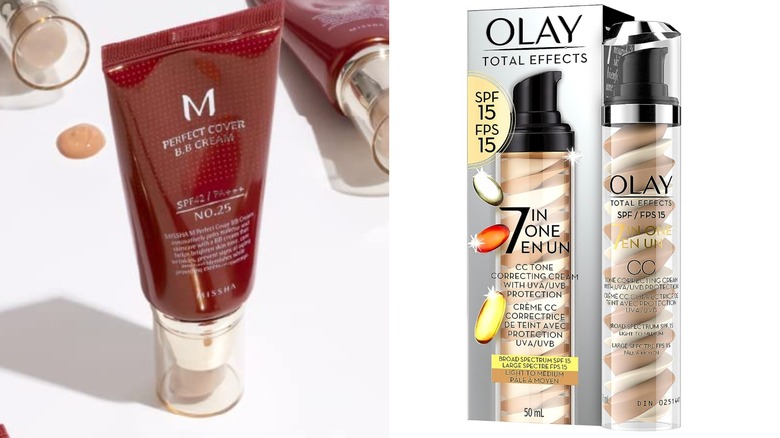 Amazon
If you have mature skin, it's important to pick a BB or CC cream that addresses specific concerns, such as fine lines or an uneven tone. Of course, having it settle into fine lines and enhance them is something many may want to avoid.
As such, a great BB cream for mature skin comes from MISSHA. "I'm 40 and have some fine lines around my eyes and forehead. Pretty much every bb cream or foundation I've tried in the past couple [of] years just settles in my lines and makes it look worse..." one reviewer wrote. "This one is amazing because it covers all my redness and hyperpigmentation but doesn't look thick or gross, and it doesn't highlight my lines." You can buy the MISSHA M Perfect BB Cream on Amazon for $10.00.
Then, a great CC cream for mature skin is by Olay, with one satisfied customer claiming, "I love this CC cream; one pump is enough to cover my entire face using a foundation brush. It gives me even color and coverage, and wrinkles aren't as noticeable." You can buy the Olay Total Effects Tone Correcting Face Moisturizer on Amazon for $27.41.
BB and CC creams with the best shade range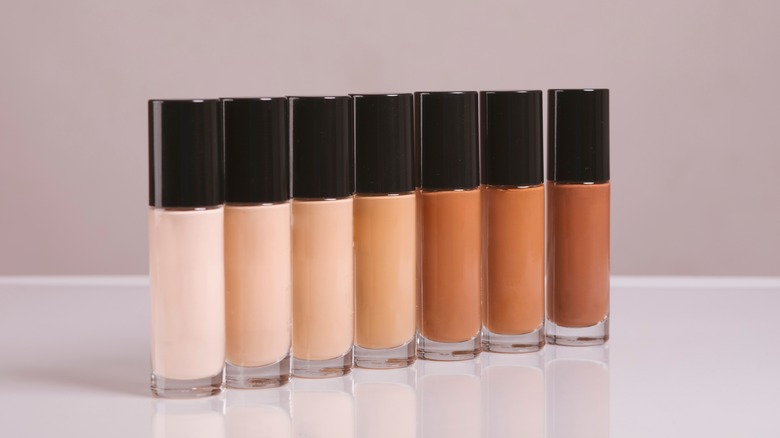 Eva Corbella/Shutterstock
Finding the right shade to match your skin tone is crucial for achieving a seamless look. However, BB and CC creams are known to come only in a couple of shades, making finding the right color difficult, especially for those with deeper skin tones. According to Karissa Bodnar, founder and CEO of Thrive Causemetics, "The reason that BB and CC creams have not been available in deeper shades is because they have higher levels of zinc oxide and titanium dioxide to make up the SPF. In their raw state, zinc oxide and titanium dioxide are pure white, and that really adds difficulty in achieving darker shades" (via Refinery29). 
However, cosmetic chemist Perry Romanowski reveals that creating makeup products in darker shades with SPF is possible. "Other ingredients can be used to get the SPF value," Romanowski tells Refinery29. "Iron oxides can give brown, yellow, or red pigments, and using a mixture of iron oxides and titanium dioxide, you can blend any shade of human skin."
One BB cream with a relatively diverse shade range —at least compared to other BB creams — is L.A. Girl HD Pro BB Cream, which currently comes in eight shades. For CC creams, one that everyone should take notes from is Neutrogena's Clear Coverage Color Correcting Cream, which comes in 30 shades — more than some foundations!