How Often Should You Get A Haircut If You Have Medium-Length Hair?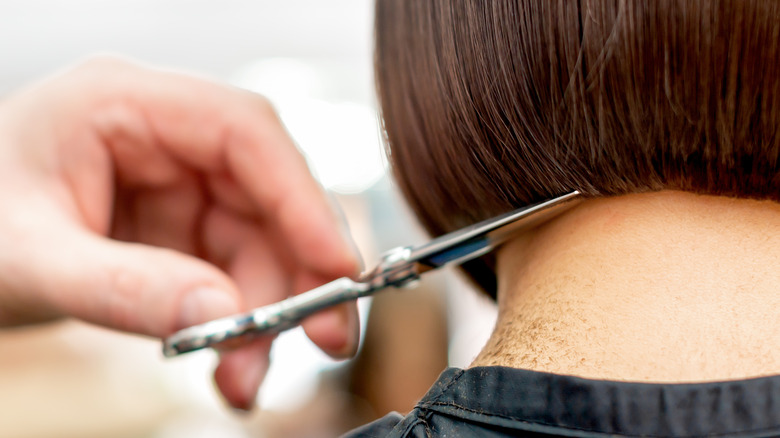 Michelle Aleksa/Shutterstock
There are certainly pros and cons when it comes to both short hair and long hair. The same can be said for styles that fall in between the two. When it comes to medium-length hair, there is a range of reasons why it might be what you happen to prefer.
Advertisement
Along with the fact that hair that reaches from just under your chin to above your shoulders can be super-stylish in a contemporary kind of way, it's a length that can offer you some of the benefits of both short and long hair along with its own unique perks, according to All Things Hair. For instance, it doesn't require you to choose between an extreme, as opposed to a pixie-length 'do or a mane that would rival Rapunzel. On top of that, medium-length hair can complement pretty much any shape of face and can be worn in plenty of ways. It's also relatively easy to care for. Whether it's quickly tackling an updo or only needing to use a little bit of product to keep it healthy and achieve certain styles, you may find this a low-key length of hair.
Advertisement
Of course, that's not all. You also don't need to get your medium-length hair cut as much as you might if you were keeping it on the shorter side. In fact, you might be pleasantly surprised when you find out how often you should cut a medium-length hairstyle to keep it looking fabulous.
Medium-length hair needs an occasional cut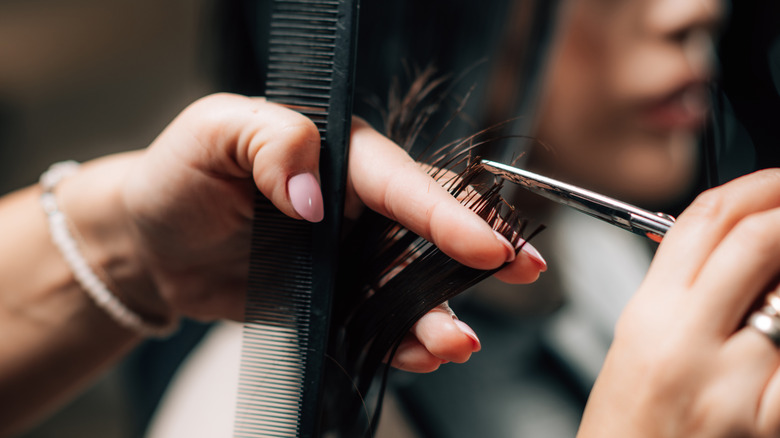 Microgen/Shutterstock
Making sure that you time your haircuts correctly can be a key factor when it comes to keeping your style looking just the way you want it, especially if you have medium-length hair. If you cut it too soon, then you risk facing a shorter style that may not suit you. On the other hand, if you wait too long, then your stylist may struggle to capture the exact cut that you previously had.
Advertisement
To nail the perfect timing, you can first and foremost look for signs that you need a haircut. Paul Norton, who has worked on the strands of stars like Demi Lovato, Gina Rodriguez, and Hannah Simone, told Byrdie, "Two key factors when wondering [if it's] time for a cut are as basic as this: 1) Can you no longer achieve the styles you desire? And 2) are the ends of your hair visibly damaged?"
When it comes to the specific needs of medium-length hair, celebrity hairstylist Richard Collins explained to Byrdie, "If you generally have healthy hair that isn't damaged and you're keeping it mid-length to long, you need to cut it less. I recommend only three to four times a year just to dust the ends and touch up layers." Beyond that, you can also change up your mid-length hair in fun, trendy, and modern ways each time you get it cut.
Advertisement
Change up the cut of your chic medium-length hairstyle
Getting your medium-length hair cut a few times each year gives you the opportunity to freshen it up by not only taking a little bit off the ends, but also by refreshing your style. You can switch it up a little — or a lot — whenever you decided to get a trim.
Advertisement
"Mid-length cuts don't have to feel like a long, grown-out bob," Jordan Jones, stylist and color technician at Taylor Taylor London, told Refinery29. "This year we're being shown that they can be their own style with layers and careful shaping to create volume and movement, or shine and sophistication. If your bob has grown out and your hair has reached that awkward-length stage, or if you've got long locks and fancy a change without going super short, a trendy mid-length style is the cut for you."
That means that you could decide to go for a highly textured shag or you might prefer a curtain fringe (which is longer than the equally chic curtain bangs). You might also want to try out the kind of lob that might have been seen in the '90s (and is making a resurgence) before switching things up and choosing a contemporary collarbone cut. Whether you like the results or not, you'll have the chance to try out another medium-length style in just a few months.
Advertisement