What To Know About Using Hair Color Wax For A Temporary Color Boost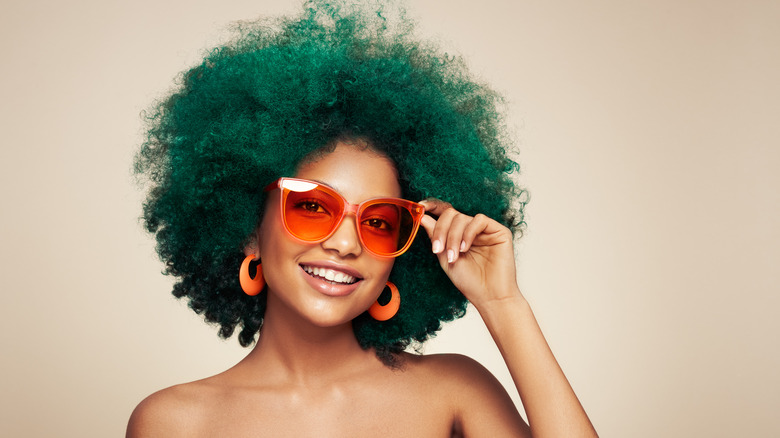 Heckmannoleg/Getty Images
Dyeing your hair a bold, saturated color is a great way to make a statement with your look, but for some, such a permanent change isn't ideal. Semi-permanent fashion colors like bright pinks, vibrant blues, and moody purples typically require quite a bit of bleaching to properly show on hair, and, unless you're dedicated to routine maintenance, are a bit of a hassle to keep up as they usually fade after three to six washes (via Healthline).
Advertisement
Instead, temporary solutions can help you to avoid these issues. Color that washes away after a day or two has had quite the development over the past few years, and now, there is a wealth of products on the market that allow you to test drive a bright hair look for the weekend — no damage or expensive salon visits necessary. Sprays and chalk have dominated as the go-to option, but they've been know to leave annoying dust on clothes and often won't show much on darker-colored hair. That's where hair wax comes in. Though not the most well-known method of hair coloring, this formula is a styling agent and temporary color in one, and it's perfect for experimenting with your look without damage.
Advertisement
How does colored hair wax work?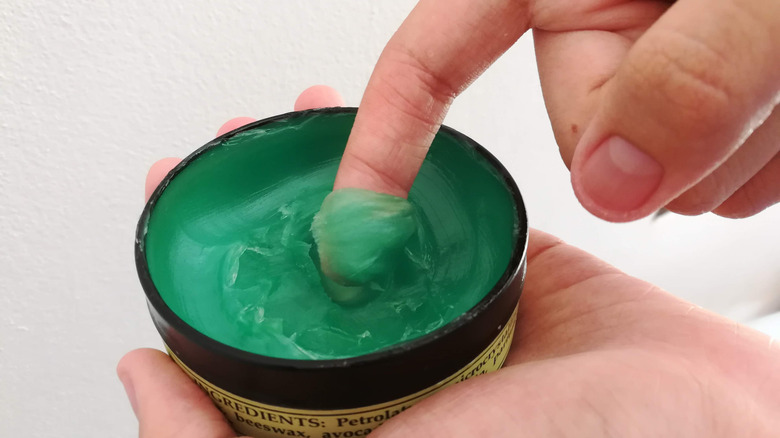 Komain_Ajun/Shutterstock
Unlike the typical, liquid consistency of hair dye, hair color wax is more similar to a cream or pomade. These products usually contain beeswax, petroleum jelly, and a natural pigment, so they're designed to sit on top of and coat your hair shaft instead of sinking in and absorbing like normal dyes (via Carol's Daughter). Because of this, you'll be able to remove the coating without any staining underneath, and the non-damaging formula allows you to experiment with color as much as you want.
Advertisement
This product is also great for people with darker or naturally textured hair. The thicker, opaque formula allows the color to show up more vibrantly than traditional dyes without having to bleach, and it does double duty as a styling product that helps define curls and set them in place. If you have fine or straight hair, no worries — you can use hair waxes, too. Just be prepared to work with a more defined or slicked-back look than your regular styling.
How to apply colored hair wax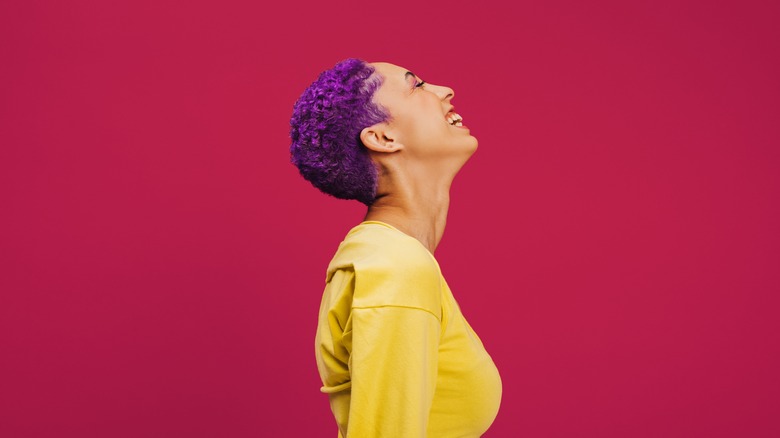 Jacob Lund/Shutterstock
To properly apply hair color wax and guarantee the best results, Carol's Daughter recommends starting out with clean, washed and conditioned hair. Throw on some old clothes you don't mind getting dirty, and grab some plastic gloves, too, if you want to keep your hands color-free. From there, style however you want your final look to turn out. This could mean scrunching with a leave-in conditioner, blow drying your locks straight, or simply allowing your hair to air dry.
Advertisement
To apply the wax, grab a small amount of product and begin working it through your hair, making sure to apply evenly around your head. If you have curly or thick hair, sectioning portions off can be helpful to ensure everything is evenly coated. Always veer on the side of caution here — too much product can look chunky, so work your way up to your desired color. After a few minutes, everything should dry down and set in place, leaving you with a bold punch of color without the commitment.