How To Pull Off A Dazzling Gold Highlighter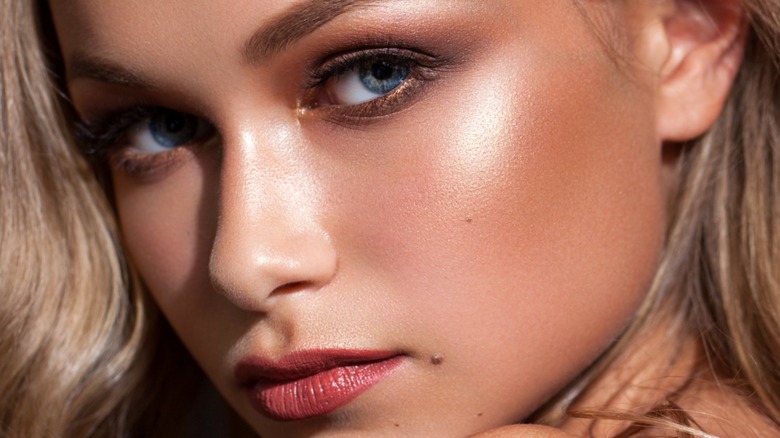 Tata Mamai/Shutterstock
Highlighters really came into the picture in 2016, and are still a staple in the makeup industry today. Let's be honest — it's difficult not to walk into a drugstore or makeup store without being captured by their dazzling glow. When it comes to applying highlighter, you want to focus on the areas where the sun hits. We're talking cheekbones, the forehead, the brow bone, down the bridge of your nose, your cupid's bow, and the tip of your nose. By placing the highlighter in these areas, there's no doubt you'll turn heads as the sun hits your skin.
Still, some highlighter colors are harder to use than others. Gold pigment can be overwhelming, especially if you've never even worn any highlighter before; however, there are so many options available that cater to your wants and needs. It's so versatile that anyone can pull it off. If you're searching for inspiration on how to rock a dazzling gold highlighter, check out our application tips.
Give the wet look a try
We're not going to lie — we are totally obsessed with this look. You can achieve this aesthetic by dipping your brush into the gold highlighter and then giving it a quick mist of setting spray before applying. Alternatively, you could use a liquid formula, which will really give you that wet aesthetic you see sweeping the runway.
Add a bold lip for a touch of drama
Yes, you can wear gold highlighter and rock a bold lip at the same time. Pairing the two doesn't mean you can't look classy and elegant. Keep the rest of the makeup simple with minimal eyeshadow and just a kiss of neutral blush, and you're ready for a night out with the girls.
Really go for it
If you really want to draw attention to your cheekbones, go in with a pure gold highlighter. The bold pigment looks amazing on darker skin tones, so don't be afraid to go in with a heavy hand. To keep the attention on the highlighter, add a touch of mascara and a glossy lip.
Use it to complement a dramatic eye
Combining a dazzling gold highlighter and a dramatic eye may sound like a bit much, but it's a risk we're willing to take. The key is to use just a smidge of highlight, focusing on the cheekbones and temples. You can even use it as a brow bone highlight to really amp up the look.
Make it monochromatic
This is for women who aren't ready to fully commit to a bold, pigmented highlight but still want to dip their toes into the look. Not only does it give you a fresh and youthful glow but it's also super easy to achieve, as you only need one shade to complete the look.
When in doubt, add glitter
Why not try placing chunky gold glitter highlighter on the inner corners of your eyes to bring more light in and adding glittery stars where your bottom lash line meets her outer crease? Whoever said glitter is just a nighttime look obviously hasn't seen a look like this.