What Are The Characteristics Of A Leather Scent?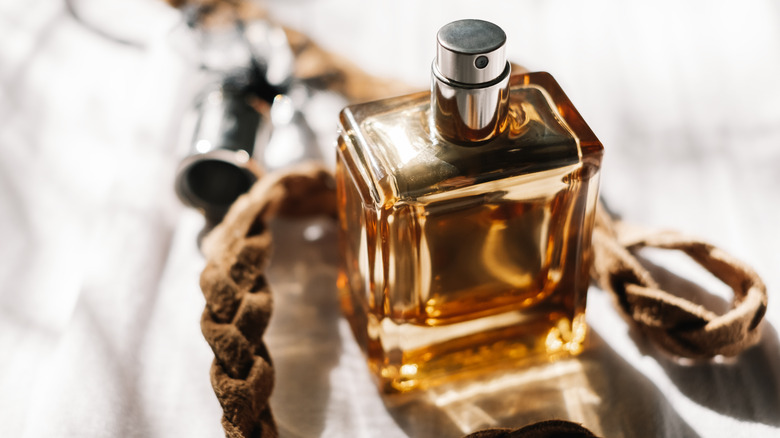 nikkimeel/Shutterstock
Your favorite fragrance may be more complex than you think. While many perfumers craft scents using traditional florals and musks, surprise notes can provide a certain je ne sais quoi. Take Anna Sui's 2020 release, Sky, for example — after an introductory whiff of bergamot and rose, the distinct aroma of popcorn takes hold of your senses, and it works. Scent is closely linked to memory, which could explain why you're drawn to notes you wouldn't typically associate with perfume. "Your specific personal history is what's going to elicit a particular emotion or memory for a given smell for you," cognitive neuroscientist Rachel Herz tells Prevention.
Some of us enjoy the inclusion of gourmand notes, like popcorn, while others prefer the familiarity of our favorite fabrics. There are myriad scents inspired by natural and synthetic fabrics, from fresh-smelling cotton to cozy cashmere. However, one of the most popular fabric ingredients in the fragrance world is leather, beloved for its bold presence. But what does leather fragrance truly smell like, and why do people love it?
What makes leather fragrances so special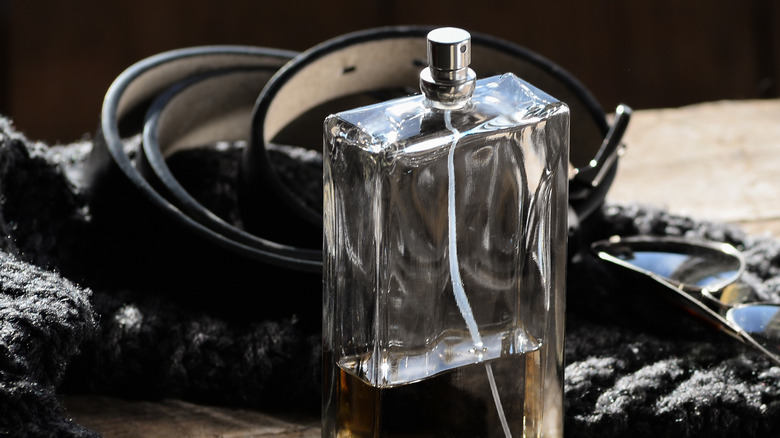 TANYARICO/Shutterstock
Leather has existed as a signature scent for aeons — just think of the comforting smell of your favorite leather jacket or gloves. Although leather's profile isn't quite the same as animalic smells (such as musks), it shares some common qualities and is often paired alongside them. A leather fragrance typically smells pungent, earthy, and complex, similar to the natural material itself. 
Still, it's important to recognize that leather is as dynamic as any perfume ingredient, and perfumers can apply it in extraordinary ways. "Leather as side note brings out ... flowers. Flowers bloom on skin when there´s leather in the base of a fragrance. It is like sticking bright colored flowers into my army boots," Tauer Perfumes perfumer Andy Tauer tells The Perfume Society. A variety of leathers are used in contemporary perfumes, with notes distinguished as white, black, or even suede in some formulas, such as Calvin Klein's Defy.
Furthermore, if you've ever noticed lingering perfume on your leather gloves or jacket, then you're familiar with scented leather, a 17th-century trend intended to downplay the material's musky aroma. More recently, the fragrance house Maison Francis Kurkdjian paid homage to the practice by creating leather goods infused with musky accords. "Scented leather was very obvious to me since it is a direct link to the origins of perfumery," Kurkdjian told The New York Times.
How to choose a leather scent for yourself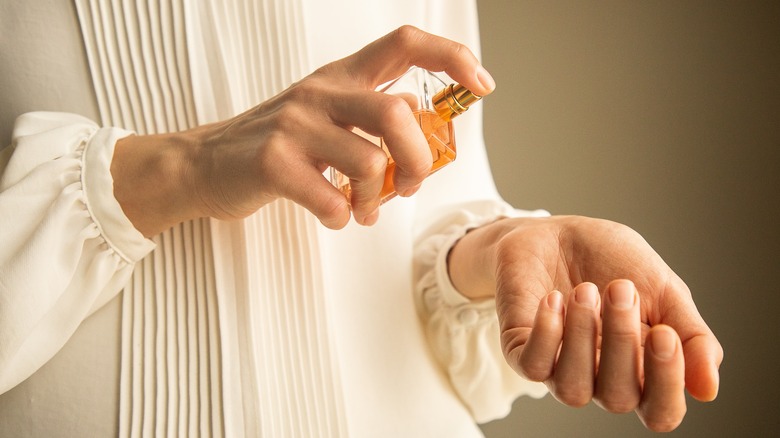 SVEPET/Shutterstock
Interested in trying leather fragrances for yourself? If you're new to wearing leather-based scents, you may want to try a subtle introduction to the category, like Valentino Donna by Valentino. Although Valentino Donna's initial 2015 release was described by fans as distinctly leathery, the latest formulation contains a softer version of its original leather base note. "The whole experience, from the opening of blackcurrant and bergamot to that sexy sweet vanilla [and] jasmine has me wanting to bathe in this," one reviewer wrote.
Those with more experience wearing leather fragrances will appreciate its front-and-center position in Room 1015's Cherry Punk, a striking creation inspired by 1970s London that certainly lives up to its name. Cherry Punk is playful yet daring, with syrupy cocktail cherry notes underscored by aged leather and heady florals. "[Cherry Punk is] powerful like youth riot but still sweet and romantic — the idealism of adolescence wrapped in a heavy leather jacket," Room 1015's Michael Partouche writes. If you prefer scents on the moodier side, consider Tom Ford's Tuscan Leather, a powerful blend showcasing smoky notes of leather, amber, and frankincense.
Leather-based fragrances are dynamic enough to be styled demurely or dramatically, and worn day or night. Whether you're a perfume expert or still finding your signature scent, there's a place for leather in anyone's fragrance collection.