What You Need To Know To Style A Spaghetti Strap Dress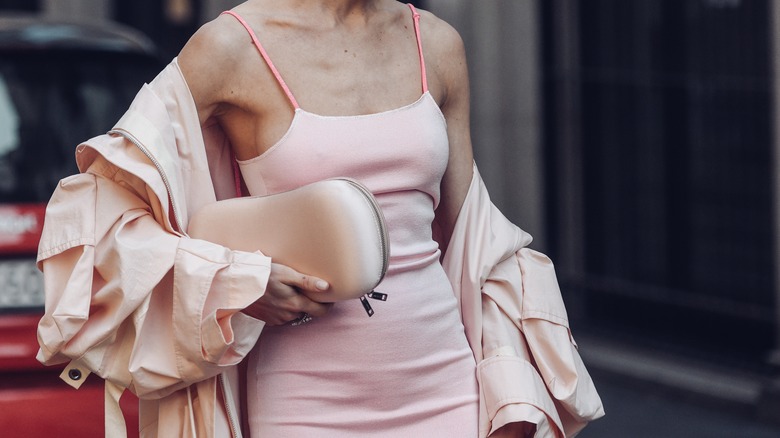 Creative Lab/Shutterstock
Anyone who adores the kind of fashion that can do a lot with a little bit of fabric will surely appreciate styles like a classic mini dress or high-slit dress. Of course, we can't forget about the spaghetti strap dress. A shoulder-baring design that can feature pretty much any kind of shape around the torso and just as much variation when it comes to the skirt section, this style only has one requirement: It must include thin straps that resemble the pasta they're named after.
An option that first showed up on the fashion scene back in the 1920s, it experienced a resurgence in popularity in the '90s, according to Woman of Style and Substance. Of course, at that time, the look had been updated and given its own modern twist. At the same time, it became more varied in all kinds of fabulous ways. Along with being used to create anything and everything from casual everyday ensembles to stunning formalwear, spaghetti strap dresses were also being worn on dates, to work, and on red carpets as well as runways. They could also be worn in pretty much any weather thanks to a few clever additions.
These days, the spaghetti strap dress is something that you'll spot influencers wearing on social media while they add chic contemporary touches to the look. If that's piqued your interest, then you'll definitely want to know how you can style a spaghetti strap dress.
Pop on shoulder-dusting earrings
You can give the spaghetti straps on your dress a little extra attention by wearing earrings that are long enough to sweep — or "dust" — your shoulders. By opting for earrings that are wonderfully bright and fabulously ornate that happen to almost reach the fabric of your straps, it can help to draw the eye to the area. You could try chandelier earrings or hoops as well as tassels, clusters, and drop earrings. Each can add a unique touch to your outfit while enhancing your spaghetti strap dress.
Slip on bold shoes
If you have simple spaghetti straps on your dress, then you also have the opportunity to go big or bold elsewhere in your ensemble. For instance, you could opt for a pair of striking shoes. Just take a peek at this fabulous pink and blue floral dress that isn't at all overwhelmed by the gorgeous green shoes but is, instead, enhanced by the vibrant footwear. Although this look obviously boasts high heels, you could pull off the same kind of effect with anything from flats and sandals to running shoes or boots.
Add a belt
If you want to give your spaghetti strap dress a different shape and an additional eye-catching element, you can simply grab a belt. Not only will this add a touch of visual interest around your midsection while creating a contrast to the thin straps, but it can also offer your outfit some additional flair when you want to change things up from day to night. Although a thin belt can look striking when worn with a dress that's a single color, a thicker belt can hold its own against a strong pattern or design.
Wear a '90s-inspired t-shirt underneath
Let the '90s inspire your fashion choices by wearing a t-shirt underneath your spaghetti strap dresses. A classic trend that could often be seen during the fashionable decade, this can be used to add more color or texture to an outfit as well as make a formal dress seem more casual. On top of that, it can help to turn a summer dress into something suitable for cooler weather, especially if you also add tights, leggings, or maybe even jeans if you want to take the old-school look a step further into the 2000s.
Switch it up with a turtleneck
If you like the idea of wearing a t-shirt with your spaghetti strap dresses or have already been doing that but want to give the look a fresh twist, then you can try wearing a long-sleeved turtleneck underneath. A practical choice during the colder months, it can also make your dress work-appropriate if you don't want to have a bare chest or shoulders. You can either choose a shirt in a color that sets off your dress or pick one color out of your dress's pattern and wear a shirt in that shade.
Layer with a sweater or jacket
Add another level to your outfit by layering a sweater or jacket on top. Depending on the dress, where you're going, and your personal preference, you could choose to wear a cardigan, denim jacket, or blazer. Not only is this a stylish choice, but it's also practical. Having something to put on top of your dress can also keep you warm if it happens to get chilly outside.
Finish things off with a scarf
A spaghetti strap dress leaves your shoulders and neck bare, so finishing off with a scarf is ideal if you want a more modest look. There are plenty of options available that would suit this particular style; you could slip a scarf around your neck with a twist, a knot, or a bow. You could also tie a scarf around your head in a pinup-like way, or in a style that's much more modern. Finally, a larger scarf can be draped around your shoulders and over your spaghetti straps for an elegant and delicate touch.