Olaplex Launches A New Dry Shampoo (& It's Free Of Benzene)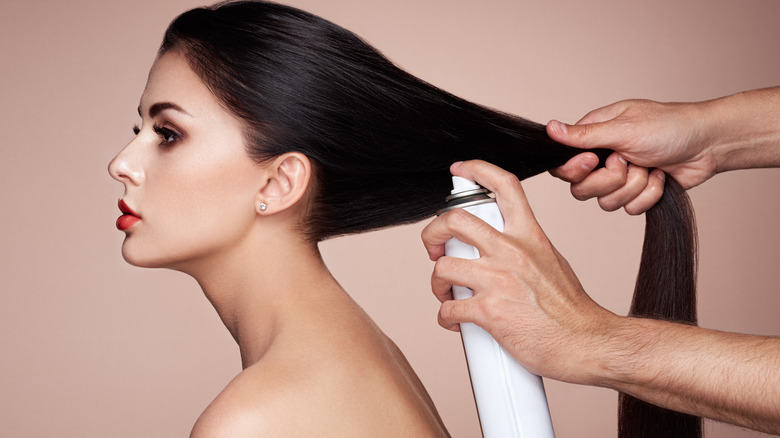 Heckmannoleg/Getty Images
We may receive a commission on purchases made from links.
The moment Olaplex plunged into the haircare market, the beauty world was never the same. Haircare brands come and go, but nothing has been quite as exciting as Olaplex's revolutionary bond-building technology. Using its patented Bis-Aminopropyl Diglycol Dimaleate ingredient, Olaplex has managed to introduce a brand new method of hair repair to the game by repairing our hair from the inside out and yielding seriously impressive results. We've seen countless brands try to replicate this technology, but none have been as successful as Olaplex. Nevertheless, it's all about bond-building now. 
Advertisement
What started out as a salon-exclusive hair treatment has now spiraled into an entire haircare range. In fact, there are now 10 steps worth of products that can all be shopped online and in stores. Furthermore, Olaplex continues to develop new products that fulfill just about every hair care category, and every time a new one has been released, it almost immediately becomes a viral sensation. As such, let's talk all things dry shampoo — that is, Olaplex's new version of dry shampoo.
Olaplex introduces No.4D
Olaplex's range of products has just about everything you could need to complete your haircare routine. Olaplex has now developed three shampoos, a conditioner, a serum, an oil, a mask, and even a blonde toner. It seems like the brand has everything covered, but with every new release, we're reminded of another haircare category that we're eternally grateful to the brand for filling. In fact, try as you might, you sometimes can't fight the need to buy yourself an extra day before washing your hair. Well, Olaplex finally decided to dive into the dry shampoo market, and it will likely dominate it.
Advertisement
Olaplex has officially released the No.4D Clean Volume Detox Dry Shampoo, which is priced at $30 and available to shop online, and it makes a lot of bold claims. It promises to clean your hair rather than simply put a bandage on its oiliness, and it does this while still using the brand's patented bond-building technology to repair your hair. Olaplex has tapped into a unique approach to dry shampoos, and it all boils down to what's in its formula — and what's not.
Olaplex's benzene-free dry shampoo formula
Speaking to Stylecaster about the No.4D Clean Volume Detox Dry Shampoo, Olaplex ambassador Jimmy Paul raved about the formula, saying, "[It has] has scalp benefits to detoxify the scalp by preventing product buildup with rambutan seed extract." Using rambutan seed extract and ultra-fine micro starch, the dry shampoo is meant to neutralize odors and absorb excess oil while detoxifying your scalp, according to the brand's website. Paul adds, "Rambutan seed extract is a sustainable source of antioxidants that detoxifies, soothes the scalp, and neutralizes odor-causing impurities" (via Stylecaster).
Advertisement
One of the main concerns when it comes to dry shampoo is that they do more damage than good by leading to product build-up and clogging your scalp. Focused on keeping your scalp looking and feeling healthy, this unique dry shampoo's main purpose is to cleanse your hair without water and buy you a few extra days without damaging your scalp's health. This dry shampoo also tackles another large concern as of late: benzene. With all of the benzene drama leading to countless dry shampoo recalls, people have learned to avoid the ingredient. Well, Olaplex heard that concern and confirms that the dry shampoo has been tested, with zero traces of benzene being found. 
To Stylecaster, Paul adds his favorite way to use the new dry shampoo aside from just cleaning your hair. "I'm known for creating iconic 'big' hair looks and this dry shampoo is able to seamlessly add volume while making the hair look clean, fresh and light," he explains. So, now that this new dry shampoo appears to be a healthy option, why not give it a try?
Advertisement