Why You May Want To Start Using A Hair Steamer On Your Curls And Coils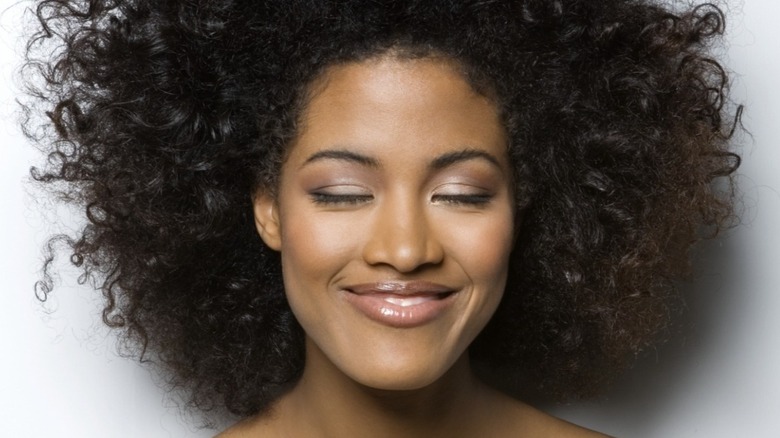 Leonard Mc Lane/Getty Images
Throughout the year, different environmental factors can spell havoc for curls and coils. During the cooler months, the low temperatures and lack of moisture often leave winter hair feeling dry and brittle — a potential nightmare for curly girls who are trying to maintain their bounce and shine. Hair issues that could arise from not getting enough moisture during this period include dry scalp, dandruff, and even breakage. Meanwhile, although hot and humid summer weather can bring out the best of your voluminous natural hair, it can also bring frizz, dryness from the pool or seawater, and UV damage.
Since moisture is the key to healthy curls and coils, it's important to have a trusty implement that can be used during your routine all year. One solution to chronically dry hair could be a hair steamer; they're used in hair salons around the world and may be your hairstylist's best-kept secret, says Harper's Bazaar. These tools were made to open hair cuticles and make your existing hair care even more impactful. If you use one regularly, it won't be hard to notice a change for the better in your natural hair.
With such a great tool available, it's almost a surprise that most people don't have one on their bathroom counter. The benefits are unreal and will certainly have you wondering why you waited so long to try it out.
A hair steamer helps your deep conditioner work better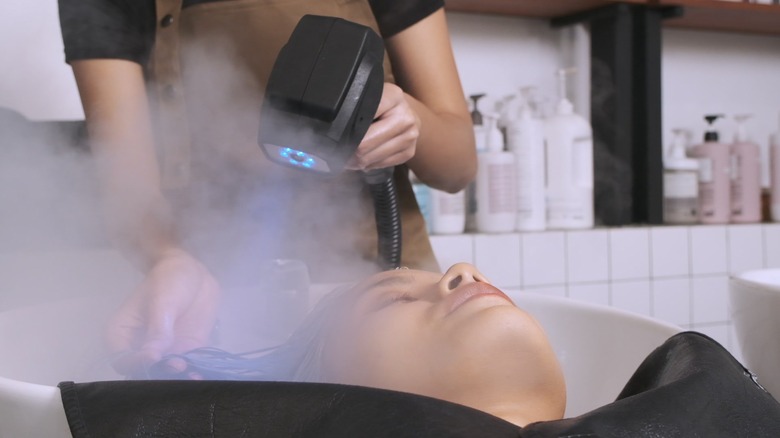 thanun vongsuravanich/Shutterstock
We all know deep conditioning has amazing benefits for your curls, but sometimes it needs a little help. According to Haiya Eliza, "curl guru" and HerCurls salon owner, steam is the perfect additive to the process. "[Steam] helps open the cuticle of the hair so that the conditioner penetrates deeper," she told Who What Wear.
To get the best out of your steamer, natural hair care brand Carol's Daughter recommends shampooing your hair as usual and then sitting with your freshly washed hair under the steamer for five minutes. Afterward, make sure to apply a quality deep conditioner, which is an important step to time correctly since your cuticles are now open and ready to absorb all the nourishment. After that, use your steamer again for an additional 15 minutes to really help your hair soak up the product before washing it out as usual.
There is a ceiling to the benefits, though: When using a steamer, it's important not to overdo the process. Remember that this is still a styling tool that could damage the hair if not used correctly. It's best to avoid using high heat or using it for over 30 minutes for the best results, and depending on how damaged your hair is, a weekly or monthly steaming ritual should be plenty.
Your scalp and overall hair health may improve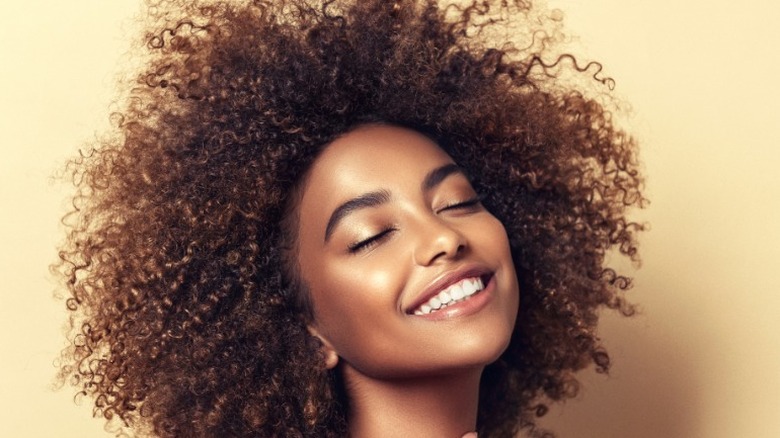 Sofia Zhuravetc/Shutterstock
Caring for curls can already present a challenge, and on top of that (or rather, beneath), scalp issues can also be very hard to deal with. For those of us who find ourselves suffering from ailments like dandruff, psoriasis, or even just dry scalp, a hair steamer could be a lifesaver for turning our issues around. Steam helps add a boost of hydration to the scalp that's incredibly helpful for optimal hair health.
By extension, those who use a hair steamer may also start to notice how much cleaner their scalp is. This is due to the steam helping to get rid of any of the tough dirt that the average shampoo has trouble removing, as the scalp can often harbor toxins that clog the pores and hinder hair growth. In fact, with regular use of your hair steamer, not only might you enjoy a cleaner scalp and healthier head of hair, but increased collagen and blood flow in the area as well (via Mielle Organics).
A healthy scalp is a perfect foundation for healthy hair. From there, it will be easy to see improvements in all aspects of your haircare (like the other curly perks a hair steamer has to offer), because the issues were solved at the root.