How To Know If Your Foundation Is Working With Your Highlighter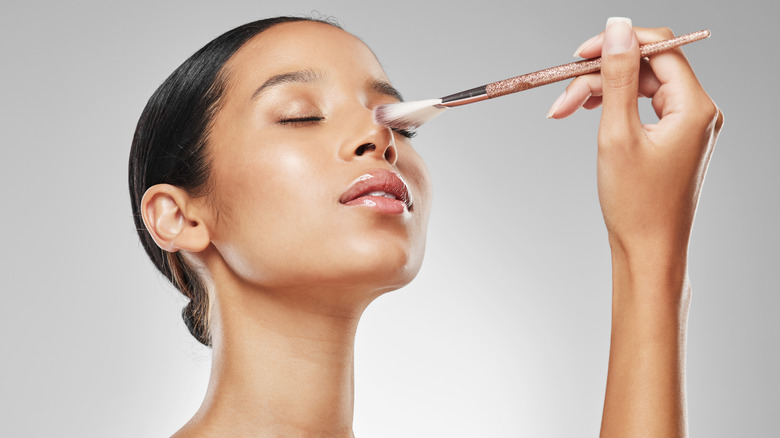 Peopleimages/Getty Images
Any makeup fanatic will know the importance of a good highlighter. A great highlighter will take any makeup look to the next level. Depending on your preferences, you can use a highlighter to get anything from a subtle glow to an intense shine. Since it's one of the most versatile products in a makeup drawer, highlighters are essential for any look. 
In recent years, various makeup trends have taken the role of the highlighter to the next level. As De'Lanci explains, recent highlighter trends favored pretty pink highlight over classic bronzes. Another makeup trend that has made this product even more important is the shift towards the natural 'no makeup' makeup look where subtlety is key to obtaining the appearance of a glow from within.
While highlighter is a makeup essential, it doesn't mean it's the only product that matters. To get the best makeup look possible, you have to know your products are working together. Just like skincare, the correct layering and order are key for your best beauty look. Translating this same concept over to makeup products, you have to ensure that all of your products will combine flawlessly. But unfortunately, not every makeup product works with certain other products. When it comes to highlighters, you want to ensure you have the correct base so the product can shine the way you want. You need a foundation that will work along with your highlighter.
Picking the right foundation for your highlighter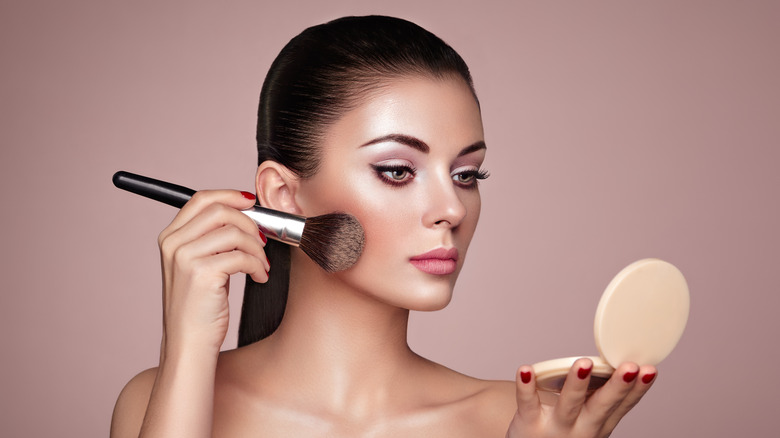 Heckmannoleg/Getty Images
The reason why your current foundation and highlighter combination might not be working out is due to their formulas. As L'Oréal Paris explains, you should always pair similar formulas with each other for optimal performance. In the terms of highlighters and foundations, if you are wearing a liquid foundation, you want to wear a liquid-based highlighter. The same rule would apply if you are wearing a cream or powder foundation. Although it's not a guarantee that different formulations wouldn't work together, blending together similar products is a much safer bet. For example, adding a powder highlighter on top of a liquid foundation could result in a cakey application.
Ipsy elaborates that adding a combination of formulas could end up with your makeup sliding all over the place. Whenever you apply a highlighter, you want to ensure that the product on the bottom is of the same formula. If you only have a liquid foundation and a powder highlighter, you'll need to add a translucent setting powder on top to act as a buffer between the two products. This way you can still get the look you are going for without having it slide around or look cakey. When in doubt, always remember that powders go with powders, liquids with liquids, and creams with creams.
How to pick your highlighter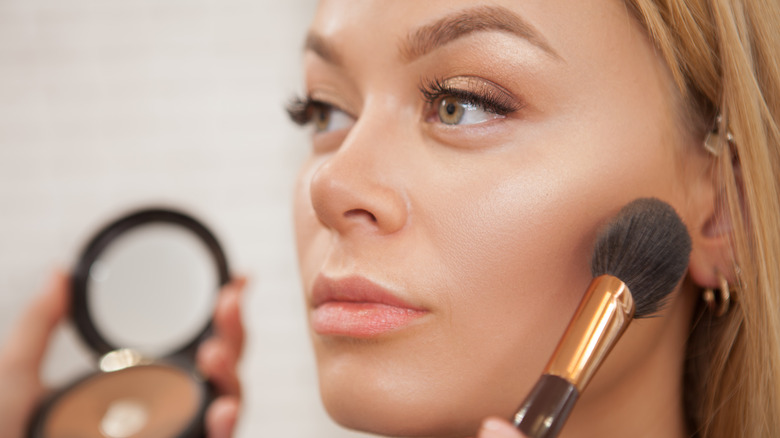 Oleksandra Polishchuk/Getty Images
Besides picking the same formula as your foundation, there are other factors to consider before purchasing your next highlighter. While we instantly gravitate towards the prettiest highlighter available, you should consider aspects like tone and shade. Makeup artist Melissa Collazo explains via Rose Inc that picking a highlighter shade one or two shades lighter than your skin tone is key for an optimal highlight. "A mismatch of highlighter to a skin's tone and undertone can be a cause for distraction and dissonance," explains Collazo. Picking a lighter highlighter shade will give you the look of always getting the right lighting angle.
Another element to consider is which highlighter formula will go with your skin tone. Although your highlighter will be one of the last products applied in your makeup routine, you want to ensure that it remains steady the entire day. Note Cosmetique clarifies that those with oily skin will have a harder time applying a liquid highlighter. Their recommendation is to try a dry formula like pressed powders instead. For dry skin, a liquid highlighter might be the best option. You want to ensure that your highlighter and foundation not only look fantastic when they're applied, but that they work together to last you throughout your day too.