Dyson Corrale Hair Straightener Vs. GHD Cordless Unplugged Styler: What's The Difference?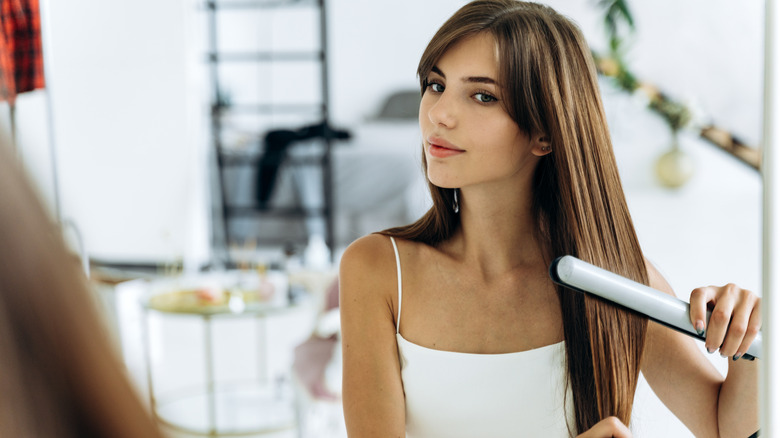 Sklo Studio/Shutterstock
Throughout time, women have found ways to create silky-smooth, straightened locks. Nowadays, luckily, we don't have to rely on clothing irons to press our hair flat, and flat irons have become a much safer tool in our beauty arsenals. According to Statista, 40% of women surveyed said they use a hair straightener as part of their beauty routine, and once you factor in this simple product's ease of use, it's no surprise why.
In the last few decades, however, there hasn't been much evolution in these products. Different styles of heated plates have been developed that promise to reduce damage and leave your hair smoother, but we're still dealing with annoying, tangly cords every time we want to style our hair. Dyson and GHD are seeking to solve that problem. Both of these beloved brands have released their own take on a cordless, rechargeable styler that promises to provide salon-worthy styling both at home and on the go. If you're considering buying one of these products, they seem pretty similar on paper, so we decided to put them head-to-head to determine a winner based on customer reviews, price, and overall quality.
The Dyson Corrale styler straightener
Dyson might be best known as a vacuum brand, but they've recently made a major mark in the beauty sphere with their viral Airwrap styler and Supersonic blow dryer. This brand is focused on creating products that are easy-to-use, damage-reducing, and innovative, and their Dyson Corrale styler straightener is no exception. This product comes in at just under $500, quite expensive for a straightener, but it promises half the damage of other products on the market thanks to its flexible plates and intelligent heat control.
The Corrale comes with a charging dock, cord, and heat-resistant pouch, along with a convenient flight-ready feature that allows you to disconnect the battery if you plan to travel. It also guarantees up to 30 minutes of cord-free styling, but the charging cord is long enough to maneuver if you'd rather just use it like a classic flat iron. On Dyson's website, this straightener has received 3.9 stars across 978 reviews, with most customer's complaints stemming from the short battery life. Some also said that the flexible plates tended to catch on hair and rip it out, but most still agreed that this straightener is sleek and well-built.
GHD Cordless Unplugged Styler
The Dyson Corrale was designed to provide the option to go cordless, but the GHD Unplugged Styler was built specifically for use on the go. This product is about $300 and much smaller than the Dyson, perfect to throw in your purse, but it's also a pared-down version of a regular straightener. It only has one heat setting and a very simplistic design, and its inability to be used while charging makes it more of a touch-up device than an all-over styler.
This product also has a slightly shorter battery life than the Dyson — 20 minutes rather than 30 — but it has a similar flight-ready feature if you plan to travel. This product has earned 3.8 out of 5 stars across 343 reviews, but it seems the negative feedback is coming from people that intended to use the styler as an everyday straightener. The main complaints were the small plates, short battery life, and less effective heat on thicker hair.
The overall winner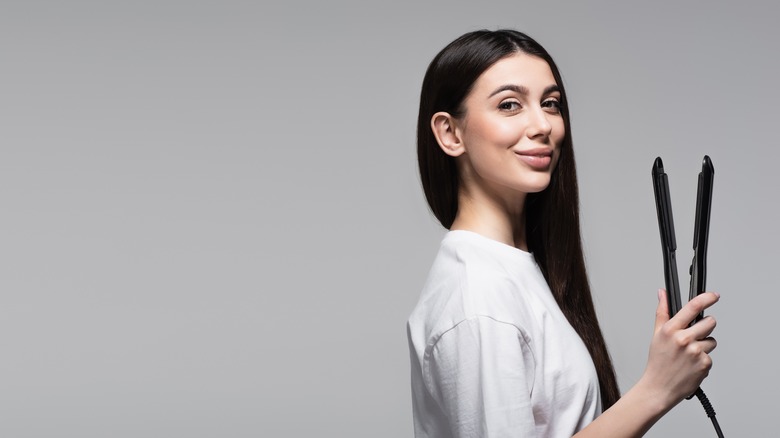 LightField Studios/Shutterstock
The best value between the GHD Unplugged Styler and the Dyson Corrale depends on what you're going for. If you want a good-quality straightener with the added bonus of cord-free use, the Dyson is the best bet. It's more expensive, but its ability to be used while connected to the cord means that you can tackle a full head of thick hair without having to pause to charge between sections. It also has multiple heat settings and consistent temperature regulation, so you can be sure it doesn't fluctuate and cause unwanted damage.
If you're looking for something to carry in your bag for touch-ups after the gym or while traveling, however, the GHD Unplugged Styler is a great, portable option. It's super small, meaning it can easily be stowed away in your bag, so it's perfect to style your bangs or smooth down flyaways on the go. It's also much cheaper, so if all you need is something for a quick fix, you can save a few bucks by opting for the GHD option.