Can Setting Spray Refresh Your Patchy Foundation? TikTok Thinks So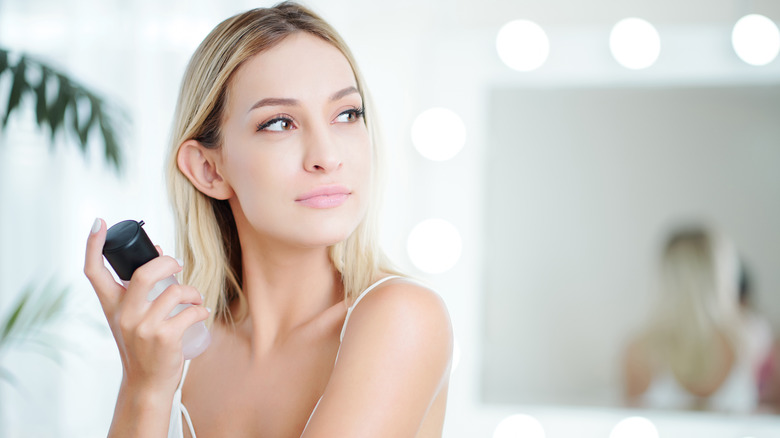 Dragonimages/Getty Images
We may receive a commission on purchases made from links.
Applying setting spray is a must-have final step for many makeup routines. You wouldn't walk away from your manicure without applying a final top coat to seal it all in, would you? While some people may not find the product necessary, many professional makeup artists and beauty enthusiasts swear by it — and rightfully so! Depending on the formula, whether matte or dewy, setting spray can give an airbrushed finish, extend the wear of your makeup, and prevent the dreaded oily slip-and-slide effect that sometimes occurs after a few hours of wear.
But what about using setting spray throughout the day to refresh your makeup that may have taken a patchy turn for the worse? According to BeautyTok contributors on the world-famous video-sharing platform, setting spray does more for your makeup than just lock it in. If your makeup tends to become dry, patchy, cakey, and flakey as your day goes on, don't panic. Thanks to TikTok and its valiant effort to save our glammed-up faces, setting spray can refresh your patchy foundation.
How setting spray can turn your makeup from flakey to fabulous
The hashtag #SettingSpray on TikTok has over 390 million views, with creators sharing hacks, reviews, application tips, and more on the cult-favorite makeup product. But one beauty vlogger who goes by the name of Hali, or @haliiiimaaa, posted a TikTok video on how setting spray can transform your dry and patchy complexion to a smooth and refreshed one, with her makeup-saving hack collecting almost 63,000 likes — and she isn't alone. Viral BeautyTok creator Alessandro (@mualesandro) also posted a TikTok video on how setting spray can end your cakey foundation woes. Call us influenced, but it looks like the hack truly works.
To refresh your patchy foundation with setting spray, all you have to do is spritz a generous amount of the product directly onto a beauty sponge and tap it into the skin. The setting spray, along with the pressing motion, will melt the makeup back into the skin to reveal a smoother appearance. You can even apply the setting spray directly on the skin and hit the area with a fan or blow dryer (on the cool setting) to quickly set the spray in place.
According to Makeup.com, this technique works by wetting that dry product a bit so that it's malleable enough to soften back into the skin. This technique works especially well for the cheek and forehead area. When it comes to the often-dry under-eye area, it's best to remove the makeup and rehydrate before reapplying. 
The best setting spray formula for fixing patchy foundation
To get the most out of this setting spray hack that's going to change your makeup game, you'll want to reach for a spray with the right formula. On Hali's video showcasing the hack, one TikTok user commented, "Probably not best to use a matte setting spray for flakiness," and she has a point. According to London-based professional makeup artist Laura Louise, opting for an "alcohol-free" and hydrating formula is your best bet at achieving a glowy, hydrated complexion. While matte setting sprays are excellent at locking in makeup for all-day wear, they tend to dry the skin and reveal patchiness (especially on those with dry skin types).
Sephora has a vast array of options for those dry-skinned beauties looking for a hydrating setting spray. With so many different formulas and ingredients, there's bound to be one to fit every makeup-lover's needs and preferences. The list even includes some matte options for those who can't stay away from the velvety finish. If your makeup tends to become patchy throughout the day, make sure you have one of those setting sprays on you to get that fresh complexion back on track.