Does K18 Work On Curly And Textured Hair?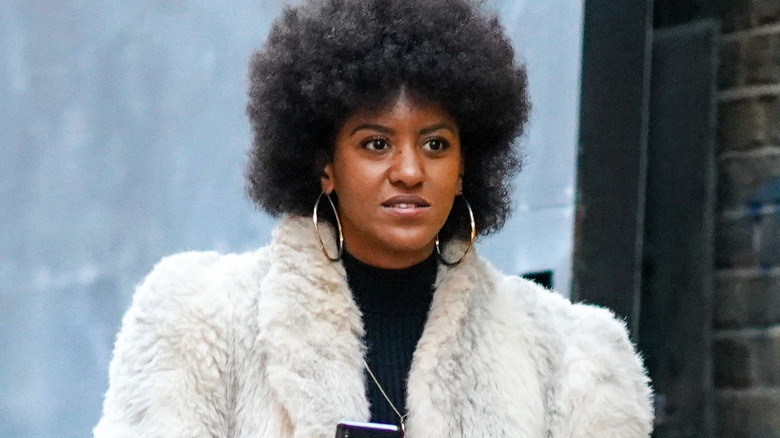 Edward Berthelot/Getty Images
We may receive a commission on purchases made from links.
If you're armed with beautiful, naturally curly locks, then it's very likely that you want to protect them at all costs. However, if you're a fan of coloring or styling your hair with heat, then you may know all too well how easily it can be damaged. Over time, both heating and coloring can compromise the health of your hair cuticles, which can lead to breakage and brittleness. It's safe to say that maintaining the 'perfect curl' can be challenging at best.
For many of us with curly locks, we often turn to an array of products, only to be left overwhelmed as we ponder how to repair the damage. However, there's now a new kid on the block. Meet K18, a hair mask that has become much-loved by salons and has even been compared to the ever-popular Olaplex. This mask has become well-known for its magical ability to repair seriously damaged hair and is now a go-to for many haircare lovers. While it's known to work well on straight hair, just how well does it work on curly or textured hair? Let's find out.
K18 hair mask works well with curly and textured hair
So, does K18 work on curly hair? Due to its structure, curly hair often needs a bit more TLC when compared to its straight counterparts. Thankfully, if you're thinking about using a K18 hair mask on your locks, then you're in luck. According to the K18 Hair website, the mask is perfect for those with curly or textured hair and can be used on both hair types. However, just how true is this statement? Thankfully, many curly-haired haircare lovers have reviewed the product online, and much of the feedback seems to be positive. In fact, one Amazon reviewer notes that those with textured hair can reap its benefits, though it may not be the most moisturizing product for textured hair. This indicates that, yes, the K18 mask is great for both curly and textured hair!
So, how exactly will the mask help to repair the damage? The product works by repairing "broken keratin chains" (via K18 Hair), which will help your hair to appear stronger and smoother, restoring your curls to their best condition. As well as curly and textured hair, the product also works well on straight hair and other various hair types, such as wavy. No wonder it's become a go-to product for so many! 
How to apply K18 to your hair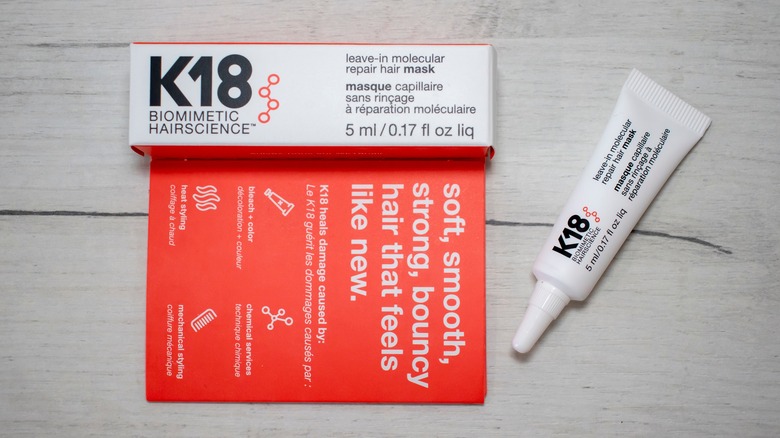 Zaruna/Shutterstock
Now that you know K18 is suitable for your curly or textured hair, the next step is actually applying it. But how exactly should you use the mask? While everyone's hair has its own specific needs, you should, generally speaking, follow the instructions provided. Thankfully, the process is incredibly simple, and there is no need to wait around. Simply take a shower as you normally would and wash your hair with shampoo. However, you can skip the conditioner.
Once you're out of the shower, towel dry your hair and then apply the mask. If you have a lot of curly hair, you may want to use a bit of extra product to really get full coverage. Now, here's the catch — the product gets to work in just a few minutes. Not only does this make using the product quick, but it's also very convenient.
For the last step, all you have to do is wait a short while and you're ready to go. Once the last step is complete, you can either style your hair or get straight on with your day. One option is styling your curly hair with a curling iron. Alternatively, if you don't want to splash the cash and would prefer a more natural option, you could try plopping your curly hair. Both options are sure to give your hair that wow factor that will be turning heads in no time!