Why You Should Pair Velcro Rollers With Your Dyson Airwrap Or Shark FlexStyle For The Perfect Blowout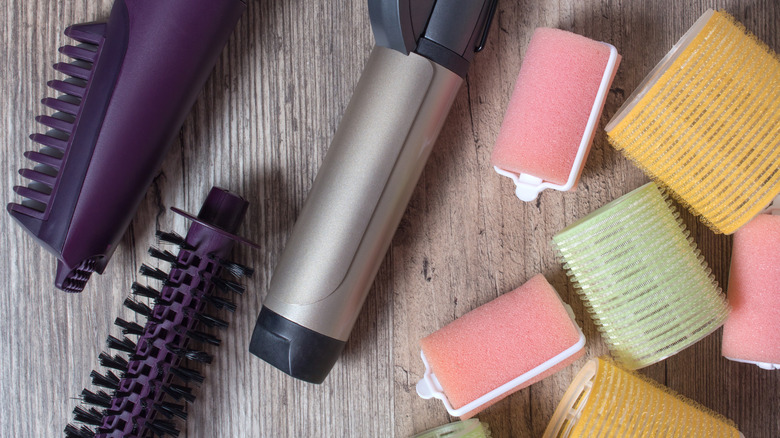 Natalya Sambulova/Getty Images
If you're a fan of surfing TikTok for the latest, greatest, or most controversial fashion and beauty trends, you're probably familiar with the wildly popular Dyson Airwrap and the more affordable Shark FlexStyle. Both products are meant to cut time off of your hair routine by drying and styling hair simultaneously, allowing you to achieve beachy waves, bouncy curls, or a sleek straight look in the time it takes to blow dry.
Advertisement
After much back and forth regarding which air styling tool is superior, the TikTok beauty community has finally agreed on one thing. No matter which tool you're using, combining a set of classic Velcro rollers seems to be the key to nailing the most long-lasting flawless at-home blowout. Creators like Mattloveshair have garnered millions of views on their videos demonstrating how to use the hack. Here is your guide on how to use Velcro rollers with your air styler. 
How to use Velcro rollers with your air styler
Both the Dyson Airwrap and the Shark FlexStyle come with vented rotating barrels for curling your hair while drying it using hot air, as explained by Dyson. As it turns out, it's possible to use these rotating barrels to wrap sections of your hair around Velcro rollers. This method doesn't just make applying the Velcro rollers much quicker and easier; it also applies hot air to your hair as it wraps, helping to accelerate the process and to lock in the volume the rollers provide once they cool.
Advertisement
If you'd like to give the trick a try, simply gather up your air styler, Velcro rollers, and some duckbill clips to hold them in place. Attach the barrel to the styler and place a roller on it. Then, hold out a section of your hair with one hand and apply the barrel holding the roller to the ends. Turn on the styler, allow the barrel to turn toward the back of your head, and watch the roller roll down to your scalp. Pin it in place and repeat on the next section. 
Why the combination works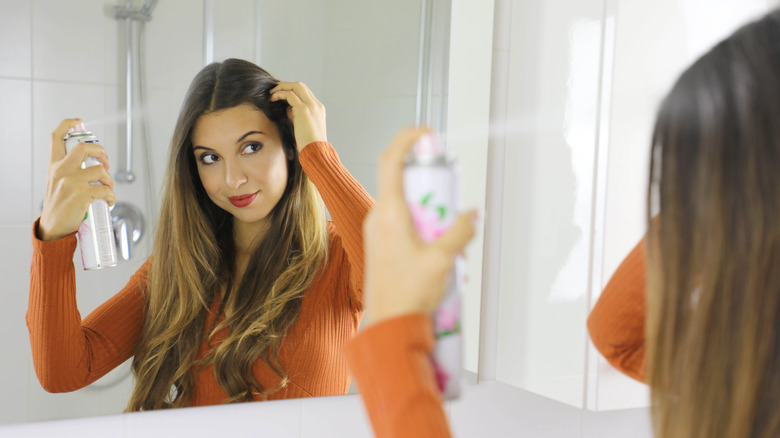 Zigres/Shutterstock
In order for Velcro rollers to have a lasting effect on hair that is already dry, heat must be applied. Normally, this is accomplished by drying sections of wet hair with a blow dryer, then attempting to quickly roll them up by hand while they're still hot. The other option is to use the Velcro rollers for heatless body or waves, which requires rolling up damp hair. Once the rollers are applied, you'll have to wait up to a few hours for them to thoroughly dry.
Advertisement
When dry hair is heated with an air styler while simultaneously rolling each section onto a roller, you're combining steps, saving time, and setting voluminous waves that will last for days. Once all the rolled sections have cooled completely, you'll find yourself unrolling the bounciest waves you've ever created. Then, it's time to spray on your forcefield of hairspray and get ready to slay.